Letter: T-S 10J10.13
Letter
T-S 10J10.13
Input date
In PGP since 2004
Description
Letter from Naḥum b. Manṣūr, in Malīj, to the parnas Abū Kathīr, in Fustat. The scribe is the cantor Ibn al-Jāzfīnī, who adds messages of his own. The letter discusses the happy outcome of Naḥum's daughter's marital dispute. Dating: ca. 1092 CE, as indicated by a calendar for that year written on the free space of the verso. (Information mainly from Mediterranean Society, II, p. 568; III, pp. 213, 471.)
T-S 10J10.13 1r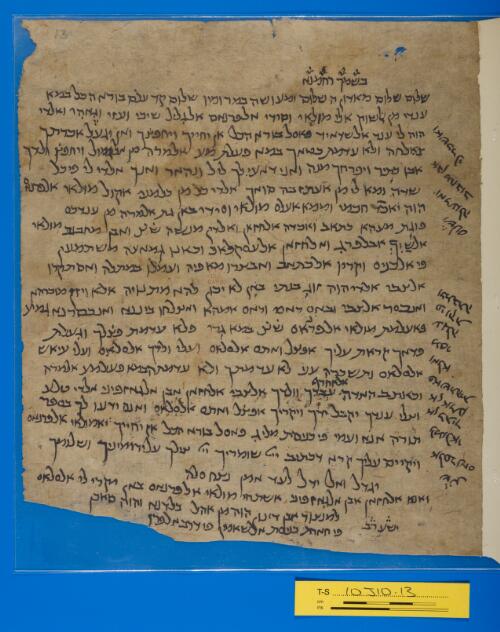 Transcription
S. D. Goitein, unpublished editions.
Recto
בשמך רחמנא
שלום שלום מאדון השלום ומעושה במרומיו שלום קד עלם בורא הכל במא
ענדי מן אלשוק אלי מולאי וסידי אלפרנאס אלגליל שיכי ועזי וגאהי ואלדי
הוה לי ענד אלשדאיד פאסל בורא הכל אן יחייך ויחפצך ואן יגעל אכרתך
צאלחה ולא עדמת כטאך במא פעלת מע אלמרה מן אלגמיל ויחפץ ולדך
אבו כתיר ויפרחך מנה ואני דאעי לך ליל ונהאר ואנך אלדי לי פי כל
שדה ומא לי מן אעתז בה סואך אלדי כל מן כלמני אקול מולאי אלפרנאס
הוה יאכד חכמי וממא אעלם מולאי וסידי באן גת אלמרה מן ענדכם
פוגת מעהא כתאב ואכדה אלחזאן ואלדין מנשה שצ ואבן מחבוב מולאי
אלשיך אבלפרג ואלחזאן אלעסקלאני וכאנו גמאעה משתמעין
פי אלכניס וקריו אלכתאב ואבצרו מא פיה ועמלו במתלה ואסתקרו
אלצבי אלדי הוה זוג בנתי באן לא יכון להא מתנויה אלא ויזן מוכרהא
ואנכסר אלצבי ובאס ראסי וראס אמהא ואצלחו ביננא ואנכסרנא גמיע
פאעלמת מולאי אלפרנאס שצ במא גרי פלא עדמת פצלך וגעלת
פדאך קראת עליך אפצל ואתם אלסלאם ועלי ולדך אלסלאם ועלי עיאש
אלסלאם ותשכרה עני לא עדמתך ולא עדמתה במא פעל מע אלמרה
וכאתב האדה //אלאחרף// עבדך וולדך אלצבי אלחזאן אבן אלגאזפיני אלדי טלע
וצלי ענדך יקבל ידך ויקריך אפצל ואתם אלסלאם ואנה ידעו לך בספר
תורה אנא ועמי פי כניסת מליג פאסל בורא הכל אן יחייך יא מולאי אלפרנאס
ויקיים עליך קרא דכתיב ייי שומריך ייי צילך על יד ימיניך ושלומך
יגדל ואל ידל לעד אמן נצח סלה
ישע רב
ואנא אלחזאן אבן אלגאזפיני אשתהי מולאי אלפרנאס באן יקרי לי אלסלאם
למנצור אבן די נון הוה מן אהל בלדנא והוה סאכן
פי חארת כניסת אלשאמין פי דרב אלפרן
Recto - right margin
ואשכר לי
אבן מחבוב
ואדעו לה
ושלום
וכתבתה
פי וקת
עגלה
מסר(?)
ואלא
פאשתהית
אן אדעו
אן כתיר
למולאי
אלפרנאס
שצ
T-S 10J10.13 1v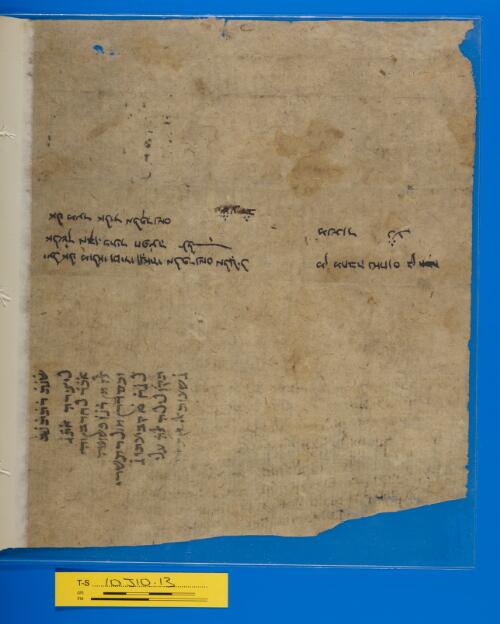 Verso - address
יצל אלי מולאי וסידי וגאהי אלפרנאס אלגליל
אלשיך אבו כתיר חפצה אללה
אלי מצר אל יד אלפרנאס
ישע רב
מן מחבה נאחום בן [[הבה]]
מנצור נע
Verso - reuse
שנת דתתנב
ליצירה אתג
אכד לחרבן והי
אלז מן רנו פשוטה
וכסדרן מולד תשרי
לגח קביעתו ג
תקו לילה אלה עלי
ג שעות אלי מן תשרי
Image Permissions Statement

T-S 10J10.13: Provided by Cambridge University Library. Zooming image © Cambridge University Library, All rights reserved. This image may be used in accord with fair use and fair dealing provisions, including teaching and research. If you wish to reproduce it within publications or on the public web, please contact genizah@lib.cam.ac.uk.