Legal document: Moss. VII,71
Legal document
Moss. VII,71
Input date
In PGP since 2017
Description
Berakhot b. Saadya receives in December 1126 from Abu Ishaq Avraham b. Sason al-Mahalli, the perfumer, a loan of 32 dinars to be paid back by Passover 1127, which constitutes a term of 3.5 months. (Information in part from Mediterranean Society, I, p. 258, and from Goitein's index cards). Written by Halfon b. Menashshe ha-Levi. ENA 2558.1 + ENA 4011.46 (PGPID 6621) and Moss. VII,71 (PGPID 2751) are two copies of the same document.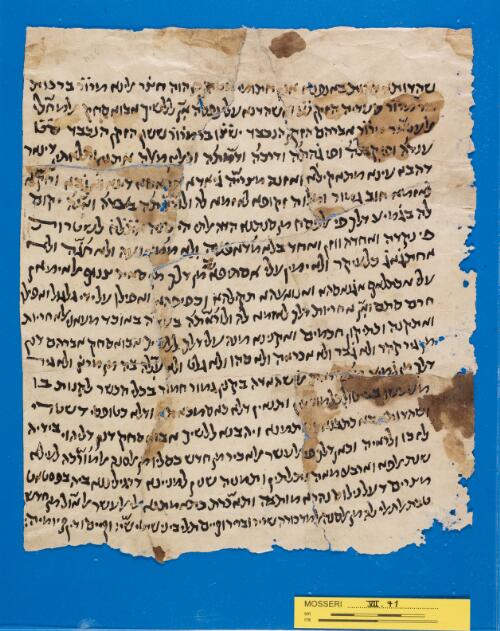 Transcription
S. D. Goitein, unpublished editions.
שהדותא דהות באנפנא אנן חתומי מטה כן הוה חצר אלינא מר ור ברכות
בר מר ור סעדיה הזקן נע ואשהדנא עלי נפסה אן ללשיך אבו אסחק אלמחלי
אלעטאר מר ור אברהם הזקן הנכבד יש צו בר מר ור ששון הזקן הנכבד סט
ענדה ופי קבלה ופי גהתה ודרכה ודמתה וכאלץ מאלה אתנין ותלאתין דינאר
דהבא עינא מתאקילא ואזנה מצריה גיאדא צחאחא דינא ואגבא וחקא
לאזמא חוב גמור ומלוה זקופה לאזמא לה ולוראתה בעדה ואנה יקום
לה בגמיע דלך פי אלפסח מן סנתנא הדה אלתי הי סנה אתלח לשטרות
פי נקדה ואחדה ווזן ואחד בלא מדאפעה ולא ממאנעה ולא חגה ולא
אחתגאג כל עיקר ולא ימין עלי אסתיפא //שי// מן דלך מן סאיר צנוף אלאימאן
עלי אכתלאף אגנאסהא ואנואעהא תקילהא וכפיפהא ואפילו על ידי גלגול ואפילו
חרם סתם ואן אחריות דלך לאזמא לה ולוראתה בעדה באוכד מעאני אלאחריות
ואתקנה וכתיקון חכמים ואקנינא מנה עלי דלך ללשיך אבו אסחק אברהם דנן
מן גיר קהר ולא גבר ולא אכראה ולא סהו ולא גלט ולא עלה בה מן מרץ ולא גיר
דלך מן גמיע מפסדאת אלשהאדה בקנין גמור חמור בכלי הכשר לקנות בו
מעכשו בביטול כל מודעין ותנאין דלא כאסמכאתא ודלא כטופסי דשטרי
ושהדותא דא כתבנא וחתמנא ויהבנא ללשיך אבו אסחק דנן דליהוי בידיה
לזכו ולראיה וכאן דלך פי אלעשר אלאכיר מן חדש כסליו מן אלסנה אלמורכה לעילא
שנת אלפא וארבע מאה ותלתין ותמניה שנין למניינא דרגיליננא ביה בפסטאט
מצרים דעל נילוס נהרא מותבה ותאכרת כתאמתנא אלי אלעשר אלאול מן חדש
טבת אלתאלי לה מן אלסנה אלמדכורה שריר ובריר וקיים תלי ביני שיטי שי:
וקיים ודין קיומיה: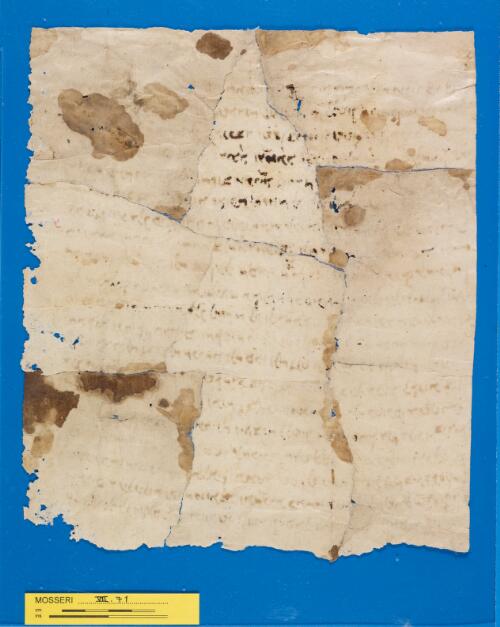 Image Permissions Statement

Moss. VII,71: Provided by Cambridge University Library. Zooming image © Cambridge University Library, All rights reserved. This image may be used in accord with fair use and fair dealing provisions, including teaching and research. If you wish to reproduce it within publications or on the public web, please contact genizah@lib.cam.ac.uk.