Letter: T-S Misc.28.183
Letter
T-S Misc.28.183
Input date
In PGP since 2020
Description
Letter in Judaeo-Arabic. Quite long, and written in an elegant script. The sender gives a convoluted account of a business/legal dispute, involving stakes of over 150 dinars and the underhanded tactics of another merchant. This man was preparing to travel to the West from Rashīd. He gave his merchandise to his wife and his daughter, so that when the Jews asked his father and brother where his goods were, they said "we have nothing, it's all with his wife." Then the women interrogated the wife, who said that she had only 2 dinars and 2 qirats. Her father rebuked her for admitting this, saying that now all of the husband's creditors would come and demand their due. She then reneged on her declaration before the judge. The story goes on. The sender hopes that the addressee will write a letter supporting his side of the case to the judge. Places mentioned: Tripoli (Libya) and 'the West.' People mentioned: ʿAmmār b. al-Dayyān, ʿImrān, Ibn Shammārī, a Rayyis who died, and aṣḥabunā al-Barqiyyīn wa-l-Ghurabā (associates from al-Barqa and the West). Needs further examination. On verso a business account in Judaeo-Arabic (in a different hand).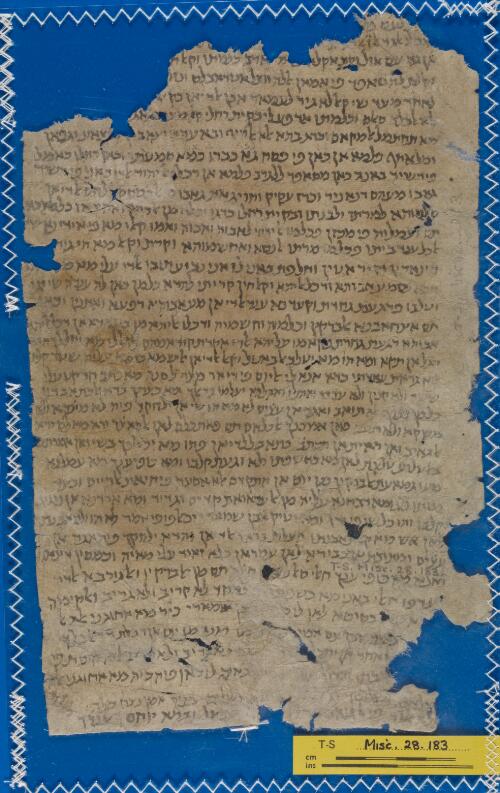 Transcription
Alan Elbaum, [digital geniza document edition] (n.p., 2022).
]נעם פ . [
]ב לי אלגר אלז אל . . . . . [
אן גא עם אול וקת אקלא[ע] מ. אדב(?) כלמתו וקאל ח[
וקלת לה סאפר פי אמאן אללה ווצל אטראבלס ונזל [
לאחד מעה שי קאל לא גיר לעמאר אבן אלדיאן בקי . [
אלא אלבלד סאלם וכלמתו אדפע לי בקית רחלי קאל מע . . . אג [
מא תחתמל אלמקאם וכרג בהא אלא אלריף ובאעהא וצאב . . . . צאע וגפאן
ומלאחף פלמא אן כאן פי פסח גא כברו כמא סמעתו וכאן רחלו כאמל
פי רשיד באנה כאן מסאפר ללגרב פלמא אן דכל אליהוד אלדי כאנו פי רשיד
גאבו מעהם דנאניר וכרז עקיק וחויגאת גאבו . . אלכ . . . . . להם אלדיאן
סלמוהא למרתו ולבנתו ובקית רחלו כרגו וכלא מן אלדיאן וא . . אן כל מא . .
תם ועמלוה פי מכזן פכלמו אליהוד לאבוה ואכוה ואמו קאלו מא פי אידינא שי
אלכל ענד ביתו פכלמו מרתו אלנסא ואחשמוהא וקרת וקאל מא הי גיר
דינארין וקיראטין וחלפת באני לו אני נביע תובו אלדי עלי מא מ . [
. . . . סמע אבוהא ודכל אליהא וקאל חין קריתי להדא כל מן כאן לה ענדה שי יגי
יטלבו פרגעת גחדת וקעדנא ענד אלדיאן מע אבוהא דפעא ואתנין וכאן
תם אצחאבנא אלברקין וכלמוה וחשמוה ודכלו אליהא מן בעד דא אן דכל אליהא
אבוהא רגעת גחדת פקאמו עליהא אלדי אקרת קודאמהם וקאל לי מא יחל לך הדא
רגל אן תקא ומא הו מא יטלב אלבאטל וקאל אלדיאן אליש מא כופת(?) עליה שטר קלת
מא גראת עאדתי כדא אנא לי אליום פי דיאר מצר לסנה מא כתב חד קט עלי
שטר ולא קנין ולא שיי ואהלי ואהלהא יעלמו בדאלך ומא כצתך בדא אלכתאב דון
כל מן נערף אלה תואב ואגר אן עצים לא מה הו שי אן ילחקך פיה לא מצרא ולא
משקא ולא תעב פאן אמכנך אלכלאם תם פאתכלם לאן אלחאצר ירא מא לם ירא
אלגאיב ואן ראית אן תכתב כתאב ללדיאן פהו מא יכאלפך בשי ואן אמרתני
באלטלוע טלעת לאן מא כאשפתו ולא וגעת קלבו ומא כופי ענך מא עמלנא
מעי גמאעת אלברקין מן יום אן אתקדם אלא אסעה פי חיאת אלרייס ובעד
מותו נע ומא רבחנא עליה מן אלעדאואת קדים וגדיד ומא ארדנא אן נוגע
קלבו והו כל שי פי ידו ומה יעיק אבן שמארי יכאלפו פי אמר לא הו ולא אבנתה
לאן אש מא קאל לאבנתו פעלת בדאר אלדיאן והדא ילחקך פיה אגר אן
עצים ומתובת אן כבירא לאן עמראן כלא זאיד עלי מאיה וכמסין דינאר
ואלא מא כופי ענך חאל סאל . . . . חצרתם מן אלברקין ואלגורבא אלדי
יערפו חאלי באני מא כשפת [וגהי] לאחד לא קריב ולא גריב ואלקימה
] א . . . . כסיסא לאן לו . . . . . בן שמארי כיר מא אחוגני אלא אל
] . . . . . . עם אמ . [. . . . . . .]מו מני מן יום אן דכלת די אלבלד
] ואחד אן י . . ל [. . . . . . . . . . .]לא גריב ולא קריב אלא . . . ת פי
] . . בתו . . . . . . . . . . . . . . . . . אנה לו כאן פיה . . . מא אחוגני אלא
] . . . . ושלומך. . . . . . . . . . . . . . . ושלום בניך אמן נצח סלה
] . . . . . פי אלגואב . . . . . . . . . . . . . . . ובמא יוחס(?) . ענדך
T-S Misc.28.183 1v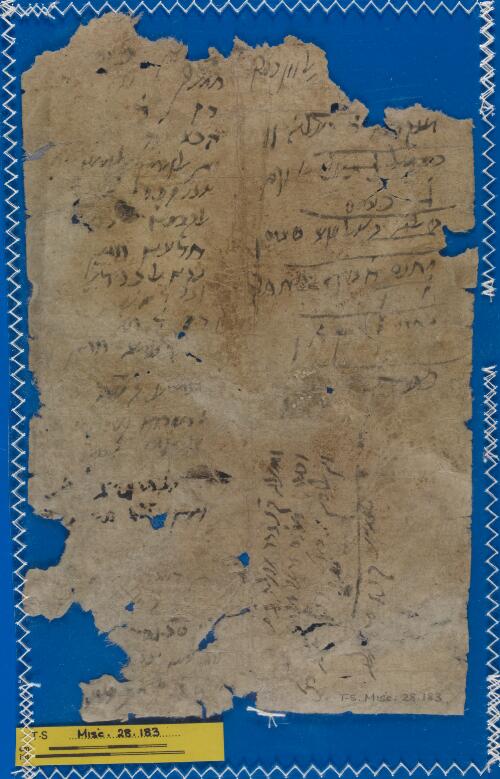 Image Permissions Statement

T-S Misc.28.183: Provided by Cambridge University Library. Zooming image © Cambridge University Library, All rights reserved. This image may be used in accord with fair use and fair dealing provisions, including teaching and research. If you wish to reproduce it within publications or on the public web, please contact genizah@lib.cam.ac.uk.