Letter: CUL Or.1080 J169
Letter
CUL Or.1080 J169
Input date
In PGP since 1991
Description
Letter from Natan b. Nahray b. Natan to Nahray b. Nissim.
CUL Or.1080 J169 1r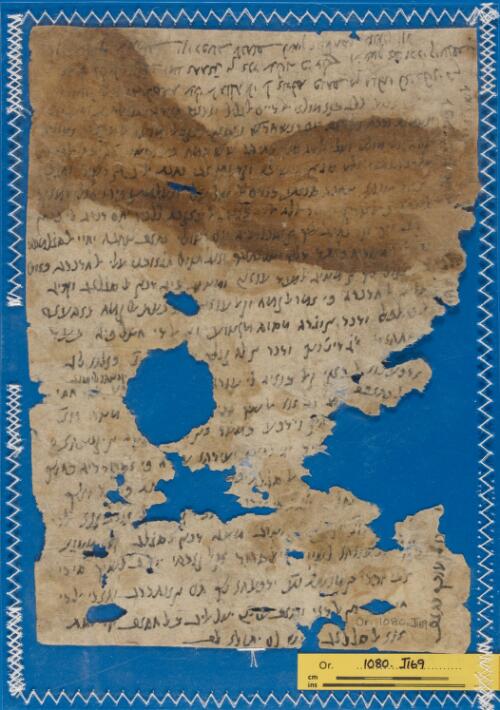 Transcription
A. L. Udovitch, [digital geniza document edition].
[כתאבי] אטאל אללה בקא מולאי אלרייס אלגליל ואדאם תאידה וסלאמתה וסעאדתה
ונעמתה וכבת אעדאה יום ראש חדש ניסאן ואקבל מועד אלמבארך אעאדה
אללה עלי מולאי ועלי ולדה סנין כתירה שש שמח בעד וצול כתאבה אל
עלי כתאב מולאי סגאן הישיבה וקד וחק אבי כתבת אליך מן רשיד ותאכר
מנהא צחבת סבאעי כאדם אל סגלמאסי ואעלמתך פיהא חאלי ומא קד
[גרא עלי] פי אלטריק נחמד אללה אלדי כאנת אלעאקבה ללכיר תם דכרת לי פי
אן
[אכ]תב אליך וקד כתבת מן אסכנדריה יום וצולי כתאב צחבת יחיי אלסגלמאסי
משרוח פבעד דלך וצל כתאבך ואנת תקול תגאובני עלי אלתדכרה פאני
אקול לך אן מצית לענד עואץ ומצית ביה דכאן אלסגלאת וקרית
עליה אלתדכרה פי אמר אלקמח וקאל עואץ קד בעת אלקמח באסעאר
ותדכר אן וגדת מקטוע ואן אלדי פיה בעד
תהא יג דינ' ונף ודכר אן לה מן דלך נ פקלנא לה
אדפע לנא אלבאקי קאל בנאיה לי ענדה יקבצהו לי מנה חתי
כתאבה אנא אלשיך מצר דנא'
וידפע במצר פאן אן יקבצהא פ
יד יגי כתאבה יעידהא ע פי אסכנדריה פחלף
אלסגלת דלך
אנא
מצית מעה דכאן אלסגלת קאם מענא
אהא אלשיך אלסרור אבן אלקאבסי וכדלך אלשיך סידי
אבי זכרי בן מנשה נע' ידפעהא לך תם אן אנחדרת וגאני אלדי
מן אלראי עואץ יצל אליך בל חסאב וקאבלת
אנא אלסגלאת יש לם יתולא לך
margin
ענדך כתאב
top (upside down)
ואנא מעול פי הדה אלסנה עלי אלתוגה אלי אלאנדלס פנחב מן מולאי לא
יכליני מן
כתאב פי כל אלאוקאת ומא אחתאג אכד עליה פי דלך ואלשיך אבו זכרי בן
יעקוב
יקרי עליך אלסלאם וקד דפע אלכתאב לשיך אבו אלחסן ששון וקאל
CUL Or.1080 J169 1v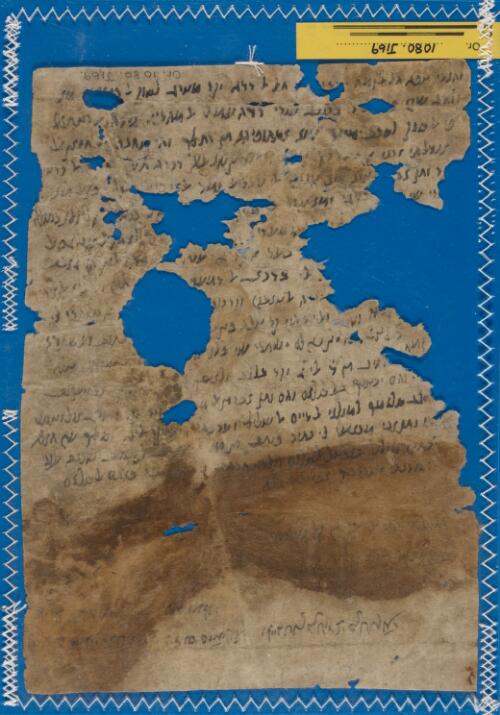 page b
נהראי צפא חאל אלקמח וחאל אלדרא וקד מצית לסוק אל מא
וגדת שין פוגדת ענדי צרה עמל אלמהדיה פלו ערצתהא
פי אלסוק ואנא אסתופיהא מן רחלך והי צחבת יצחק בן אל
אנדלסי ארגו אן אן שא אללה דכרת ת אל פקאל מא
וחק א [מ]צית מע עואץ אלי עבד אלאמיר אל פקאל מא
ענדי שי ומא נע[מ]ל לולא
מע לא תקול מא גפל
בעד אן כנת ע לאן הו
אלי ברכאת ע אל[חמאר]
ה אלצאבון וקד כנת אן ישתרי לי
וא קד ו[צ]לת פאן כתאב ואשתרא
לם ישתרי שי פל וצלת
מן ד אלי ג וקד בלגת סלאמך אבי יעקוב
והם יכצוך באלסלאם ותם וחק אבי אן אלמ אול וצולי
לג סלאמך למולאי אלרייס אל וערפת אליה וסאלך ען חאלה
וחק אבי מבאעו לי כתיר פנחב מן מ[ולאי] ענדי
יכתץ מולאי באפצל אלסלאם וולדה חרסה [אללה] באתם אלסלאם
וסאדאתי אצהארך אפצל אלסלאם
מולאי רבנו נהראי ביר' נסים זצל נע ולייה נתן בן נהראי בן נתן
עזה ועלאה נע
Image Permissions Statement

CUL Or.1080 J169: Provided by Cambridge University Library. Zooming image © Cambridge University Library, All rights reserved. This image may be used in accord with fair use and fair dealing provisions, including teaching and research. If you wish to reproduce it within publications or on the public web, please contact genizah@lib.cam.ac.uk.