Legal document: T-S 8J6.9
Legal document
T-S 8J6.9
Input date
In PGP since 1990
Description
Court record. Dated: 3 Av 1542 Seleucid, which is 1231 CE. Partnership contract made after one of the four partners fell sick and was unable to travel to Syria with his partners.
T-S 8J6.9 1r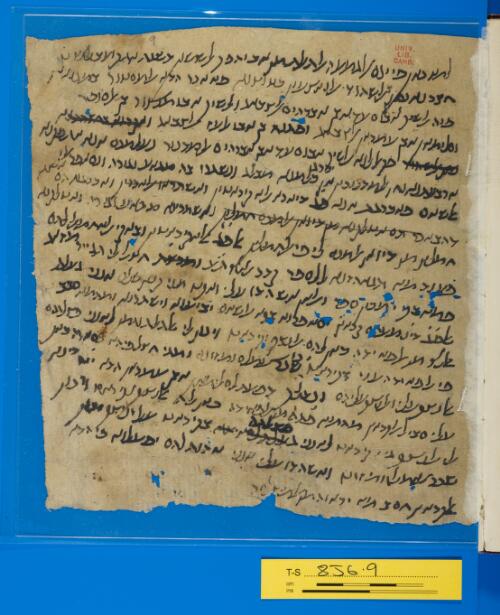 Transcription
S. D. Goitein, unpublished editions.
למא כאן פי יום אלגמעה אלתאלת מן אב יהפך לששון דשנת אתקמב לשטר
חצרנא נחן אלשהוד אלואצעין כטוטנא פא(!) אכר הדא אלמסטור במא אש[הדנא ?]
פיה אלשיך אבו סעד אבן אברהים אלצבאג ואלשיך אבו מנצור בן אלסוכ[רי ?
וסלימאן אבן עמראן אלצבאג ופתוח בן אבי אלעז אלצבאג [[ואקרוא בחצרתנא
נחן אלשהוד ]] פקאל לנא אלשיך אבו סעד אבן אברהים אלמדכור נעלמכם אנא
אתפקנא
ארבעתנא נחן אלמדכורין אן // יכרגו (!)// כל מנא מבלג ונשתרי בה מתאע
גירה ונסאפר אלי
אלשאם פאכרגת אנא פג דיארא (צ"ל: דינארא) אלא קיראטין [[ואשתראו
אלאכרין]] ואכרגו הם איצא
דהב [[אכר תם אטלקנא מן דיואן אלמכס חמלין]] ואשתרינא מתאע וגירה
ואטלקנא
חמלין מן דיואן אלמכס לי פי אלחמלין אלפג אלא קיראטין ובאקי אלאחמאל
להם
פענד מא תגאהזנא ללספר קדר אללה תעאלי [[ומרצת]] חצל לי תגייר מזאג
פמא בקי ימכן ספר ואלאן אשהדו עלי ואקנו מני קנין שלם אנני געלת
אלפג דינ' מעהם קראץ יסאפרוא בהא אלשאם יביעוא וישתרוא ומהמא סבב
אללה מן אלפאידה כאן להם אלנצף וקיראט ויכון לי אלתלת ותמן לאנני
פצלתהם
פי אלפאידה עני בקיראט //יכון // שכר עמלם ומזונם ומתי חצל פיהא כסארה
כאן
אלנצף עלי ואלנצף עליהם וכדלך דפעת לסלימאן אבן עמראן הדא יט דינא (!)
עלי סביל אלקראץ מהמא פתח מן אלפאידה כאן לה אלנצף וקיראט ויכון
לי אלנצף גיר קיראט לאנני [[געלת לה איצא]] //פצלתה// בקיראט עלי אלנצף
יכון
שכר עמלו ומזונו ואשהדו עלי אנני מכנת להם יפעלוא פי הדא
אלקראץ חסב מא יראוה מן אלמצלחה
T-S 8J6.9 1v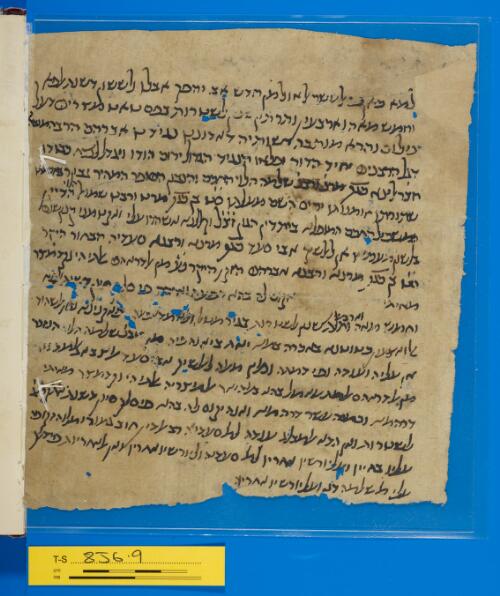 Image Permissions Statement

T-S 8J6.9: Provided by Cambridge University Library. Zooming image © Cambridge University Library, All rights reserved. This image may be used in accord with fair use and fair dealing provisions, including teaching and research. If you wish to reproduce it within publications or on the public web, please contact genizah@lib.cam.ac.uk.