Legal document: T-S 8J5.9
Legal document
T-S 8J5.9
Input date
In PGP since 1990
Description
Court record concerning evidence of possession of a compound in Fustat, mentioning lanes and buildings in the city. July 1130.
T-S 8J5.9 1r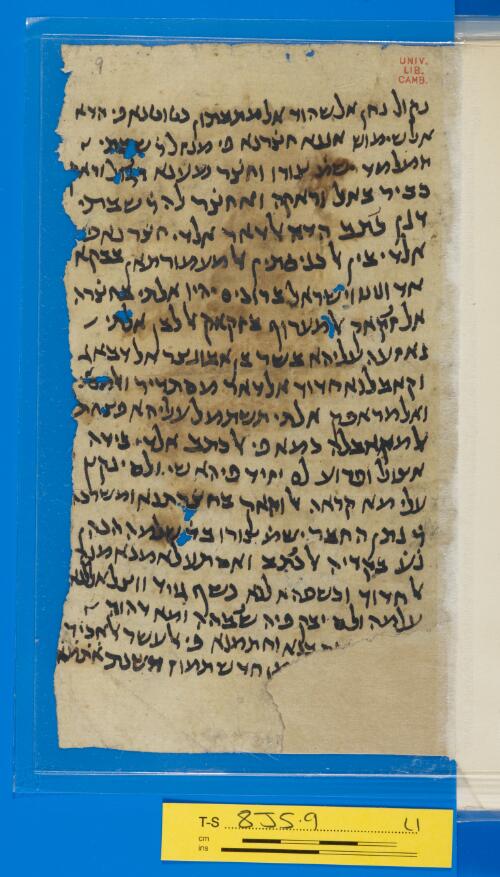 Transcription
S. D. Goitein, unpublished editions.
נקול נחן אלשהוד אלמתבתון כטוטנא פי הדא
אלשימוש אננא חצרנא פי מנזל ר שבתי
המלמד ישמ צורו וחצר מענא ל וראק
כביר באלצדאקה ואחצר לה ר שבתי
דנן כתב הדה אלדאר אלדי חצרנא פי[ה
אלדי בין אלכניסתין אלמעמורתאן בבקא
אדונינו וישראל ברוכים יהיו אלתי בחצרה
אלזקאק אלמערוף בזקאק אללבן אלתי
נאזעה עליהא בשר בן אבו נצר אלדבאג
וקאבלנא חדוד אלדאר מסתדיר ואלמס/א/כן
ואלמראפק אלתי תשתמל עליהא פצחת
אלמקאבלה כמא פי אלכתב אלדי בידה
אצול ופרוע לם יזיד פיהא שי ולם ינקץ
עלי מא קראה אלותאק בחצרתנא ומשרכה
ר נתן החבר ישמ צורו בר שלמה הכהן
נע בקריה אלכתב ואסתעלאמנא מנה
אלחדוד וכשפהא לנא כשף גייד ווצל אלינא
עלמה ולם יבק פיה שבהה ומא דהוה
כ]תבנא וחתמנא פי אלעשר אלאכיר
]מן חדש תמוז דשנת אתמא
T-S 8J5.9 1v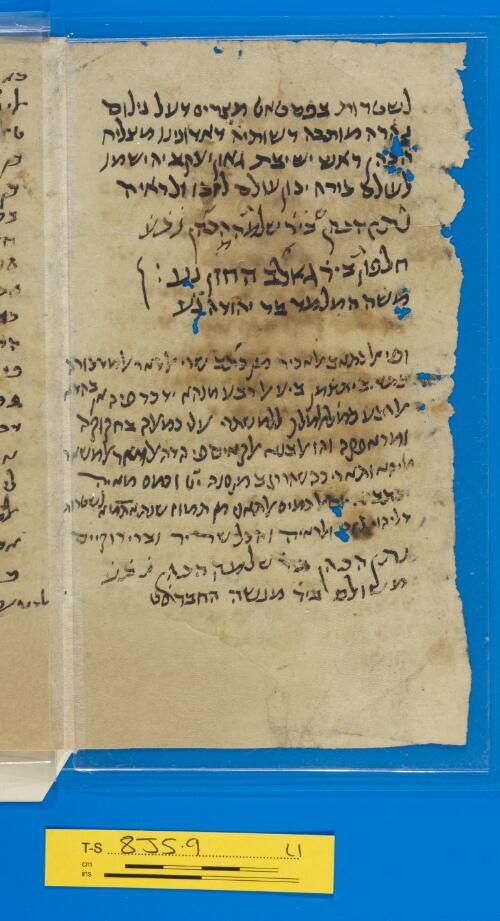 verso
אלי בית דין פאחצרהא אסתשפהא פלם
יכון לה לבשר הדא פיהא זכות ולם יתבת
לה בגירהא חק חין אדן אתבת אלדאר
ביד ר שבתיי אלמעלם בן בו יעקוב
בן אלשופט הדא עלי מא כאנת
בידה קבל דלך אד כאן הו אולא
בהא למא הי בידה וכתבהא באסמה
וצחה מקאם לה חדודהא עלי מא דכר
פי כתבהא ולם יתבת לכצמה עליה
חק פלמא תבת לר שבתי דלך אלתמס
מן בית דין מעשה בקציה אלחאל פאמר
לה בכתב מעשה יכון בידה לזכות
ולראיה ומא בעדה והדה נסכתה
וכאן דלך פי תמוז אתמא לשטר
נתן הכהן ביר שלמה הכהן נבע
-------------------------
תקדם אלטבקה
דפע
ואן יבדי ולדי פי ימינה בד דינ' ישתרי בהא זית
ואנה לא אכדני מן אל מן אלדאר
ואנא אופי אגרה אלג ע ה [
ו י אלדי אנפקה מפצל [
T-S 8J5.9 2r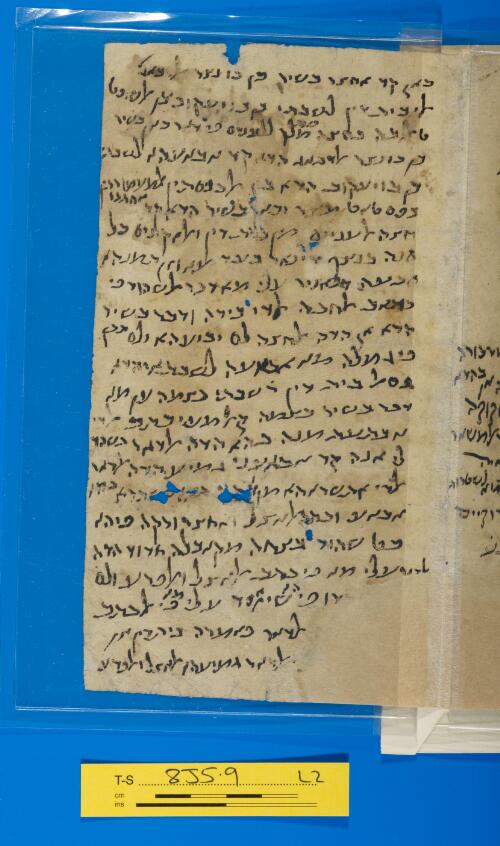 T-S 8J5.9 2v
Image Permissions Statement

T-S 8J5.9: Provided by Cambridge University Library. Zooming image © Cambridge University Library, All rights reserved. This image may be used in accord with fair use and fair dealing provisions, including teaching and research. If you wish to reproduce it within publications or on the public web, please contact genizah@lib.cam.ac.uk.