Legal document: T-S 8J4.1
Legal document
T-S 8J4.1
Input date
In PGP since 1990
Description
1r-v: Agreement between Sari b. 'Eli and Sedaqa b. […] with regard to goods left by Musafir b. Yish'i. Shari undertakes to pay after his return from Alexandria, no later than after 40 days. Dated Iyyar, 1028, and witnessed by seven signatories, headed by Yosef ha-Kohen, the judge. (Information from Goitein's index cards) EMS
T-S 8J4.1 1r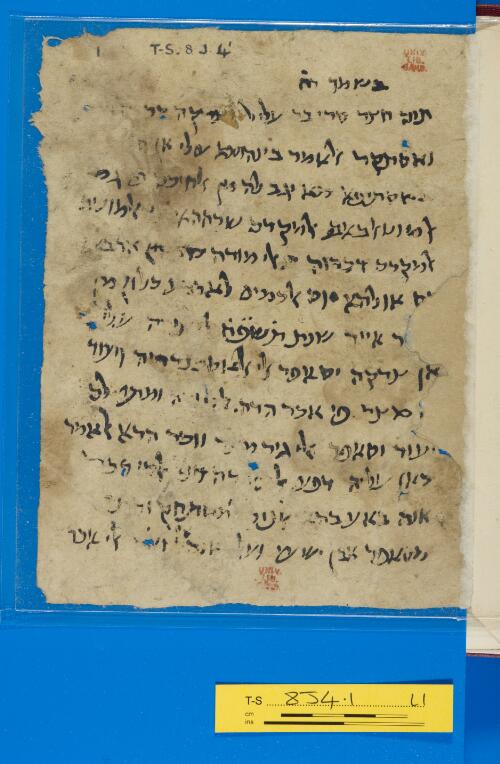 Transcription
S. D. Goitein, unpublished editions.
בשמך רח
תום חצר סרי בר עלי למ צדקה בר
ואסתקר אלאמר בינהומא עלי אן [
פי אסתיפא מא יגב לה מן אלחוכם פי גמי[ע
אלמוטאלבאת אלמקדם שרחהא פי אלמושב
אלמקדם דכרוה אלי מודה [[ מן]] ארבעי[ן
י]ום אולהא יום אלכמיס לארבע כלון מן
שה]ר אייר שנת תשפה ליצירה עלי
אן צדקה יסאפר אלי אלאסכנדריה ויעוד
אל]י מצר פי אכר הדה אלמדה ומתי לם
יעוד וסאפר אלי גיר מצר ווכר הדא אלאמר
כאן עליה דפע אלעשרה דנא אלדי דכר
אנה באע בהם אלניל [אל]מסתחקה ו
מסאפר אבן ישעי ועלי אנה אלי אכר
T-S 8J4.1 1v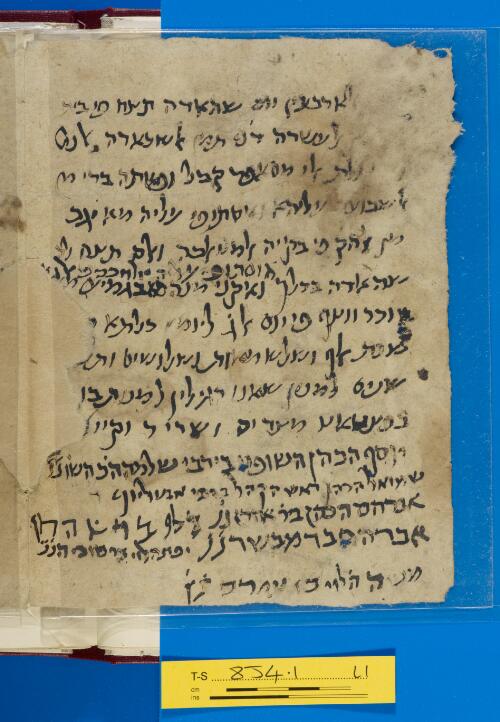 verso
] ארבעין יום שהאדה תצח פי בית
]ל עשרה דנא' תמן אלשכארה אלניל
] תלת אלי מסאפר קבל ופאתה ברי מן
אלשבועה עליהא ואסתופי עליה מא יגב
מן אלחק פי בקיה אלמטאלבה ואלם תצח לה
שהאדה בדלך //אוסתופי עליה אלחכם פי אל [// ואקני מנהמא בגמיע מ
וכר ווצף פי יום אלג ליומ כלתא [
שנת אלף ושלש מאות ושלושים ותש[ע
שנים למנין שאנו רגילין למנות בו
בפצטאט (!) מצרים ושריר וקיים
יוסף הכהן השופט בירבי שלמה הכ השו ננ
שמואל הכהן ראש הקהל ברבי אבטליון
אברהם הכהן ביר אהרן ננ כלף בן אהרן
אברהם בן מבשר ננ יפת הלוי בר טוביה ננ
משה הלוי בן עמרם ננ
T-S 8J4.1 2r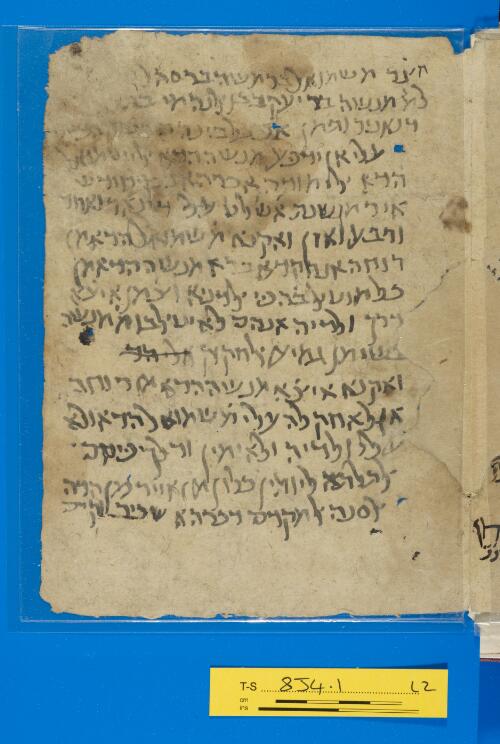 T-S 8J4.1 2v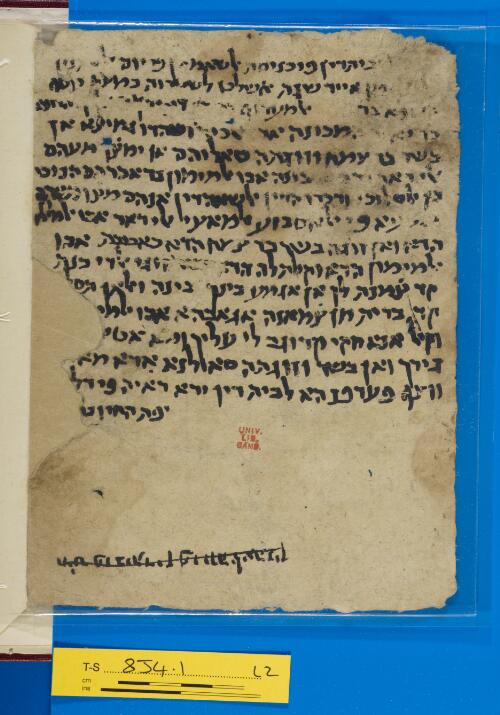 Image Permissions Statement

T-S 8J4.1: Provided by Cambridge University Library. Zooming image © Cambridge University Library, All rights reserved. This image may be used in accord with fair use and fair dealing provisions, including teaching and research. If you wish to reproduce it within publications or on the public web, please contact genizah@lib.cam.ac.uk.