Letter: T-S 8J26.4
Letter
T-S 8J26.4
Input date
In PGP since 1990
Description
Letter regarding business from Yaḥyā b. Mūsā al-Majjānī, probably in Mahdiyya, to Nahray b. Nissim (c. 1045 CE). On verso is the continuation of the letter and a (draft of a) letter in a different hand and ink, mentioning Abū Zechariah b. Menashshe and expressing the hope that [...] b. Abū Ibrahim al-Iskandarānī, who travelled from Barqa, is fine.
T-S 8J26.4 1r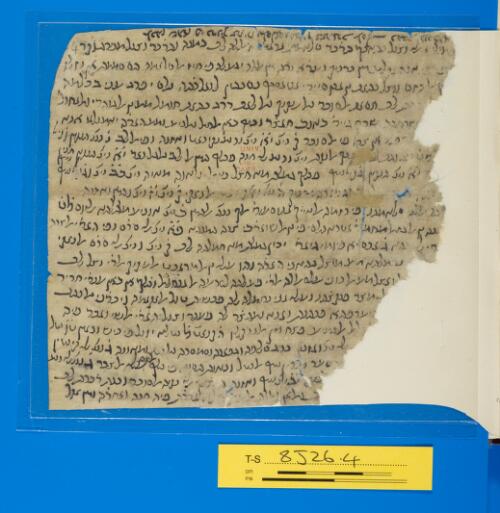 Transcription
A. L. Udovitch, [digital geniza document edition].
מולאי אלי וצול כתאבך תדכר סלאמתך אדאמהא אללה לך במנה ותדכר וצול מפרג
וקד
אנה אקלע מן ברניך ועדא ארגו מן אללה יגעלה פי חיז אלסלאמה תם סמעת
אן נזלו
אלרזם ווצל כתאב מן אבן סיידי אבו אסחק נסכתין לואלדתה ולם יפרג עני
בכלמה
] ת לך חסאב אלסוכר ואלעקיק ואללאך דרג כתאבך חומל מע בן אלגוהרי
ואלאחול
]צ ח שרח גייד באנכ (!) חאצר וכיף כאן אלחאל ואלביע ומע האדה יא
מולאי אנא
] פי אן צרו פי אלסוכר ק דינ' יא דינ' ורבע וקיראט ואזנה ופי אללב
ו דננ' תנקץ ו קי'
] ותך ך אלוקת דינ' ורבע אלי חבה פתלך תמן אללב תלת אלכאר יא
דינ' תנקץ תנין
] יא דינ' תנקץ ג קי' ונצף פתלך גמלה מא חצל פי אלעלאוה מאיה דינ' כב
דינ' וג קי' ונצף
] וג ברניק ה דנא ו? אלבאקי ק דינ' יז דינ' והדא ואזנה
] אליה סלאמהא פי רזמה אלשייך אבו סעיד אלף דרה' אלתמן כ דינ' או
ביע מתלהא ליום לט
] בן אל מחמ אלאטראבלסי פי בן אלשוארבי צרה תמנהא פא דינ'
אלי (!) סדס ופי האדי (!) אלצרה
] הא ג אכסיא פיומי גוארי יכון גמלה מא חמלתה לך ק דינ' ודינ' אלי
סדס אלבאקי
] ל א מע מוצל כתאבי האדה והו עלי בן אלמראבט אלעקיק אלדי וצל לך
] אלואצל מע אלכוני עלם אללה אלדי פעלתה לסרעה אלאנחלאל ודלך אן כאן
ענדי חריר
] מצר פנקצתה ועלי אכי נחמלה לה פכשית טול אלאקאמה ויכדני אלכתב
] ערפהא פכתבת ואנא נעתצר (!) לה פענד וצול האדי אלשי ואכד פיה
] אל אלגמיע פצח וזן אלברקלו ה קנאט ל רטלא יזול פי כיש וכאן טו רטל
]אלי דינ' ואזנה כרג סלפה וגפארה וסמסרה ואל ומאונה ג דרא' אלי
קירטין
] סער דינרין ונצף אלרטל וכאנת תסוא פי דלך // אליום // עלי אלצבר ג
דרא' אלי רבע
] יב נצף ואזנה בקיה אלסוכר וכנת דכרת לך
] אלאן ואכדת פיה חבה ואחדה ומן אקל
top of page (with the letters upside down)
אלכהן שתא פי ברניך צחיח אלסלאם ועלי אצהארך אלסלאם כתבת לכום כתא[ב
recto
[סררת יא]מולאי אלי וצול כתאבך תדכר סלאמתך אדאמהא אללה לך במנה ותדכר וצול מפרג וקד

[וצלני] כתאבה אנה אקלע מן ברניק ועדא ארגו מן אללה יגעלה פי חיז אלסלאמה תם סמעת אן נזלו

[ ]ן אלרזם ווצל כתאב מן אבן סיידי אבי אסחק נסכתין לואלדתה ולם יפרג עני בכלמה

[וקד כנת ש]רחת לך חסאב אלסוכר ואלעקיק ואללאך דרג כתאב חומל מע בן אלגוהרי ואלאחול

[ ] שרחתה שרח גייד כאנך חאצר וכיף כאן אלחאל ואלביע ומע האדה יאמולאי אנא

[ אע]רפתך אן צח פי אלסוכר ק דינ יא דינ ורבע וקיראט ואזנה ופי אללב י דננ תנקץ ו קיר

[ ] אלוקת דינ ורבע אלי חבה פדלך תמן אללב תלתל נאר יא דינ תנקץ חבין ונצף

[ ] יא דינ תנקץ ג קיר ונצף פדלך גמלה מא חצל פי אלעלאוה מאיה דינ כב דינ וג קיר ונצף

[ ] אלבאקי ק דינ יז דינ ותמן ואזנה [ ]

[ ] כתב אללה סלאמתהא פי רזמה אלשיך אבי סעיד אלף דרה אלתמן כ דינ אוביע מתלהא אליום לט

[וחמלת צח]בה בן אלבגל מחמוד אטראבלסי פי בן אלשואדבי צרה תמנהא פא דינ אלי סדס ופי האדה אלצרה

[ ] בהא ג אכסיא פיומי גיאד יכון גמלה מא חמלתה לך ק דינ נ דינ אלי סדס אלבאקי

[ ] נחמלהא מע מוצל כתאבי האדה והו עלי בן אלמראבט אלעקיק אלדי וצל לך

[ ] אלואצל מע אלבוני עלם אללה אלדי פעלתה לסרעה אלאנחלאל ודלך אן כאן ענדי חריר

[ ] אלי מצר פנקצתה ועלי אני נחמלה לה פכשית טול אלאקאמה ויכדני אלכתב

[ ] יערפהא פכתבת ואנא נעתצר לה פענד וצול האדי אלשי נאכד פיה

[ ] אלגמיע פצח וזן אלברקלו ה קנאט ל רטלא יזול פי כיש וראץ טו רטל

[ ] דינ ואזנה כרג סלפה וגפארה וסמסרה ואל[ ] ומאונה ג דננ אלי קירטין

[ ] סער עשרין ונצף אלרטל וכאנת תסוא פי דלך אליום עלי אלצבר ג דננ אלי רבע

[ ] יב דינ ונצף ואזנה פ[אנ]צאף לי בקיה אלסוכר וכנת דכרת לך

[ ] ואלאן ואללה אלעאלם לא אכדת פיה חבה ואחדה ומן אקל
recto - top margin
אלכהן שתא פי ברניק צחיח ואלסלאם וסאיר אצחאבך אלסלאם כתבת בנסכתא
T-S 8J26.4 1v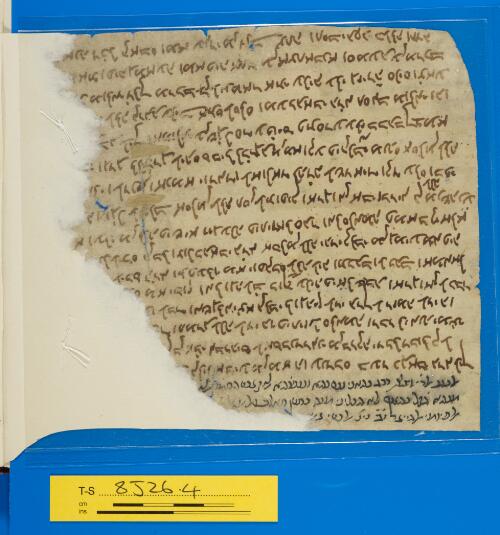 page b
] קליל אביע מן מא הו ענדכם בעד כתאב גרא ליך
] בן אבי אברהים אלאסכנדראני מן ברקה ידכל דכול קאל
] וחמדת אללה אלדי הו פי חיז אלסלאמה ודכר לי אנה ימצי
] פי אלבר ואשגל איצא קלבי לוגהין אלדי תרך אלרזמה אלדי הו
]ם מא יכון ואלוגה אלב כוף עליה פי אלסבת וארגו אן אלכבר
] אליכם הדא ותפעלו מא יופקכם אללה אליה ותכתב ואלכתב ואמא אל
]צל אליכם קבל וצול כתאבי הדא אסל מן אללה יהדי קלבי מן גמיע מא פיה
]א ועלי מן לה פי שיא ויגעלה פי חיז אלסתר ואלסלאמה פמא בקי אלא
] ושגל אלטלב אסל מן אללה חסן אלתופיק וארגו אן אבי זכריא בן מנשה נע
] י ואלד ואנמא יו א ו אלאולאד להדה אלשדאיד וקד עלם // אללה //
וכפי
] וגדת [[ל ]] אליהם סביל לכרגת מן מא וקע פי קלבי מנהם אסל מן אללה
] בת אליך יא מולאי ען שגל סרי עטים פתסרע עלי בכתבך במא
] אללה קראת עליך אתם אלסלם ומע כתאבי הדא חסאב מולאי והו
] מולאי דלך מרכב בן אלצטאר אתי עליה עלי גזירה סליס וצאע
] מאתו פיה גמאעה ומא פיה אחד מן אצחאבנא וסמעת ען מרכב
] אנה דכל קאבס ומא ענדי מן דלך צחה וחסבי תקתי באללה וחדה
verso - top margin
אלכתב אלדי וצלת דרג כתאבי ננסכהא וננפדהא אליך אכס[

מנהא תקל כתאבך לא תכליני מנה בחסן חאלך ואלע[

אלפיומי אלגיאד יב דינ אלכסי א[
Image Permissions Statement

T-S 8J26.4: Provided by Cambridge University Library. Zooming image © Cambridge University Library, All rights reserved. This image may be used in accord with fair use and fair dealing provisions, including teaching and research. If you wish to reproduce it within publications or on the public web, please contact genizah@lib.cam.ac.uk.