Letter: T-S 8J20.2
Letter
T-S 8J20.2
Input date
In PGP since 1990
Description
Letter from Ismāʿīl b. Faraḥ, Alexandria, to Yosef b. Eli, Fez. 6 November 1056. Discusses goods arriving from al-Andalus, Italy and the Maghrib; mentions cotton, fruit, textiles, oil and honey.
T-S 8J20.2 1r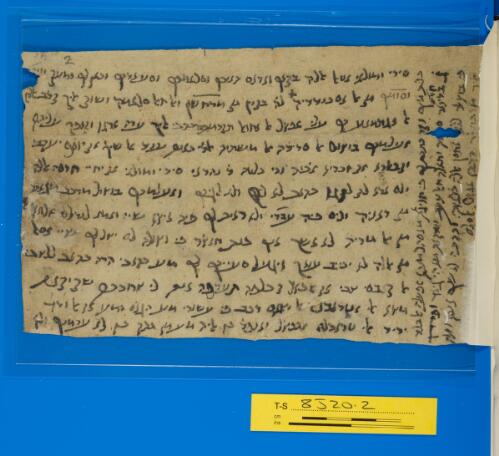 Transcription
S. D. Goitein, unpublished editions.
סידי ומולאי אטאל אללה בקאך ואדאם תאידך וסלאמתך וסעאדתך וכאן לך ומעך
עוזר
וסומך מן אלאסכנדריה לה בקין מן מרחשון ואלחאל סלאמה ושוק אליך קרב
אללה
אלאגתמאע בך עלי אפצל אלאחואל תקדמת . כתבי אליך עדה ארגו וקופך עליהא
אעלמתך בוצול אלפרידה (או: אלסדידה) אלמשתיה (או: אלמשוכיה) אלדי כאנת
ענד אלשיך אבו יוסף יעקוב
וקבאלהא אבו זכריא אכיה והי כלטה ר נהראי סידי ומולאי אבו יחיי חרסה
אללה
ולם ארא לבן לנגו כתאב לא לך ולא לגירך ואעלמתך בוצול מרכב מגאהד
מן דאניה וליס פיה עברי ולא ראית לך פיה איצא שיי ואמא לנדלסי אלואצל
מן אלמריה לא אשך אנך כנת חאצר פי וצולה לם יצל לך שיי אסאל
מן אללה לא יכייב ענאך ויגעל סעייתך לך מע כתאבי הדא כתאב ללצבי
אלקאבסי צבי אבו אלפצל בן כלפה תערפה אנה לי צחבתה שקיקאת
מצוא אלי אטראבלס אלשאם רכב פי עשארי מע הגאס ומע אבו אלורד
יריד אלי טראבלס אתפצל ואנפד בה אליה מע מן תתק בה לא עדמתך ולא
margin
כלות מנך וקד כתבת לך פי חויגאת מא סהל מנהא אפעלה אלבלד (!)
ג בדינאר // חטים // ס[ער ?]ה וחאלה חאל צעב וטרקאת מא הי גיאד ופ...
(תיקון)
פי בוציר לל .. אחסן אללה כלאצה וכתבה לא שך אנה וצלת
אליך מ ב תכתץ אפצל אלסלם
T-S 8J20.2 1v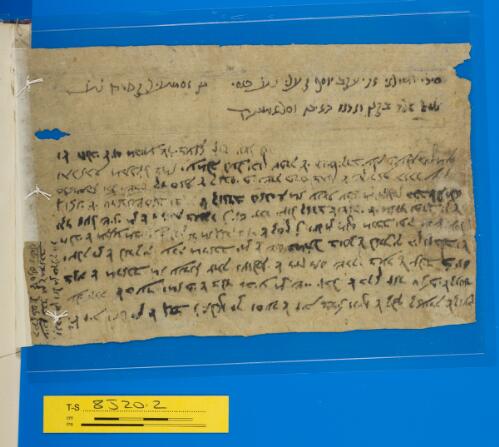 page b
אלזית וצל מן אלגרב ו אלאף זק וסער אלזית בדינ' ונצף אלקלה קאעדה (או:
קאעדת) אלקאעד (או: אלקאעדה)
עלי הדה אלסער ומא פי אלבלד אביע מן שיי יוכל אלבקא זאד ט נ' (נצף ?)
פי אלקנטאר
בקיה אלמראכב מא ענדנא צחה וצולהא אלריח חס (או:רוס, או: דוס) שרקי בעד
אלצליב כ יום
וצלת מן אללאדקיה עדה מראכב ומן אלשאם במתל בוסק אללאדקיה תין וזביב
ואל
חלבי אלמתאע מביוע אד מא גא אלקטן נ וצל מן מלף מרכב ופיה שש
ועסל
וקד וצל שיני מן אלמדינה בעהד נ יום ידכר וצול קארב אלשאמי אלי מאזר
יפרג ובן אל
גואני אלי טראבלש (!) חאצל ובקיה אלקוארב סאריה מא ענדה עלם מן אחואלהא
כתב אללה
סלאמתהא וכל ישראל קד סאלת אלקאבסי פי שרא פרסי בתמן אלשקיקאת תאכד
עליה
ותכאתבה מתפצל במא יעמלה לעל יכון צפרה אלי תניס יקרב עליה פעלת
מעי (או: מעה)
ואלחלבי אליום מביוע אלדי בענא ז ונ'(?) יבאע (?) ..
the address
סידי ומולאי אבי יעקב (?) יוסף בן עלי נע פאסי מן אסמעיל בן פרח נע
אטאל אללה בקאה ואדאם תאידה וסלאמתה
Image Permissions Statement

T-S 8J20.2: Provided by Cambridge University Library. Zooming image © Cambridge University Library, All rights reserved. This image may be used in accord with fair use and fair dealing provisions, including teaching and research. If you wish to reproduce it within publications or on the public web, please contact genizah@lib.cam.ac.uk.