Legal document: T-S 8J16.4
Legal document
T-S 8J16.4
Input date
In PGP since 1990
Description
Autographed Responsum by Avraham Maimonides regarding the estate of a freed female slave. Written by MOshe b. Perahya, who was the muqaddam of MInyat Ghmar. AA
T-S 8J16.4 1r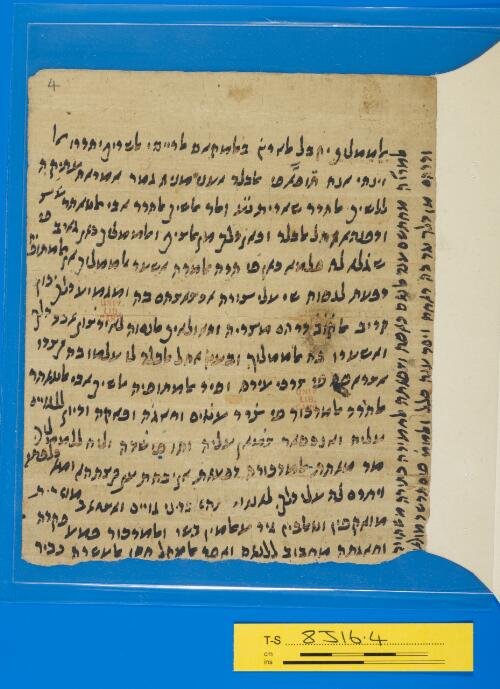 Transcription
S. D. Goitein, unpublished editions.
שאלה לאברהם בן הרמבם ותשובתו בצידה אודות נחלתה של משוחררת הנתבעת על-ידי
בנו של בעליה לשעבר, במנית גמר
אלממלוך יקבל אלארץ באלמקאם אלרייסי אלשריף יהדרו אל
וינהי אנה תופא פי אלבלד אעני מניה גמר אמראה עתיקה
ללשיך אלהדר שארית נע ואלד אלשיך אלהדר אבו אלטאהר שצ
ודפנהא אהל אלבלד וכאן דלך מן אלציף ואלממלוך כאן גאיב פי
שגלא לה פלמא כאן פי הדה אלמדה אשער אלממלוך אן אלמתופיה
דפעת לנסוה שי עלי צורה אכצאצהם בה ומגמוע דלך יכון
קריב אלקוכ דרהם מצריה והאולאיך אלנסוה לא ירצון אכד דלך
ואשערו בה אלממלוך ובעץ אהל אלבלד לו עלמו בה קצדו
אצראפה פי צרכי עירם וסיד אלמתופיה אלשיך אבי אלטאהר
אלהדר אלמדכור פי צרר עטים וחאגה ופאקה ודיון ללגויים
עליה ואנכסאר צמאן עליה והו פי שדה ולוח ללממלוך.
מד מאתת אלמדכורה דפעאת אן יבחת ען קצתהא ומא כלפתה
ויחרם לה עלי דלך לאנה וארתהא בדיני גויים ואצחאב מוארית
מואקפין וטאלבין גיר עאלמין בשי ואלמדכור פמע פקרה
וחאגתה מחבוב ללנאס אלעקל חסן אלעשרה כביר
margin
אלמרוה מחתשם ענד אלנאס כאפה וצפאתה אלחמידה כתירה משהורה
ודרהם מן דלך יגד בה ראחה ויסד ענה כלל ואלממ פיסתרשד מולאי
T-S 8J16.4 1v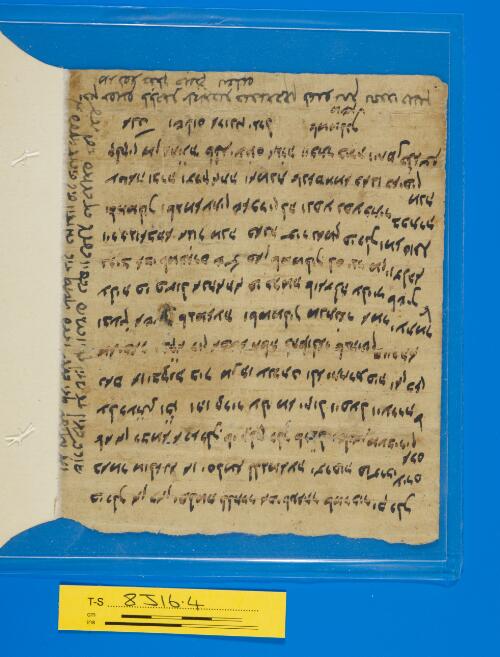 page b
פי דלך אן כאן יסלמה ללהדר אבי אלטאהר אלמדכור יכן דלך
באמר מולאנא או יסלמה ללגמאעה יצרפוה פי צרכי עירם
אלא אן רבמא אדא דלך אלי קלק דלך אלרגל ושלשה מעבירין אדם
על דעתן וכו והו קדיר עלי מא יקול ויפעל ויעדרה אל
נאס או יבקיה ביד מן הו ענדהם ולא יתחדת פיה ואן כאן
מא יכאד יבקא דון אפשא חאלה להאולאי אלגהתין סיידהא
ובעץ אשיאך אלגמאעה ואלממלוך מנחטר אמר יעתמד
עליה פי פצול אנהאהא פי כרמה אלואצלה עלי יד אלשיך אל
נגיב אבי אלמכארם שצ' פאן אלממלוך לם יגד מן יוצלהא
וירד גואבהא אגוד מנה פאנה ציר נאמן פי דלך ומא סואה
ואלממלוך ואלגמאעתין שאכרין לה ינפע נפע כתיר בכתרה
עטאה וברה וצדקאתה ואמנת אלנאס ממא כאנו כאיפין מנה
קלקין מן גהתה אללה יעטם אגרה ויכתר כירה ויחסן כלאצה
אנכ' ושלום אדוננו יגדל אלממלוך
משה
margin: the answer of Abrham the son of the Rambam
שורת הדין גר שאין לו יורשים נכסיו הפקר כל הקודם בהן זכה
ואד ואלנסא אלדי תחת ידהם אלמאל גיר ראגבין פיה פיסוג מנהם אן
bottom of page
יכון דפעה ללהדר אלמדכור באראדתהן לאנה אנה לצרכי העיר
מא להא בדלך תעלק ושלום
Image Permissions Statement

T-S 8J16.4: Provided by Cambridge University Library. Zooming image © Cambridge University Library, All rights reserved. This image may be used in accord with fair use and fair dealing provisions, including teaching and research. If you wish to reproduce it within publications or on the public web, please contact genizah@lib.cam.ac.uk.