Letter: T-S 8J16.21
Letter
T-S 8J16.21
Input date
In PGP since 2017
Description
Letter to Abu al-Ḥasan 'Ali b. Hillel, the cantor, in which the writer describes departing to the house of Abu al-Faraj and an exchange with a 'Christian scribe.' He sends well wishes to Sitt al-Husn and her children. EMS
T-S 8J16.21 1r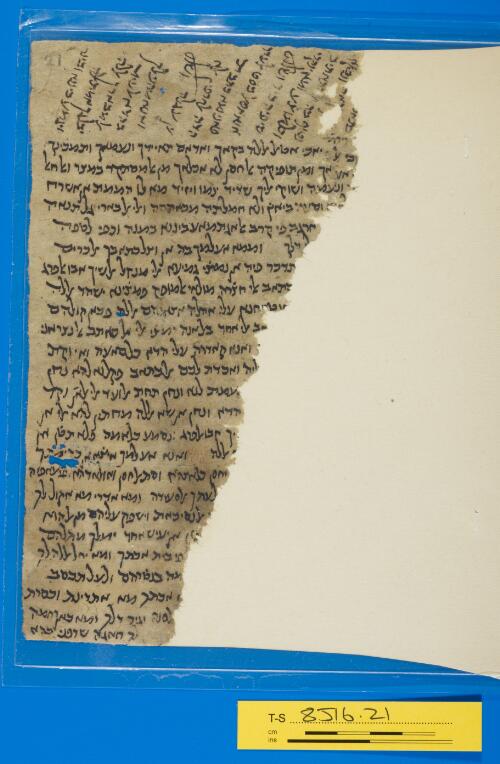 Transcription
S. D. Goitein, unpublished editions.
] רחמ'
]יאכי אטאל אללה בקאך ואדאם תאיידך ונעמאך ותמכינך
] אך ומן תופיקה אלחסן לא אכלאך מן אלמסתקר במצר ואלחאל
] ונעמה ושוקי אליך שדיד ינמו ויזיד מא לו הממת אן אשרח
]וסעה ביאץ ולא חמלתה מכאתבה ואלי אלבארי גל תנאה
]ארגב פי קרב אלאגתמא ביננא במנה וכפי לטפה
] דלך וממא אעלמך בה אן וצל כתאבך אלכרים
]תדכר פיה אן נמצי גמיעא אלי מנזל אלשיך אבו אלפרג
]כתאב אלי חצרה מולאי אלמופק פמצינא ישהד אללה
] נא עלי אהלה אצאנהם אללה פכאן קולהם
] ב אלי אחד בל אנה ימצי אלי אלכאתב אלנצראני
] ואנא קאדרה עלי הדא כל סאעה ואי וקת
]ליה ואכדת לכם אלכתאב פקלנא להא נחן
]עמת לנא ונחן תחת אלועד אלי אלאן וקד
]הדא ונחן אן שא אללה מחתין להא אלי אן
] ך אבו אלפרג ונסמע כלאמה פלא תטן אן
]אללה ואנא אעלמך איצא אן כרימתך
]יחסן כלאצהא וסת אלחסן ואולאדהא פי עאפיה
]לעתך אלסעידה ומא אדרי מא אקול לך
]אלנסיכאת וישפק עליהם מן אלהוא
]כון אן יעיש אחד ימלך מתלהם
]פי בית אכתך ומא י ל אללה לך
]מה בנטרהם ולעל תכסב
] אכתך מא אתדינת וכסרת
]לסנה וגיר דלך ומא כאן רחמה
]לך חאגה שרפני בהא
(Top Margin)
כתאב / א ונבקא / נטוף בה אלכתאתיב / ובאלמוצע ומא ינקדי / שי פיה
כיר ושלום / אנא אסאל בסט אלעדר / פאני מא כתבת / הדה אלחרפין אלא / ען
עגלה ושלום / ואנא מהני לך / בהדא אלעיד / אלמבארך אללה / יבלגך אמתאלה /
ויגמע ביננא ובינך
T-S 8J16.21 1v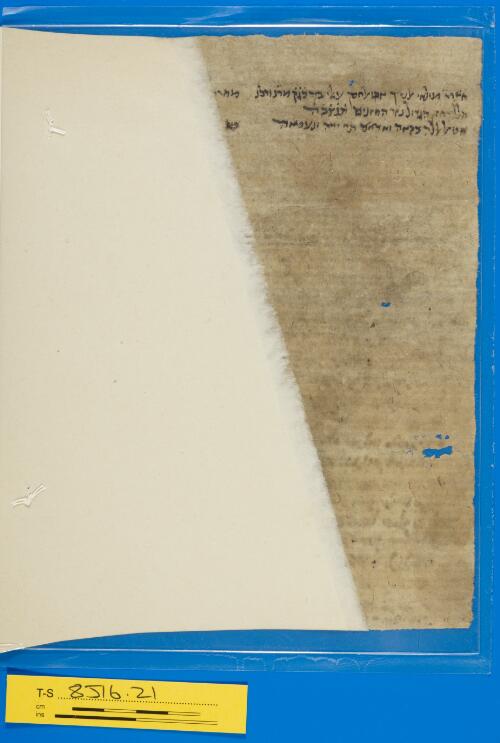 (Verso)
חצרה מולאי אלשיך אבו אלחסן עאלי ביר כגק מרנ ורבנ מחר [
הלל החזן הגדול נזר החזנים תנצבה
אטאל אללה בקאה ואדאם תאידה ונעמאה
Image Permissions Statement

T-S 8J16.21: Provided by Cambridge University Library. Zooming image © Cambridge University Library, All rights reserved. This image may be used in accord with fair use and fair dealing provisions, including teaching and research. If you wish to reproduce it within publications or on the public web, please contact genizah@lib.cam.ac.uk.