Letter: T-S 8J15.9
Letter
T-S 8J15.9
Input date
In PGP since 1990
Description
Letter addressed to Eli ('Allun) ha-parnas, active 1057-1107, which mention his less well-known son, the parnas Abu Kathir (Efrayim ha-Kohen b. 'Eli). (Oded Zinger, Women, Gender and Law: Marital Disputes According to Documents of the Cairo Geniza, 359) EMS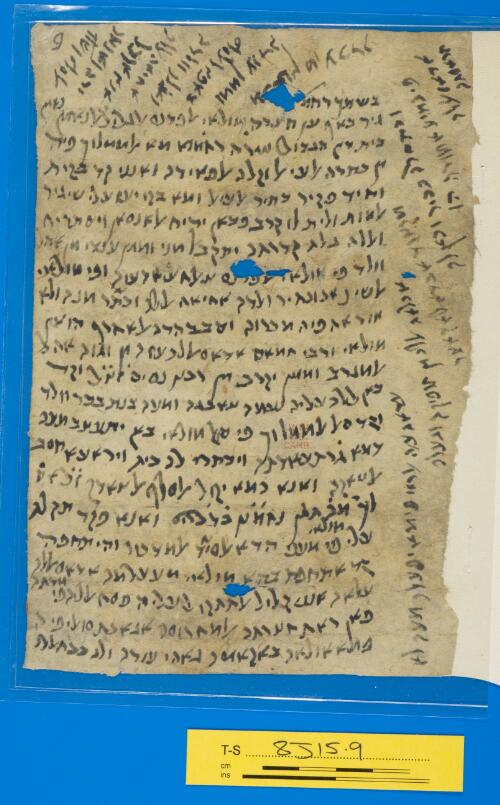 Transcription
S. D. Goitein, unpublished editions.
בשמך רחמ'
גיר כאף ען חצרה מולאי אלפרנס אלגליל אלנאמן נאמן
בית דין הגדול נטרה רחמנא מא אלממלוך פיה
מן כתרה אלעיאל וקלה אלפאידה ואנני קד בקית
וחיד פקיר כתיר אלעיאל ומא בקי יעז עלי שי גיר
אלמות ולית לו קרב פכאן יריח אלאנסאן ויסתריח
ואללהגלת קדרתה יתקבל מני וממן ענדי מן אהל
וולד פי אולאד אלפרנס צאלח אלאדעיה ופי מולאי
אלשיך אבו כתיר ולדה אחיאה אללה וכתר מנה ולא
אוראה פיה מכרוה וסבב הדה אלאחרף הו ען
מולאי ורבי תמאם אדאם אללה עזה מן וגוה אהל
אלמגרב וממן יקרב מן רבנו נסים זצל וקד
כאן ללה עליה נעמה צאבגה ומעה בנת בכר וולד
וקד סאל אלממלוך פי סואל מולאי באן יתעצב מעה
כמא גרת עאדתה ויכתרי לה בית ויראעא חסב
אלטארק ואנא כמא יקול אלסלף אלצאדק זל (?)
לך מ נחמנו בדברים ואנא פקד תקלת
עלי // מולאי // מעני הדא אלסיד (?) אלמדכור והי תחפה
קד אתחפת בהא מולאי מע עלמה אדאם אללה
עלאה אנני קליל אלתתקיל עליה פסח אללה פי מדתה
פאן ראת חצרתה אלמחרוסה אגאבת סואלי פיה
פמא אולאה באקאמה גאהי ענדה ול ב
margin
עד וראי פימא יפעלו מעה לא / אכלאה אללה מן תופיקה וגעלה / מקצוד אבדא
לא קאצד / וכתם לה בכיר וכאן לה / פי גמיע אמורה הו / אדאם אללה / חראסתה
top of page
מכצוץ מן ענדה /וממן ענדה באפצל אלסלם / וא ל וולדה / אחיאה אללה / אנא
אקבל / ידה ואפטר / אלסלם ושלו'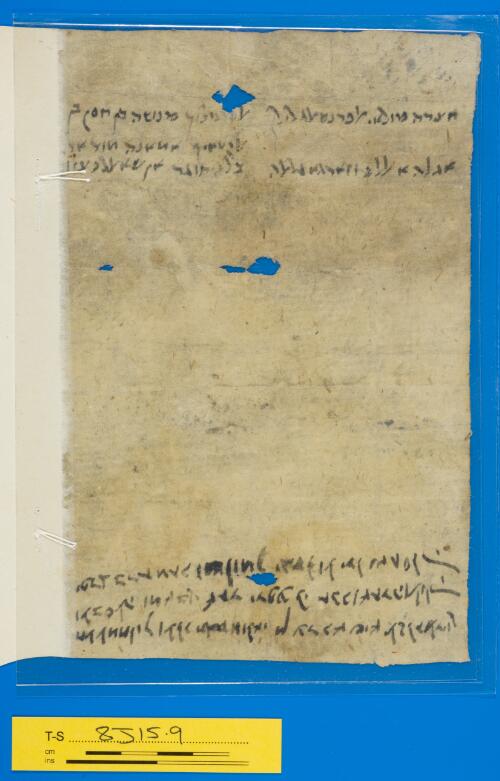 page b
אלממלוך ואללה חאם מולאי מן עדהא שיא אלקלה אלדיון
ואל אחד ידפע לי חבה ואחדה ואללה
יפרג ברחמתה ושלומך יגדל ואל ידל נצח סלה
חצרת מולאי אלפרנס אלגליל אלממלוך מנשה בן חסן בן
אלקטאיף אמאנה מודאה
אגלהא אללה וזאדהא גלאלה בלג תוגר אן שא אללה ע
Image Permissions Statement

T-S 8J15.9: Provided by Cambridge University Library. Zooming image © Cambridge University Library, All rights reserved. This image may be used in accord with fair use and fair dealing provisions, including teaching and research. If you wish to reproduce it within publications or on the public web, please contact genizah@lib.cam.ac.uk.