Letter: T-S 8J13.3 + T-S NS J250
Letter
T-S 8J13.3

+

T-S NS J250
Input date
In PGP since 1990
Description
Letter fragment in the hand of Yiṣḥaq ha-Levi Nisaburi about his cost in an affair concerning Abu Sa'id Makhlūf al-Nafusi. (Information from Goitein's index cards; and Mediterranean Society, 4:413.) EMS. The writer also wants more bibles sent and warns him of any more business with Makhlūf. He mentions further matters regarding Abu l-Faraj and Abū Tahir, and sends greeting to a number of people, including Abu Sahl, Abu l-Rida and Abū l-ʿAla who are admonished for not writing for a long time. (Information from CUDL.) He also describes a prolonged illness (60 days) this winter and asks Abū l-Munā to try to obtain a drug called Abū Zīdān for him; the physicians tell him there is no alternative. Join: Oded Zinger. ASE.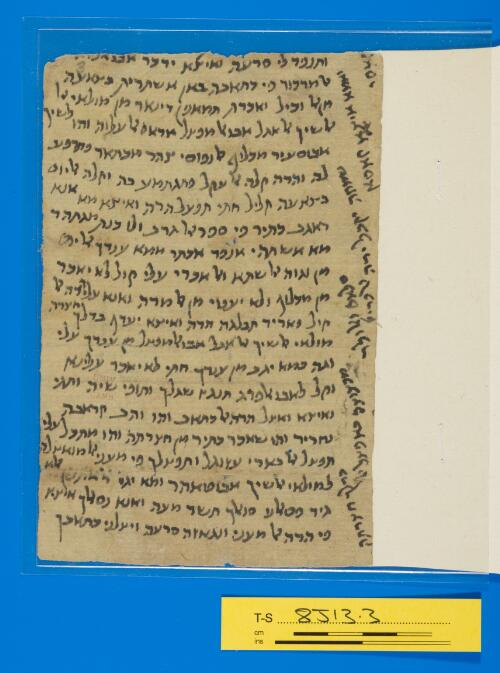 Transcription
S. D. Goitein, unpublished editions.
Recto of T-S NS J250:
כאן תאכרהם . . . ף חאלהם קל . . . . . . . .
אליום . ף ס׳ יום חתי //מא// תצרפת גיר פי הדה אל . מן
ומא כתבת הדה אלכתאב אלא בכלפת כביר אמא
מן אלדי כנת פיה אתנקץ כתיר יודו ליו חסדו
אמא מא יזול ס . . ה הדה אלמרץ כאצה פי אל
שתא וסאלת פי כתאב [אן?] מתקדם פי מעני קליל
עקאר יקאל אבו זידאן קאלו אלאטבא לא בד מנה
פתסתקצי ענה ולעל מולאי אלשיך אבו אלמנא
יצפר בה אדא כאן מן דרהם או דרהמין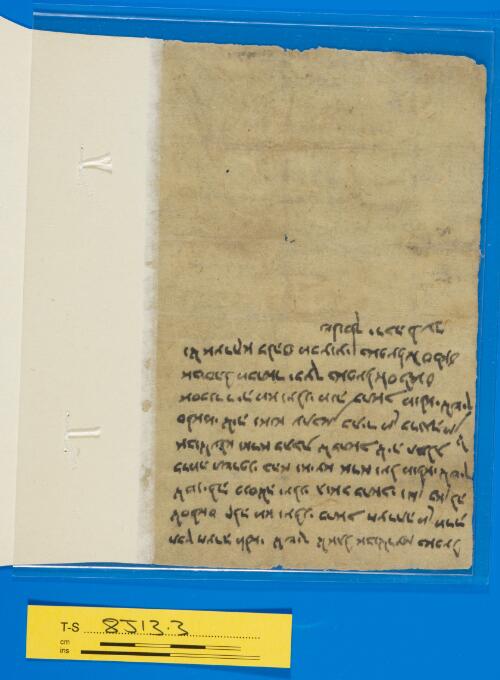 Recto of T-S 8J13.3:
ותנפד לי סרעה ואיצא ידכר אבי אלפרג
אלמדכור פי כתאבה באן אשתרית בצאעה
מן אלוכיל ואכדת תמאנין דינאר מן מולאי אל
אלשיך אלאגל אבו אלמפצל אדאם אל עליה והו לשיך
אבו סעיד מכלוף אלנפוסי צהר מכתאר פתדפע
לה והדה קלה אלעקל פתגתמע בה וקלה אליום
בצאעה קליל חתי תפעל הדה ואיצא מא אנא
ראגב כתיר פי ספר אלגרב ולו כנת מגתהד
מא אשתהי אנפד אכתר ממא ענדך אליום
מן וגוה אלשתא ואלאכרי עלי קול לא יאכד
מן מכלוף ולא יעטי מן אלמרה ואנא עלי /ה/דה אל
קול פאריד תבלגה הדה ואיצא יערף בדלך חצרה
מולאי אלשיך אלאגל אבו אלמפצל מן ענדך עלי
וגה כמא יגב מן ענדך חתי לא יאכד עלינא
וקל לאבו אלפרג תנגז שגלך ותופי שיה ותגי
ואיצא ואצל הדה אלכתאב והו והב קראבה
ינח י והו שאכר כתיר מן חצרתה והו מתכל עלי
תפצל אלבארי עז וגל ותפצלך פי מעני אלמואצלה
למולאי אלשיך אבו טאהר ומא יגי אלא . . . אלא
גיד פסאלני סואלך תשד מעה ואנא נסאלך איצא
פי הדה אלמעני ונגאזה סרעה ויצלני כתאבך
Margin of T-S 8J13.3:
בדלך חצרתה / מכצוצה באפצל אל / סלאם ואלולד / שמחה יקבל ידה אלכרים / ואמא איצא קאסא
Margin of T-S 8J13.3 and T-S NS J250:
מן אלמרץ מא יקאסי
Margin of T-S NS J250:
אחד ואחב (?) אלבארי / ] יגלינא . . . . .
Verso of T-S 8J13.3:
תכץ חצרה מ/ו/לאי אלשיך אלאגל אבו אלרצא באפצל
אלסלאם קלה מא וצלני כתאב חצרתה מן מדה
אלטוילה פנסאלה יצלני גואב כתאבי ואן כאן לה
כדמה תערפני בהא ואיצא אדא וצל מולאי אלשיך
אבו אלעלא ואדא כתבת אלכתאב אליה תבלג
סלאמי אליה ואנא עתבאן כתיר מן כרוגה מן אל
אסכנדריה מא וצלני מנה כתאב מולאי אלשיך
אבו סהל מכתאר יכצך באפצל אלסלאם
ואלאצדקא כלהם מכצוצין באפצל אלסלאם
שלומך ירבה לעד
Image Permissions Statement

T-S 8J13.3: Provided by Cambridge University Library. Zooming image © Cambridge University Library, All rights reserved. This image may be used in accord with fair use and fair dealing provisions, including teaching and research. If you wish to reproduce it within publications or on the public web, please contact genizah@lib.cam.ac.uk.