Legal document: T-S 8J12.1
Legal document
T-S 8J12.1
Input date
In PGP since 1990
Description
Deed of manumission of a female slave. Location: New Cairo. Dated: Wednesday, 18 Sivan 1421 Seleucid, which is 1110 CE. The owner's name is Ṭoviyya b. Yefet the physician. The slave's name is Thabāt, from the land of Greece (מארץ יון). The document is written, signed and witnessed by Avraham b. Natan Av Bet Din and Avraham b. Ḥalfon b. Avraham at the foot of recto and again on verso (attesting that the bill was given to her). (Information in part from CUDL.) VMR. ASE.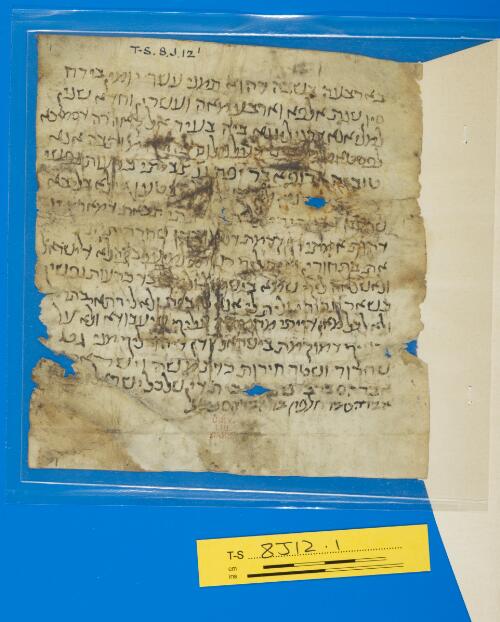 Transcription
S. D. Goitein, unpublished editions.
בארבעה בשבה דהוא תמני עשר יומין בירח
סיון שנת אלפא וארבע מאה ועשרין וחדא שנין
למניאנא דרגיליננא ביה בעיר אלקאהרה דסמיכא
לפסטאט מצרים דעל נילוס נהרא מותבה אנא
טוביה הרופא בר יפת ננ צביתי ברעות נפשי
כ[דלא אניס]נא ולא בשגו ולא בטעו אלא בליבא
שלמא דשחריריתיך אנתי תבאת דמארץ יו[ן
דהות אמתי מן קדמת דנה וכדן שחררית יתיכי הא
את בת חורין ואית ליך רשותא למיעל בקהלא דישראל
ולאשנאה ליך שמא בישראל ולמיעבד כרעות נפשיך
כשאר חרורי ולית לי אנא טוביה ולא לירתאי בתראי
ולא לכל מאן דייתי מחמתי עליך שיעבודא ולא על
זר]עיך דמוקמת בישראל ודן דיהוי ליך מני גט
שחרור ושטר חירות כדת משה וישראל
אברהם ברב נתן [אב] בית דין של כל ישראל
אברהם בר חלפון בר אברהם נבע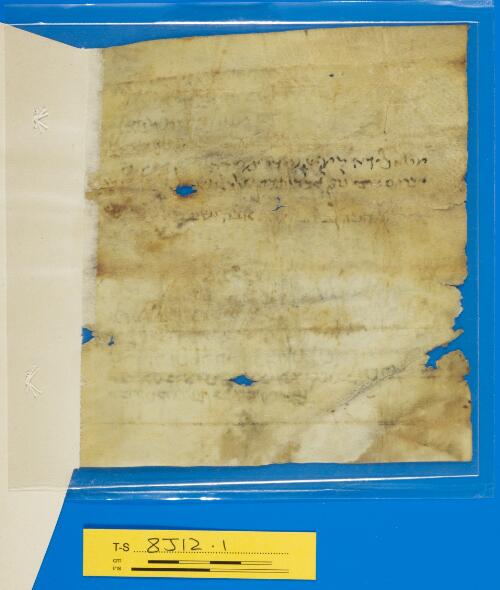 Image Permissions Statement

T-S 8J12.1: Provided by Cambridge University Library. Zooming image © Cambridge University Library, All rights reserved. This image may be used in accord with fair use and fair dealing provisions, including teaching and research. If you wish to reproduce it within publications or on the public web, please contact genizah@lib.cam.ac.uk.