Letter: T-S 8.220
Letter
T-S 8.220
Input date
In PGP since 1990
Description
Recto: Letter of recommendation written by Shelomo b. Yehuda Gaon on a Friday, late in the afternoon, 4 Sivan, probably 1048. Verso: His son Avraham and (Sahlan) Segan ha-Yeshiva b. Avraham Beḥir ha-Yeshiva testify that this was really written by the Gaon. Information from Goitein's note card.
T-S 8.220 1r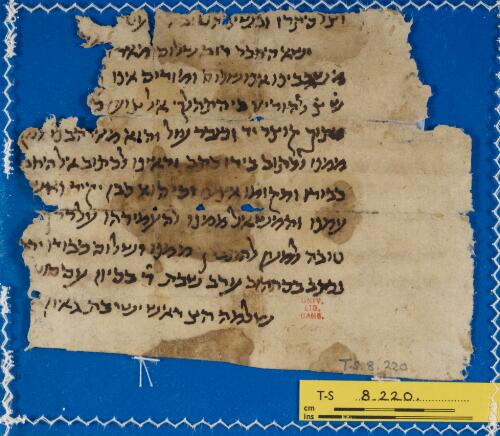 Transcription
S. D. Goitein, unpublished editions.
....
וצל סתרו ובשיבה טובה [י]עט[רו
ישא החבר רוב שלום מאדון [השלום
משגבינו אנו שלום ומודים אנו [
שצ להודיע כי התהלך אל צוען כ[
מתוך קוצר יד וכובד עול והוא מאוהבינו ומן [ ... וביקש]
ממני לכתוב בידי כתב וראינו לכתוב אל החב[ר להודיענו
כבודו ומקומו אצלנו וכי הוא כבן יקיר ואני [... ואשר יעשה עמו יעשה]
עמנו והמשאל ממנו להעמידהו על דרך [
טובה למען להתברך ממנו ושלום כבודו ירב[ה
נכתב בסרהוב ערב שבת ר בסיון עם בו[א השמש (?)
שלמה הצ ראש ישיבת גאון [יעקב ברבי]
T-S 8.220 1v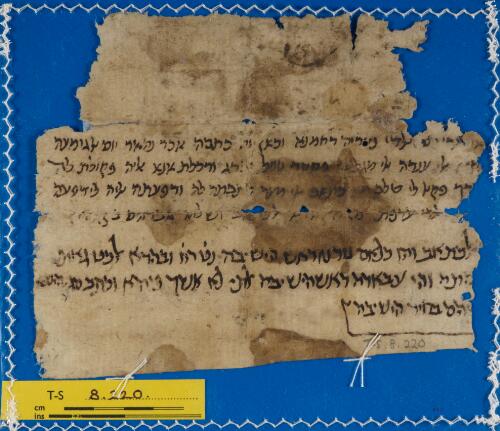 verso
] א[לי] אלרייס אלדי נטריה רחמנא וכאן וק[ת] כתבה אכר נהאר יום אלגומעה
] אלי ענדה אלי מגלסה פפסר טויל וכרג ודכלת אנא אליה פקולת לה
] דך פקאל לי טלב מני כתאב אלי מצר וכתבתה לה ודפעתה אליה לידפעה
] אלדי ערפת מן כתבה הדא אלכתאב ושלום אברהם בן גאון
] אלכתאב והו כלאם מרנו ראש הישיבה נט רח ובהדא אלכט גאוני
] סתה והי עבארה ראש הישיבה אלתי לא אשך פיהא וכתב סגן הישיבה
[סהלאן בן אבר]הם בחיר הישיבה
__________________________________
Image Permissions Statement

T-S 8.220: Provided by Cambridge University Library. Zooming image © Cambridge University Library, All rights reserved. This image may be used in accord with fair use and fair dealing provisions, including teaching and research. If you wish to reproduce it within publications or on the public web, please contact genizah@lib.cam.ac.uk.