Letter: T-S 6J9.6
Letter
T-S 6J9.6
Input date
In PGP since 2018
Description
Letter, top and bottom missing, referring to a dispute between Jews and Muslims, the synagogue, a certain Binyamin, and two physicians, one of them called Yosef. No bibliography; merits further examination. (Information from CUDL and from Marina Rustow)
T-S 6J9.6 1r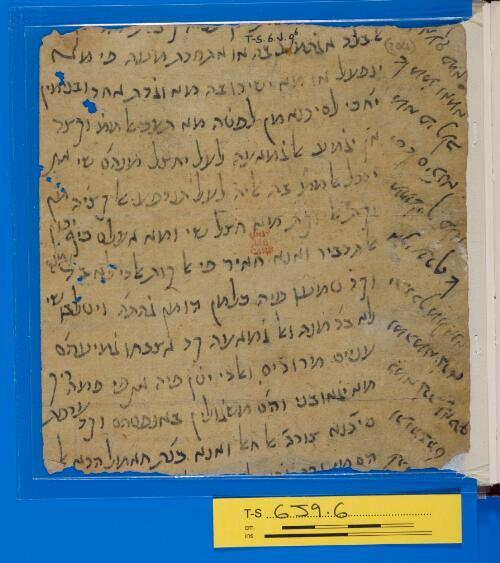 Transcription
Alan Elbaum, [digital geniza document edition] (n.p., 2022).
Recto:
אלבלד אגתמע בה או אתחדת מעה פי מא
ינפעל או מא ישירו בה מא וגדת אחד ובנימין
יחכי לסידנא מן לפטה מא תעב אלממ וקצד
אן יגמע אלגמאעה לעל יחצל מנהם שי אן
ידכל אלממ בה אליה לעל תנדפע אלקציה מן
וקת אלי וקת מא חצל שי ומא אעלם כיף יכון
אלתדביר ואנא חאיר פי אלקות אלדי לא בד מנה
וקד סמעו פיה כל מן הו מן גהתה ויטלבו שי
לא בד מנה ואלגמאעה קד אצבחו גמיעהם
עניים מרודים ואלדי יטן פיה אן פי פמה ריק
מא יגאובני והם משגולין באנפסהם וקד ערפת
סידנא צורה אלחאל ואנא כנת חאמל הדא אל
הם מ[
Recto, right margin:
לה[
ותוהבהם [
כמא גרת עאדתה
ומהמא גרא
יתצדק מולאנא
אן יערף אל
ממאליך פלא
יסאל סידנא
מא פי קלב
אלממ ואמא
אלגמ]אעה פמא
T-S 6J9.6 1v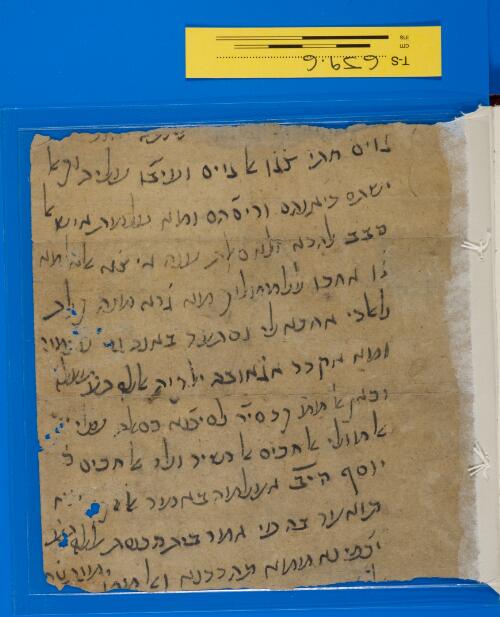 Verso:
גוים חתי צגו אלגוים ועיבו עליה וקאל
ישתם דיאנהם וריסהם ומא עלמת איש אל
סבב להדא ולא סאלת ענה איצא אלא מא
גו אחכו ללממלוך מא גרא מנה קלת
לאלדי אחכא לי נסתעד באנה גד . . .מ . .
ומא אקדר אגאובה ילקיה(?) אללה תע מעלה(?)
וכאן אלממ קד סיר לסידנא רסאלה עלי יד
אלמולי אלחכים אלרשיד ולד אלחכים ר
יוסף היב אעלמה באמר אל . ק . . . מא
תואעד בה פי אמר בית הכנסת אללה תע
יכפינא ממא תהדדנא ואלממ מנתטר
Image Permissions Statement

T-S 6J9.6: Provided by Cambridge University Library. Zooming image © Cambridge University Library, All rights reserved. This image may be used in accord with fair use and fair dealing provisions, including teaching and research. If you wish to reproduce it within publications or on the public web, please contact genizah@lib.cam.ac.uk.