Letter: T-S 6J5.22
Letter
T-S 6J5.22
Input date
In PGP since 2018
Description
Letter in Judaeo-Arabic. Dating: Perhaps ca. 13th century. Mentions [Kāti]b al-ʿArab; a matter that was only resolved by bribing one of the eunuchs; the Nagid's owing 20 dirhams to al-ʿAmīd; business in various garments including a turban; Muwaffaq the Qaraite; a shipment that came with a detailed account written down on its 'qirtās'; R. Eliyya; and Abū l-Najm who wanted two blankets.
T-S 6J5.22 1r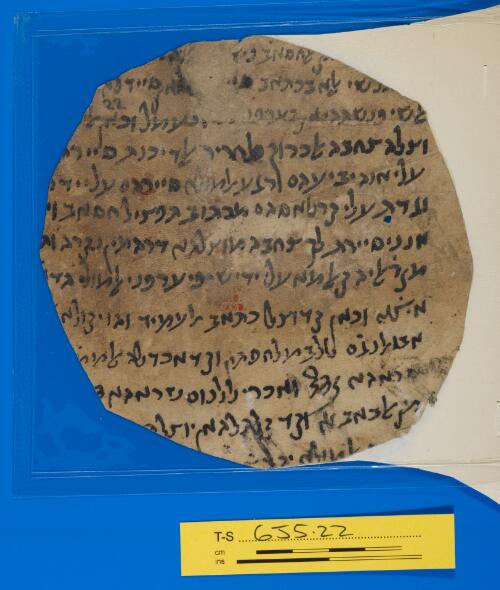 Transcription
Alan Elbaum, [digital geniza document edition] (n.p., 2022).
Recto:
] מן אלחסאב נש . . . . . . [
] . . שי אלא בכתאב . . . . . לאן סיידנא [
אלשי פנשתהי אן תערפנ[א] מא נעמל וכאן אל[
וצלת צחבה אלכרוק אלחריר אלדי כנת סיירת[הם
עלי אנה יביעהם ורגע אלמולא סיירהם עלי יד . [
וגדת עלי קרטאסהם מכתוב תפציל חסאב וי[
אנני סיירת לך צחבה מוצלהא דרהמין נקרה ות[
מן ר אליה קאל מא עלי ידי שי פיערפני אלמולי גד . [
איצא וכאן קד וצל כתאב אלעמיד והו יקול א . [
אבו אלנגם טלב מלחפתין וקד אכד לה אלממ [
שראהא 97.5 ואכרי ללנום שראהא 7[
מן אלבאב . א וקד קלת לה אן יוצלה [
] אלמולא ירב . [
T-S 6J5.22 1v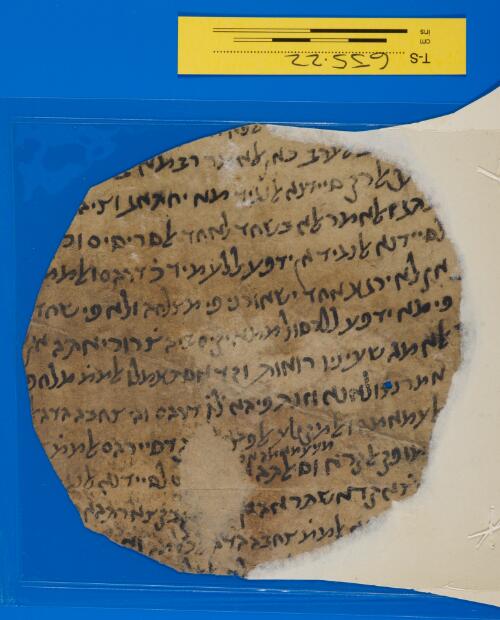 Verso:
] אללה [
כאת]ב אלערב כאן אלאמר רבמא ב[
מאל]ך אלרק סיידנא אלנגיד מא יחתאג וציה [. . . ומא
א]נתגז אלאמר אלא בשחד לאחד אלסריסים וכ[
לסיידנא אלנגיד אן ידפע ללעמיד כ דרהם ואלממ [ישתהי
אן לא ירגע אחד ישאורני פי מצלחה ולא פי שחד [ולא
פי מא ידפע ללרסול ממא יקים ביה צרוריאתה אין [לדיין
אלא מה שעיניו רואות וקד אסתעמלו אלממ מלחפ[תין . . .
אמר נזולנא וזנת פיהא לז דרהם והי צחבה הדה אל[
אלעמאמה ואלמקטע אלפצ[. . .] קד סיירהם אלממ [
] מופק אלקרא //מע עמאמה אכ[ר]// וסאלתה [. . . . .] . לסיידנא אלנג[יד
אי]צא קד אשתראה . . [. . . . . . . .] בקצארתהא [
] אלממלוך צחבה הדא אלכדמה ו[
]ל . . . ל[
Image Permissions Statement

T-S 6J5.22: Provided by Cambridge University Library. Zooming image © Cambridge University Library, All rights reserved. This image may be used in accord with fair use and fair dealing provisions, including teaching and research. If you wish to reproduce it within publications or on the public web, please contact genizah@lib.cam.ac.uk.