Letter: T-S 6J4.28
Letter
T-S 6J4.28
Input date
In PGP since 2018
Description
Letter from the nephew of a Ḥaver (whose eldest son is Abū l-Maʿānī), mentioning the 13th-century judge Anatoli. (Information from CUDL.) The sender might be Yehuda Ibn al-ʿAmmānī.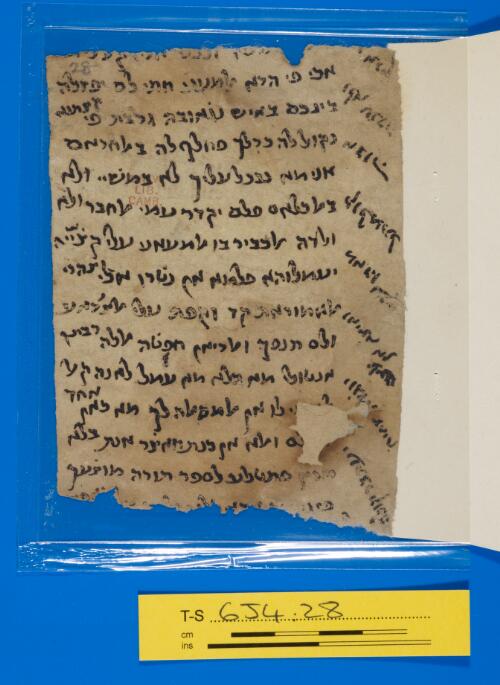 Transcription
Alan Elbaum, [digital geniza document edition] (n.p., 2023).
Recto:
. . .
אכי פי הדא אלמעני חתי לם יפצלה
בינכם באיש נגאובה גלבת פי קצתנא
נקול לה כדלך פחלף לה באלחראם
אני מא נבכל עליך לי במשיי ולא
באלכלאם פלם יקדר עמי אלחבר ולא
ולדה אלכביר בו אלמעאני עלי קצייה
יעמלוהא פלמא אן נטרו אכי וצהרי
אלאמוראת קד וקפת עלי אלצדאע
ולם תנפך ואלדיאן חפטה אללה רבינו
אנטולי מא כלא מא עמל לאנה קאל
ל . . . י לו אן אלמסאלה לך מא כאן אחד
] . . ואלא אן כנת חאצר אנת בלא
מרץ פתטלע לספר תורע מוצעך
. . .
Recto, right margin:
יעתבר קולה
יוגדה צחיח
ואיצא אן אלצבי
מא הו . . .
קול מתל
אבוה
ולא ענדה
] ארץ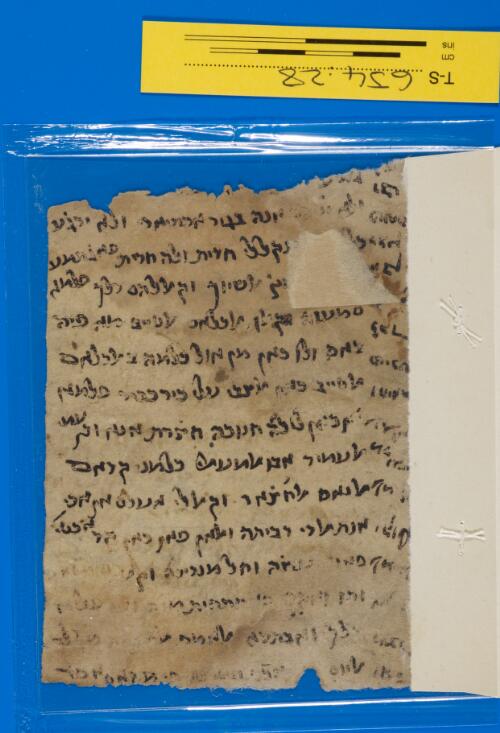 Verso:
גמיע [
ולא יטהר אנה בגיר אכתיארי ולא ירגע
כל [. . . . .] מקללי חדית ולה חדית פאגתמע
. . . . בב]עץ אלשיוך וקאל להם דלך פלמא
סמעוה וקאלו אלכלאם אלטייב מא פיה
באס ולו כאן מן אול כלמה באלכלאם
אלטייב כאן אלצבי עלי כיר כתיר פלמא
אן כאן לילה חנוכה חצרת אנא ובן עמי
אלעמיד אבו אלמעאלי כלמני קדאם
אלנאס אלחצאר וקאל לי אעלם אן אכי
אנת אלדי רביתה ואלאן פאן כאן קד אכטי
פאני . . . צה וחל מנדילה וק . . . . . . . . .
והו ואקף פי . ת . . ת מ . . . . . . . עליה
דלך ואבתדא אלאמר אל . . . . מא לך
] פי מקאם אכר
Verso, right margin:
וג . . [
מצר
אן
אלמ . .
יקולו
אלמ . .
מ . . שי
ע . ל .
וחיאת
סיידנא
לקד
. . .
אבן
רבנו
פינחס
רבי
Image Permissions Statement

T-S 6J4.28: Provided by Cambridge University Library. Zooming image © Cambridge University Library, All rights reserved. This image may be used in accord with fair use and fair dealing provisions, including teaching and research. If you wish to reproduce it within publications or on the public web, please contact genizah@lib.cam.ac.uk.