Letter: T-S 12.281
Letter
T-S 12.281
Input date
In PGP since 1991
Description
From Nahray b. Nissim (Misr) to Farah b. Isma'il Farah (Busir).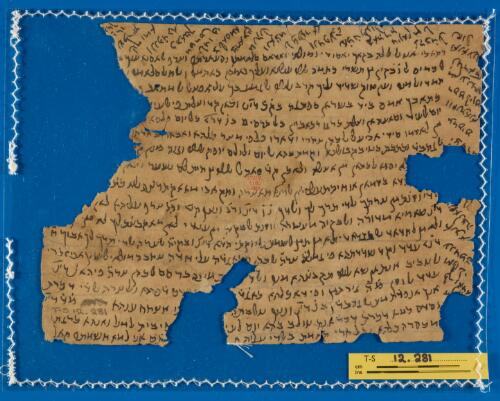 Transcription
A. L. Udovitch, Unpublished editions.
recto
כתאבי אטאל אללה בקאך יאסידי ומולאי ואדאם סלאמתך וסעאדתך וצרף אלאסוא ענך ...........
אלכרים ל ו' בקין מן תשרי כתמה אללה עלינא ועליך באחסן כאתמה ואלחאל סלאמה ............
חמד ואלמנה וען שוק שדיד אליך קרב אללה אלגמע בך עלי אפצל אלמחאב י...
כתאבך אמס ביד בשראן ספתגה בקכ' דינ' וכאן קד וצלת פי אלעיי .......
יום אלעיד וסאעת אן וצלת כרגו רכאביין באלתרסים בו' דרא' כל יום פלמא
אן לאזמו סידי אבי עלי אלכהן צהרי ודארו כלפי מצר כלהא ואבח.. (כחרת )
אלגהבד וכתבת כטי בקבולהא וקמת בהא אליום ולו לם יופק אללה (וגוה מנה אן......)
[ ] יסוא אלכתאן מן אצלח ולאכן קד סאהל אללה מן חית לם נשער...
[ ] דא בזמאן או חית תעלם אן אל דנא' חאצרה וחק אבי מא אקתרצת אלא כת' .....
ידי וזנת מן צרתך אלדי תרך לך ואלדך נו' דינ' ורב' ונצף קיר' ורב' צרף עליהא לאן ....
דינ' שאמיא מדורה ואלבקיה מע(ט)רה ווזנה אלבקיה מן ענדי לאן מא קבצת לך לא מן ........
ולא מן אלחדאד אלבגדאדי ולא מן תמן אלשמע (אלי) וקתי הדא דינ' ובקיה אלצרה אלדי תרך לך אבוך ח'
דנא' עדד וקד שדדתהא פי גמלה צרה אלכהן (בכ)אגדה' עלי חדה צחבה מולאי אלשיך אבו זכרי
אלטביב אנת אנת אן שא אללה תקבצהא מנה ואלדי מעה ברסם אלכהן צרה פיהא נ' דינ'
עדד אלוזן מח' גיר תמן ופי דאכלהא באגד' ואלצרה אלדי דכרת
אנך אנפדת מע אלגהבד בנ' דינ' ונצף טלבתה(א) אצחח ענהא מד' דינ'
וסדס כמא דכרת דכר אנה טולב בהא יום אלעי(ד) פי בית אלמאל ואנהא כרגת
מכסרה כלהא (ובלחרי) קאמת באלדי עליה תם אני למא חשמתה קאל
right margin
לך ואדא
וצל אלי
ענדכם
אנת
תטאלבה
יב' דרה'
תרסים
ווזנה אנא
רסם ליום
מן ענד
נ' דרא'
ואנא ענד
נזול
top margin
גהבד' ע
דיואן מן אל
קאהרה
נאכ"ד וצול
ונדפעה
לבשר אן
ונאכ"ד
מנה אל
בראהין
באלאסמא
אלדי
דכרת פי
כתאבך
וננפדהא
אליך ומא
(א)שתרית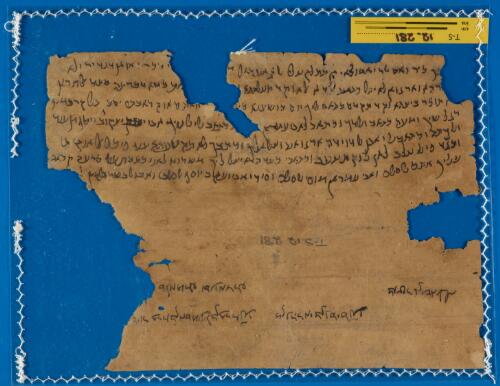 verso
לך כיר ואסאלך יאמולאי אן תתלקט לי אלק' אעדאל מ [אלדי] דכרת אן מן דנדיר ולא
דהא וארגו אן לא יצל כתאבי הדא אלא וקד חמלתהא במא דכרתה בעד אלחרץ
ותוכר ביעהא וקד תקדם כתאבי אליך יום הושענא או(קראבהם) יסבק באלקרב מנה
רגל שיך ומעה כתאב ואלדך וכתאב לאבו עמראן וכתאב אלי אלשיך אבו יעקוב יוסף מן ענד
ואלדתה וכתאב אלי אבן אלדוידה ארגו אנה וצל אליך וכתבך לא תקטעהא עני פי כל אלאוקאת
ותגד פי אלטלב לאן אלוקת צעב וכתאבי בעד הדא יצל אליך משרוח לאני כתבת עלי סרעה קראת
עליך אתם אלסלם ואבו עמראן מוסי אלסלם וסידי אבו יעקוב יוסף אלסלם ואבו
אלבשר סלמאן
....... פרח בן אסמעיל בן פרח נע' מן נהראי בן נסים נע'
סלאמתה וסעאדתה בוציר אן שא אללה
Image Permissions Statement

T-S 12.281: Provided by Cambridge University Library. Zooming image © Cambridge University Library, All rights reserved. This image may be used in accord with fair use and fair dealing provisions, including teaching and research. If you wish to reproduce it within publications or on the public web, please contact genizah@lib.cam.ac.uk.