Letter: T-S 10J8.2
Letter
T-S 10J8.2
Input date
In PGP since 2017
Description
Letter in which Shelomo b. Eliyyahu asks his teacher, the judge R. Hananel, to inform his father Eliyyahu that he is very ill, suffering from weak eyesight, headache, and general weakness. He wishes to come for the holiday to Fustat rather than stay in the small town (Bilbays?) that resembles Sodom and Gomorrah and is devoid of worthy people. VMR; ASE.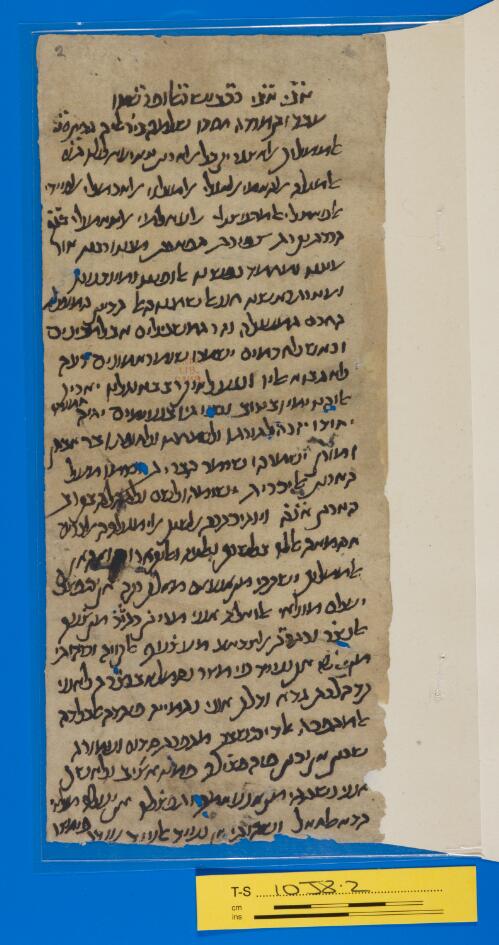 Transcription
S. D. Goitein, unpublished editions.
Recto:
אבי אבי רכב ישראל ופרשיו
עבדו בן מודה חסדו שלמה ביר אליה הדיין סט
אלממלוך אלאצגר יקבל אלארץ טאיעא ללה תע
אלמגלס אלסאמי אלאגלי אלמולוי אלאכמלי אלסיידי
אלפאצלי אלמתפצלי אלעאלמי אלעאמלי כגק
הדרת יקרת צפירת תפארת מרנו ורבנו אור
עיננו ומחמד נפשנו אלופינו ומיודענו
ועטרת ראשנו חננאל שמרו האל הדיין המופלא
החכם המעולה נזר המשכילים אב למבינים
וראש לחכמים ישמרו שומר אמונים רעה
לא תבוא אליו ונגע לא יקרב באוהליו יאריך
אלוהנו ימיו בטוב ושנותיו בנעימים יחיה חמודו
יחודו יזכה לתורתו ולשמחתו ולחופתו בר אבהן
ומורן ישמרהו שומר הברית ושמו מעל
הארץ אל יכרית ישימהו לשם ולתהלה בקרב
הארץ אנ״ס וינהי כתרת אלשוק אלי מגלסה אלכרים
אסמאה אללה באלשרף ואלעז ואלוקאר ורואק אן
אלממלוך ישתהי מן אנעאם מאלך רקה אן יתפצל
יעלם מולאי אלואלד אנני מריץ כתיר מן צעף
אלנצר וכתרת אלצדאע מע צעף אלקווה ושהותי
מן אללה אן נעיד פי מצר נתמלא בנצרך לאנני
קד הלכת גדא ודלך אנני נתמייז פי הדה אלבלדה
אלמהפכה אלדי תשבה מהפכת סדום ועמורה
שכץ אן יכון פיה פצילה פמא אציב ולא שך
אנני נשתהי מן אנעאמך ותפצלך אן יעלם מולאי
הדא אלחאל ושהותי אן נעיד אלעיד ענדה פי מצר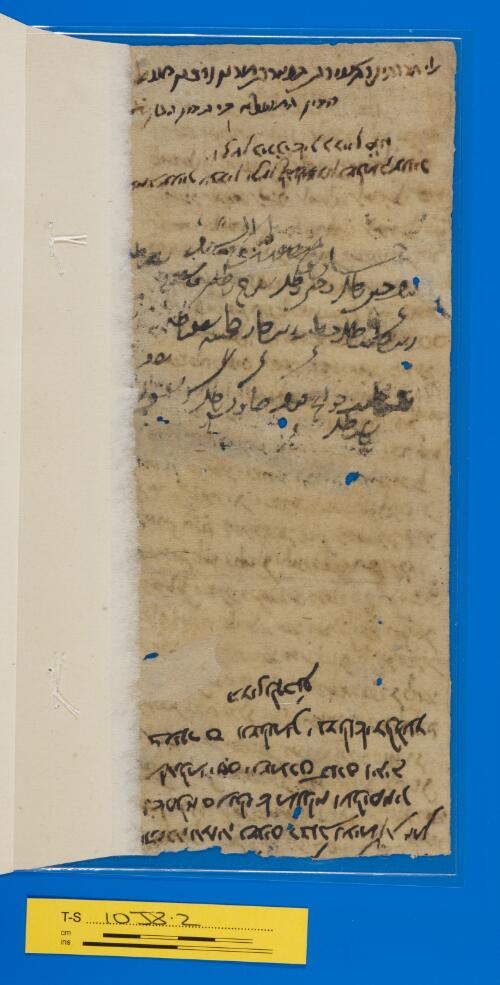 Verso:
ותזכה ותחיה שנים רבות נעימות אמן
ואלסלאם עלי אלמולא ועלי סאיר
אלתלמידים ישמרם צורם ויהיה
בעזרם ושלומך יגדל ואל ידל לעד
תדין לזכות
מאת צעיר עבדיו וקטן לתלמידיו(!) שלמה הצעיר
וקטן בירבי אליה הדיין סט
Upside down:
אלי הדרת יקרת צפירת תפארת מרנו ורבנו חננאל
הדין המופלא בית דין הגון שצ
Image Permissions Statement

T-S 10J8.2: Provided by Cambridge University Library. Zooming image © Cambridge University Library, All rights reserved. This image may be used in accord with fair use and fair dealing provisions, including teaching and research. If you wish to reproduce it within publications or on the public web, please contact genizah@lib.cam.ac.uk.