Letter: T-S 10J16.17
Letter
T-S 10J16.17
Input date
In PGP since 1991
Description
Letter from Natan b. Nahray, Alexandria, to his father, Nahray b. Nissim, in Fustat, concerning the arrival of ships, ca. 1045-1096.
T-S 10J16.17 1r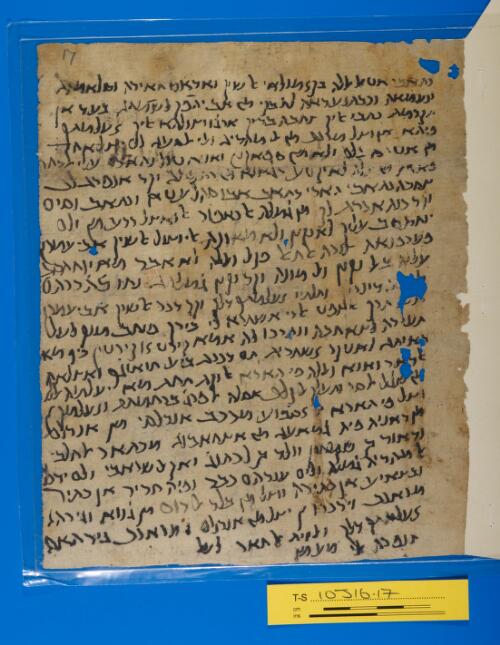 Transcription
A. L. Udovitch, [digital geniza document edition].
כתאבי אטאל אללה בקא מולאי אל שיך ואדאם תאידה וסלאמתה
ונעמאה וכבת אעדאה לח' בקי מן אב יהפך לשמחה בעד אן
תקדמת כתבי אליך צחבה ברוך ארגו וצולהא אליך אעלמתך
פיהא אן וצל מרכב מן אל מהדיה ואלי אלסעה לם יצל אחד
מן אטראבלס ולא מן ספאקץ ואנא טול נהארי עלי אל בחר
פארגו מן אללה לא יקטע רגאנא מן רחמתה וקד אנפדת לך
צחבה כתאבי האדי כתאב אבו סהל עטא וכתאב נסים
וקד כנת אכדת לך מן גמלה אל כאפור אל ואצל רבע מן ולם
יוחתסב עליך לא נקץ ולא מאונה אלי וצול אלשיך אבי עמראן
תערפנאה צורה אל חאל פקאל ואללה לא אכד מא יוחתסב
עליה אל נקץ ואל מונה וקד נקץ גמלתה נחו כח דרהם
דינרין ותלתיי אעלמתך דלך וקד דכר אל שיך אבי עמראן
[אנה] תרך אצפה אלדי אשתרא לי בידך פנחב מנך לעל
תעידה לצאחבה ונתרכו לה אמא קירט או קירטין כיף מא
ראיתה לאני קד אשתרית תם דכרת ביע חואגיך ואצלאח
אלדאר ואנא ואללה פי האדא אל וקת תחת מא יעלמה אללה
[מן] שגל אל סר ותעלק אל קלב אסלה אל פרג' ברחמתה ואעלמך אן
וצל פי האדא אל אסבוע מרכב אנדלסי מן אנדלס
מן דאניה פיה גמאעה מן אצחאבנא מכתאר אל חלבי
ודאוד בן סמחון (?) וולד בן לכתוגי ואבן אלשראבי ולא ידכל[ו]
אל מהדיה גמלה וליס ענדהם כבר ופיה חריר אן כתיר
ובצאיע אן כתירה ווצל מן בלד אל רום מן ג'נוא וגירהא
מראכב וידכרו אן יצל מן אנדלס ג' מראכב גיר האדא
אעלמתך דלך ואל זית אל חאר לעל
תנפדה אלי מע מן
recto
כתאבי אטאל אללה בקא מולאי אלשיך ואדאם תאידה וסלאמתה

ונעמאה וכבת אעדאה לח בקי מן אב יהפך לשמחה בעד אן

תקדמת כתבי אליך צחבה ברוך ארגו וצולהא אליך אעלמתך

פיהא אן וצל מרכב מן אלמהדיה ואלי אלסעה לם יצל אחד

מן אטראבלס ולא מן ספאקץ ואנא טול נהארי עלי אלבחר

פאר[גו אן] ש[א] אללה לא יקטע רגאנא ברחמתה וקד אנפדת לך

צחבה כתאבי האדי כתאב אבו סהל עטא וכתאב נסים

וקד כנת אכדת לך מן גמלה אלכאפור אלואצל רבע מן ולם

יוחתסב עליך לא נקץ ולא מאונה אלי וצול אלשיך אבי עמראן

פערפנאה צורת אלחאל פקאל ואללה לא אבד מא יוחתסב

עליה באלנקץ ואלמונה וקד נקץ גמלתה נחו כה דרהם

[ואלמאו]נה דינרין ותלתיי אעלמתך דלך וקד דכר אלשיך אבי עמרן

[אנה] תרך אלצפט אלדי אשתרא לי בידך פנחב מנך לעל

תעידה לצאחבה ונתרכו לה אמא קירט או קירטין כיף מא

ראיתה לאני קד אשתרית תם דכרת ביע חואיגך ואצלאח

אלדאר ואגא ואללה פי האדא אלוקת תחת מא יעלמה אללה

מן שגל אלסר ותעלק אלקלב אסלה אלפרג ברחמתה ואעלמך אן

וצל פי האדא אלאסבוע מרכב אנדלסי מן אנדלס

מן דאניה פיה גמאעה מן אצחאבנא מכתאר אלחלבי

ודאוד בן שמחון וולד בן לכתוג ואבן אלשראבי ולם ידכלו

אלמהדיה גמלה וליס ענדהם כבר ופיה חריר אן כתיר

ובצאיע אן כתירה ווצל מן בלד אלרום מן גנוא וגירהא

מראכב וידכרו אן יצל מן אנדלס ג מראכב גיר האדא

אעלמתך דלך ואלזית אלחאר לעל

תנפדה אלל מע מן
T-S 10J16.17 1v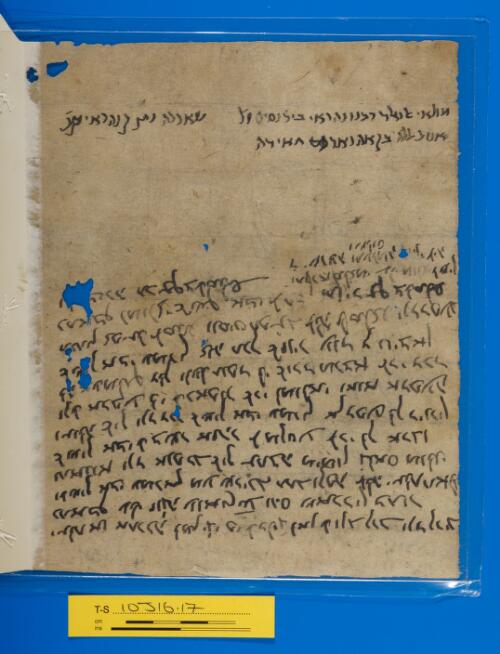 page b
יצלח או אתרכה למן יגי פי אל כליג לאן אל וקת קרב וקד קרית
כתאבך עלי זוגה עואץ נע' והם שאכרין כתיר
ואל שיך אבי עמראן מע שריכה תחת וקפה אללה יצלח חאלה
וחאלנא וקד אנפדת אליך צחבה מימון גלאם מולאי
אל שיך אבו אל בשר אזהר אל מקטע אלדי לך ארגו
וצולה אליך וקד דכר אל שיך אבי עמראן אן דפע לך דינרין
וקאל אדפע לי אל כאפור אלדי למולאי ראגאי אדפעה
לה [א]עלמתך דלך ולעל תנפד לי אלורד מרבא אלדי דכר
אל שיך אבי עמראן אנה תרך אל זגיר ענד בן טיבאן
תכתץ אפצל אלסלאם ונסים חפצה אללה אל סלאם וקד דפעת
כתאבך למולאי אל שיך אבו אל חסן והו יכצך באלסלם
ו[אלכ]בירה תכצך באלסלאם
ותקרא סלאמי על מולאי אל שיך
ר' ישועה ותעלמוה [שו]קי אליה
ושלום
upside down
מולאי אל ואלד רבנו נהראי ביר' נסים זל' שאכרה נתן בן נהראי נע'
אטאל אללה בקאה ואדאם תאידה
verso
יצלח או אתרכה למן יגי פי אלכליג לאן אלוקת קרב וקד קרית

כתאבך עלי זוגה עואץ נע והם שאכרין כתיר

ואלשיך אבי עמראן מע שריכה תחת וקפה אללה יצלח חאלה

וחאלנא וקד אנפדת אליך צחבה מימון גלאם מולאי

אלשיך אבי אלבשר אזהר אלמקטע אלדי לך ארגו

וצולה אליך וקד דכר אלשיך אבי עמראן אן דפע לך דינרין

וקאל אדפע לי אלכאפור אלדי למולאי ואנא אדפעה

אע<למ>תך דלך ולעל תנפד לי אלורד מרבא אלדי דכר

אלשיך אבי עמראן אנה תרך אלזויד ענד בן טיבאן

תכתץ אפצל אלסלאם ונסים חפצה אללה אלסלאם וקד דפעת

כתאבך למולאי אלשיך אבי אלחסן והו יכצך באלסלאם

ו[אלכ]בירה תכצך באלסלאם ותקרא סלאמי עלי מולאי אלשיך

ר ישועה ותעלמה [שו]קי אליה

ושלום
verso - bottom margin - address
מולאי אלואלד רבנו נהראי ביר נסים זל שאכרה נתן בן נהראי נע

אטאל אללה בקאה ואדאם תאידה
Image Permissions Statement

T-S 10J16.17: Provided by Cambridge University Library. Zooming image © Cambridge University Library, All rights reserved. This image may be used in accord with fair use and fair dealing provisions, including teaching and research. If you wish to reproduce it within publications or on the public web, please contact genizah@lib.cam.ac.uk.