Letter: T-S 10J15.25
Letter
T-S 10J15.25
Input date
In PGP since 2017
Description
Letter from Nahray b. Nissim, Fustat, to Abu al-Faraj Yeshu'a b. Ismail, Upper Egypt. The recipient is buying goods. Nahray writes with the news of Abu Imran's death, to confirm that Abu al-Faraj has the money from previous trades, and to discuss future ones.
T-S 10J15.25 1r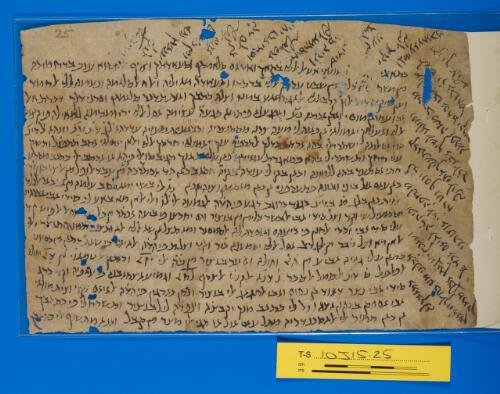 Transcription
A. L. Udovitch, [digital geniza document edition].
כתאבי [יא סידי] ומולאי אטאל אללה בקאך ואדאם סלאמתך וסעאדתך וצרף אל אסוא ענך ברחמתה
מן מצר ליו כלון מן שבט ערפך אללה ברכתה וסעאדה מא יליה ואל חאל סלאמה ונעמה ללה אל חמד
וען שוק שדיד אליך קרב אללה אל אגתמאע במנה וצלת כתבך ואנה תדכר סלאמתך וסרני דלך דכרת חאל
אבו עמראן מוסי ואבן אכתה נע ואפגענא פיהמא פגעה עצימה אסל אללה ירחמהמא לא חילה פי קצאיא
אללה ואעלמתך יא מולאי אן כאנה לי מעה צרה מסתנצריה ורבאעיאה מעזיה עדדהא לג' דינ' ורב' וזנהא ל' דינ'
סוי וסאלתה ישתרי לי בהא ארדה בדלך אלתכפיף ענך יא מולאי חרסך אללה ואלאן יא מולאי אחב תתפצל ותשק
עלי רוחך ותשתרי לי בהא במא גרת עואידך פאן עלמת אנך תגיב סואלי פיהא אן אכתב אלי כתאב מסרע
חתי אסתעד בהא ללמונה וכאן בקי לי ענדה בקיה חסאב כאן קד אסתדרכה // נע // מן עבד אל וכיל מן אל צאבון אלדי
כאן עאם אול ביני ובינה פתערפני אן כאן מאת ען וציה ואן כאן [או]צא לי בשי ומא תחב עלמה מן אכבאר אל בלד
אלזית כאן בלג מ' בדינ' בעד כרוגך רגע פי הדה אלגמעה אלי לו ואלי אלאן מא באע לך סידי אבו אברהים
אסמעיל שי וקד וצל סידי אבו אלבשר סלימן מן בוציר והם יחרצו פי ביעה אכתר מן כל [אחד] וחאל אלפוט קד
עלי סידי אבו זכרי אלחנן פי ביעהם ואנפד לה אלסמסאר ומא תצל אן שא אללה אלא ותצל ותמנהם חאצר ואלי
אלאן מא וצל כבר מן אל גרב אסל אללה יסמענא כיר וקד וצלת פי הדה אל איאם כישאת כתאן מן אסיוט
כתאן עלי גאיה אביע מן ה'< וחולה וסער בוציר מן כה אלי יז< וכתאן אלטמאוי מן ד'< (או כ') וחולה
אל פלפל ס' דינ' אל חמל אל סכר ו' דנא' אל קנט' אל צרף לח'< וגמיע אצחאבנא פי עאפיה וקד כרג
סידי אבו נצר דאוד בן נחום ואבו אל חגאג אלי בוציר ונחן כארגין פי הדה אל איאם וקד וצית מולאי
אבו אסחק ברהון אדא וצל אלי כתאב מנך יקבצה וינפדה לי לבוציר ותשרח לי פי כתאבך
אן כאן תמור אלי אלאסכנדריה מתל עאם אול או תגי אלי מצר מן קבל ואנא מתשוף אלי כתאבך
margin
כתאבך לא / תכליני מנה בחאלך וסלאמתך / ועארץ חאגאתך אבלג מראדך /
ופי הדה אל איאם אכד אל / מלחפה אלדי אוציתני / לר' יוסף נטרת /
קראת עליך אתם אל סלם / ומולאי אל שיך אבו אל כיר / מר רב משה ופתאה /
מולאי אבו אסחק יקריו[ך] אל סלם ור' אברהם / יקריך אלסלאם
top
וגמיע אצחאבנא יקריוך אל סלאם / [ות]כץ עני / סידי / ואכיה סי[די]
/ / חרסהמא אללה / אתם אל סלאם / וסידי אבו יחיי בן אלסדה
/ אתם אל סלאם / ומן ת[חוטה] / ענאיתך אתם / אל סלאם / יעקב שלום
T-S 10J15.25 1v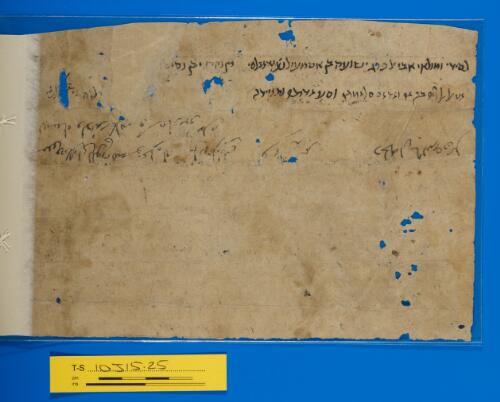 page b
לסידי ומולאי אבי אל פרג ישועה בן אסמעיל נע' טראבלסי
אטאל אללה בקאה ואדאם סלאמתה וסעאדתה ותאיידה
מן נהראי בן נסים
דלגה אן שא אללה
لسيدى وموﻻى ابى الفرج يشوعا بن اسمعيل - الطرابلس
[اطال الله بقاه وادام سلامته وسعادته وتايده
من نهراى بن نسيم دلجة ان شا الله وصل
Image Permissions Statement

T-S 10J15.25: Provided by Cambridge University Library. Zooming image © Cambridge University Library, All rights reserved. This image may be used in accord with fair use and fair dealing provisions, including teaching and research. If you wish to reproduce it within publications or on the public web, please contact genizah@lib.cam.ac.uk.