Letter: T-S 10J15.14
Letter
T-S 10J15.14
Input date
In PGP since 1991
Description
Letter from Nahray b. Nissim in Alexandria to Abu Ishaq Avraham b. Hananel, known as Awad, in Fustat, in which the writer asks for information about prices of goods in Fustat, ca. 1045-1096.
T-S 10J15.14 1r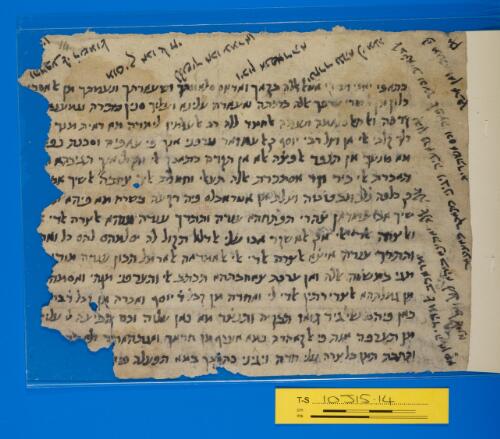 Transcription
A. L. Udovitch, [digital geniza document edition].
כתאבי יאכי וסידי אטאל אללה בקאך ואדאם סלאמתך וסעאדתך ונעמתך מן אלאסכנ[דריה ל...]
כלון מן תשרי ערפך ברכתה ואעאדה עלינא ועליך סנין כתירה וגמענא [עלי בניאן]
קדסה ואלחאל סלאמה ונעמה אלחמד ללה רב אלעאלמין לי מדה מא ראית מנך [כתאב ואשגל]
דלך קלבי אלי אן וצל רבי יוסף בן אלעזאר (?) ערפני אנך פי עאפיה וסכנת נפ[סי וערפת]
מא מנעך אן תנפד אלפצה אלא אן תקדם כתאבך אלי ותקול אנך תגיבהא...
תאכרת אלי כיר וקד אסתכרת אללה תעאלי וחמלת אליך צחבה אלשיך אב...
בן כלפה נע מכטטה וצלת מן אטראבלס פיה רקעה בשרח מא פיהא
שיך אבו עמראן צהרי תפתחהא ענדה ותתרך ענדה מנהא אלצרה אלדי (אני רואה בכתב היד שורה נוספת בין שתי שורות אלה, נ.צ.)
ותתרך ענדה איצא אלצרה אלדי אלי אלאמראה אלארמל (!) תכון ענדה מוד[עה חתי]
תגי במשיה אללה ואן ערפת צאחבתהא תכתב אלי ותערפני מן הי ואסמה[א ואן]
מן גמלתהא אלצרירתין אלדי לי ואחדה מן קבל ר יוסף ואכרה מן קבל ר בר..
כאן פיהם שי גיר גואז תבקיה ותנצר מא כאן עליה וכם תביעה לי עלי
מן תערפה אנה פי אלקאהרה במא אערף מן חרצך ואגתהאדך ולם
וכתבת תמן כל צרה עלי חדה ויגיני כתאבך במא תפעלה פי
margin
מראכב אל מהדיה אן שא / אללה אללה יאתינא ביהא לעל יצל אלינא / זבון נראעיה
ויגיני כתאבך באצעאר / אלבצאיע וסער אלפצה וכם אשתרית / לי מנהא ואן אתפק
מן /
top of page
ינחדר וגהא לי מעה / ויכון אנפאדהא / ללשיך אבו עמראן / מוסי בן אבו אלחי
/ ותדפע אלי ר שמואל /
T-S 10J15.14 1v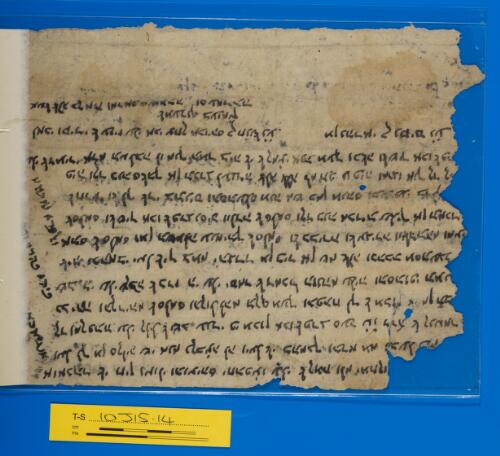 page b
או אכתר אלי חין וצולי ותוציהם יחתפצו עלי אלקמח ולא ימחקו [ואן]
וצל לך מן סקליה שי אנא נקבלה לה (!) ויצל אלי כתאבך ותרא מא נפעל
קד ואקפתה עלי קליל אלשב ענדי פי מכזן אבו אלפרג סער טו דרה' אלקנטאר [ותדהב אלי אל]
כבירה ותקריהא אלסלאם ותקול להא תקף מעך ותפתח לך אל מכזן אלי אן תב
שב הי עלי קפה אלכרז הי עלי יסאר אלדאכל תזנהא עליה ותסתופי תמנ[הא]
אליה וכתאבי יצל אליך במא יתגדד מן כיר אן שא אללה וכתבת מסתעגל [קראת עליך]
אתם אלסלאם ומן תשמלה ענאיתך אלסלאם ואלכבירה ואלצגירה וואלדתהא ואצ[?]
אלסלאם ואלשיך אבו אלפרג נסים וולדה אלסלאם וקד כנת אכדת עליך אן תאכד [מן
אלחריר ואללך אלדי בתניס ותסתעלם מנה אש כאן מנהם ותערפני בדלך
פיה וקד כנת סאלתך אן תכרג לענדה אללה אללה לא תפ[ר]ט פיה וארגו אנך קד ק[
עלי אלדמירי אדא תטלבה לו אנך תמר ביה אלי אלקאצי אנת מעך וכאלה ואלשיך אבו אלפר[ג]
margin
ואלפרא לא תפרט פיהא / פהדא אנגאזהא
לאכי וסידי אלעזיז עלי אבי צחק אברהם בן חננאל נע' מן נהראי בן נסים נע'
אלמערוף בעואץ
אטאל אללה בקאה ואדאם סלאמתה וסעאדתה
Image Permissions Statement

T-S 10J15.14: Provided by Cambridge University Library. Zooming image © Cambridge University Library, All rights reserved. This image may be used in accord with fair use and fair dealing provisions, including teaching and research. If you wish to reproduce it within publications or on the public web, please contact genizah@lib.cam.ac.uk.