Letter: T-S 10J14.1
Letter
T-S 10J14.1
Input date
In PGP since 1990
Description
Verso: Letter from Hananya b. Yehuda to Yehi'el the judge b. Elyaqim. The writer asks the addressee to come to Jerusalem and decide in a legal matter. Recto: Part of the (draft of) the opening of a badly written letter. (Information from CUDL)
T-S 10J14.1 1v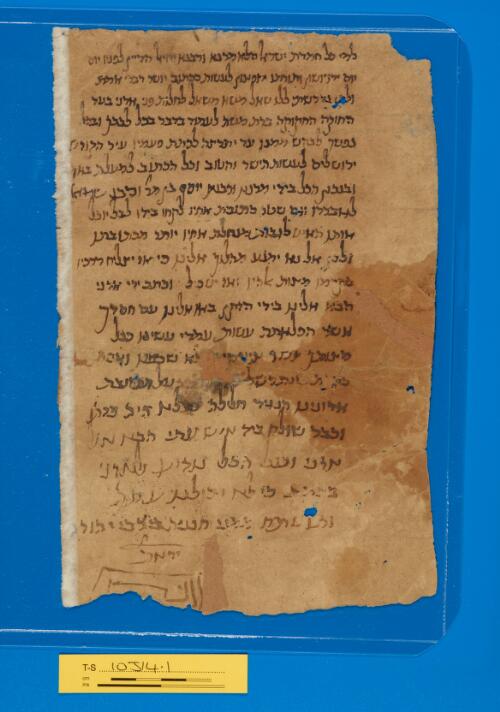 Transcription
Jacob Mann, The Jews in Egypt and in Palestine under the Fâtịmid Caliphs (New York: Ktav Publishing House, 1970), vol. 2.
(verso)
למי כל חמדת ישראל הלא מרנא ורבנא יחיאל הדיין לפניו יום
יום ידרושון ותורתו יחפצון לעשות ככתוב יושר דברי אמת
ול[כן] נדרשתי ללו שאל משא משאל לחלות פני אדני בעד
התורה החקוקה בדת משה לעמוד בדבר בכל לבבך ובכל
נפשך לבקש ממנו עד יתרצה לכתת פעמיו עיר הקודש
ירושלים לעשות הישר והטוב וכל הכתוב למעלה בא[רך]
ובנכון הכל בידי מרנא ורבנא יוסף בן מר' ורבנ' שמואל
לא בררו וגם שטר כתובת אחיו לקחו בידו לבל יוכל
אותו האיש לגבות מנחלת אחיו יותר מכתובתו
ולכן אל נא ימנע מהלוך אלינו כי אז יצליח דרכיו
בקיימו מצות אלהיו ואז ישכיל וכתב ידי אדני
הבא אלינו בידי הזקן באו אלינו עם חסדך
אשר הפלאתה עשות עמדי עשינו ככל
מצותך אשר ציוי[תנו ו]לא שכחנו ואס..
כ..ת [ש]נתרשל . . . על תפוצת
אדונינו הנגיד חלילה שלא היה כמתו
וכבר שולח ביד איש עתי תבוא אל
אדוני ועל הכל נודיע לאדוני
בכתב כי לא יכולנו עתה
ות...ח ממני חנניה ברבי יהודה
יראם
T-S 10J14.1 1r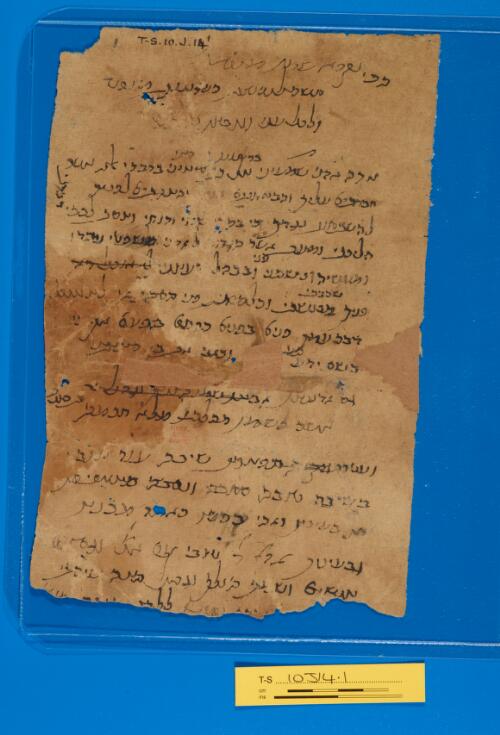 Image Permissions Statement

T-S 10J14.1: Provided by Cambridge University Library. Zooming image © Cambridge University Library, All rights reserved. This image may be used in accord with fair use and fair dealing provisions, including teaching and research. If you wish to reproduce it within publications or on the public web, please contact genizah@lib.cam.ac.uk.