Letter: T-S 10J12.26
Letter
T-S 10J12.26
Input date
In PGP since 1991
Description
Letter from Nahray b. Nissim in Fustat to Abu Ishaq Barhun b. Musa in Busir. Contains multiple references to jahbadh fees, as well as mention of a rūznāma (variant of rūznāmaj).
T-S 10J12.26 1r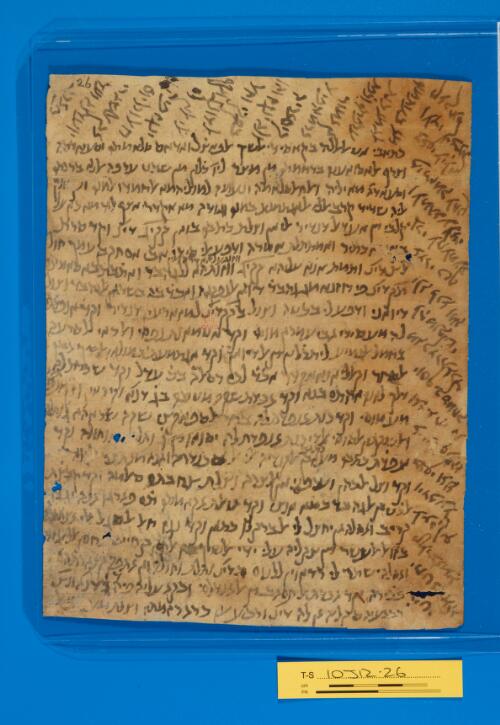 Transcription
A. L. Udovitch, [digital geniza document edition].
כתאבי אטאל אללה בקא סידי אלשיך אלפאצל ואדאם סלאמתה וסעאדתה
וצרף אלאסוא ענה ברחמתה מן מצר לי"ו כלון מן שבט ערפה אללה ברכתה
וסעאדתה מא יליה ואלחאל סלאמה ונעמה למוליהמא אלחמד ואלמנה [וען] שוק
אליה שדיד קרב אללה אלאגתמאע במנה וגודה מא אקדר אצף לה מא כאן עלי
קלבי מן אעדאל דנדיר אלי אן וצלת כתבה בוזן קקיג' דינ' וקד סרת
(בוצולהא) כתיר ואמתתלת אמרה ודפע אלי סידי אבי אסחק בן עמך חול
אלצ' דינ' ותמת אנא עליהא קקיג' ווזנה עליהא דרהמין ווזנתהא ללגהבד ואתבה באסאמינא
תק' דינ' פי רוזנאמה גהבד דיואן אלנפקאה ואכד בה בשראן אלגהבד וצול
דיואני ודפע לי בכטה וצול בקק' דינ' למזארעי דנדיר וקד אנפדת
לה מע סידי אבו עמראן מוסי וקד אטמאנת נפסי ואלראי ללסרעה
בחמל אלגמיע ליתכלץ מן אלדיואן וקד אגתמעת במולאי אלשיך אבו
אלסרור וקאל לי אנא אקדר אכד לכם רסאלה בכ' עדל [וקד] שכרת לה
דלך לאנה אהתם בנא וקד אכדת שקה (מטיבה) בג' דנא' וקירטין וקד אנפדתהא
מע מוסי וקד כנת אנפדת לה ביד אלספאקצי שקה שראהא ג' ותלת
ואלשקתין אלסוסי אלדי אנפדת לה יסואן מן ו' ותלת וחולה וקד
אנפדת כתבה מע כתאב אבן אלקנדיה אלי אלאסכנדריה ואנא מנתטר (אלגואב)
וקד וצל אלכהן וערפני אן אלצרה וצלת צחבתה סאלמה וקד קבצת
אלכט' מן אלגהבד במא אוצי וקד טאלת אקאמתה תם פארגו אנה ........
קריב ואסלה אן יחצל לי אלברקלו כתאן וקד נגז חאל אלסגל אלי אצחאבה
בזואל אלעשר מן צקליה עלי ידי אלשיך אבו אלחסן בן חיים אחסן אללה גזאה
ואסלה ישתרי לי רדאוין ללנום בדינ' ותלת וחולה ואן אתפק קצארתהא
(פכירה) וקד אכדת אלחסאב מן אלאנדלסי ובקא עליה פיה ג' דנא' ונצ'
רבאעיה סקליה אן לה דינ' ורבע ען כרא רזמתין וצלת
Margin
....... / יחטב ...../ מן אלרבאעיה / אלצקליה / וידפע אל / באקי ואנא /
אטאלבה בהא / ואמא / יוסף בן סמחה / מא קדרה אכד / לה מנה שי /
ולא לנא ומא / אדרי כיף / יגרי אלחאל מעה / ואלמתאע אלדי / פי רזמה
אלחון / באקי אלי אלאן / ואלדי קבצה / מן אבן מנס
Top of page
מא בעת מנה / אלא מא כנת / ערפתה וכפת /אן אמור / ארמיה פי אל / קיסאריה /
ולא ינגז והו / באקי וחאל / אלדונג ואקד / אלי אלאן לם / ינגז פיה /
חאל וכל יום / אבן אלשגרי יועדנא ועד / פארג
T-S 10J12.26 1v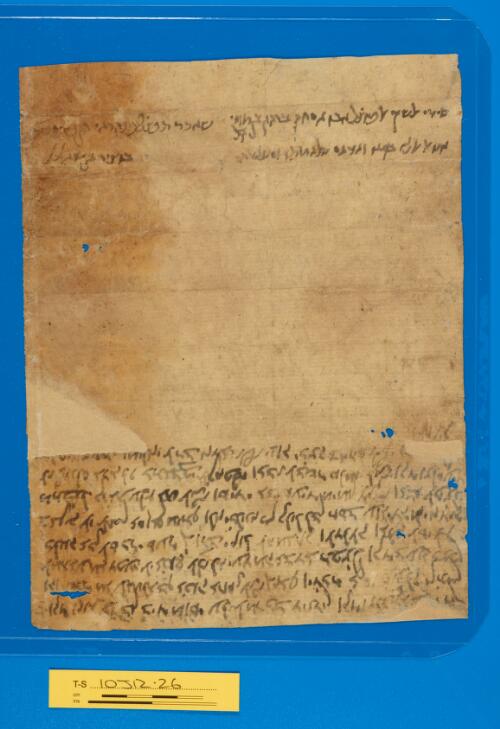 Verso
וקד וזנת פי (בין) ביד מוסי עלי אלמרכב דינרין וקד וצל כתאב מרדוך
והו ידכר מא עאמלה? בה אכוה אחסן אללה גזאך וידכר אן אנ[פדת] לה מן תמן
אלמתאע מא דפעה אלי אכוה אללה לא יעדמה אבדא תפצל וקד בענא כצאץ
כלטה אבן אלסכרי סעד ג' ורב' יזול אלסמאחה ואלדלאלה ואמא אלסיאוה
באקיה אלי אלאן אסואק מיתה ולא יכלינא מן קליל ? חסב עואידה ואיאדיה
מתפצל קראת עליך אתם אלסלם וסידי אבו סעיד מימון אלסלם ואבו אלפצל
אלסלם ולם נרא לה כתאב פי אלקאפלה ואבו אלבשר סלמאן אלסלם וקד וצל סעיד
ומולאי אלרב אדאם אללה עזה יכצה באתם אלסלאם סידי אלשיך אלפאצל אבן אסחק ברהון בן מוסי
זל
אטאל אללה בקאה ואדאם סלאמתה וסעאדתה
שאכר תפצלה נהראי בן נסים נע'
בוציר אן שא אללה
Image Permissions Statement

T-S 10J12.26: Provided by Cambridge University Library. Zooming image © Cambridge University Library, All rights reserved. This image may be used in accord with fair use and fair dealing provisions, including teaching and research. If you wish to reproduce it within publications or on the public web, please contact genizah@lib.cam.ac.uk.