List or table: T-S K15.54
List or table
T-S K15.54
Input date
In PGP since 1987
Description
Account of the qodesh, ca. June 1201. A relatively ample list of revenue and expenditures. The first part contains details of revenue from 17 compounds, inclusive of the dakakin (shops) and the funduq. These are shown to comprise 54 apartments and tenants. Out of these 54, ten are mentioned as unoccupied. The relatively large number of vacant apartments may indicate the beginning of the terrible famine period of A.H. 597 when whole neighborhoods and villages were deserted. (Information from Gil, Documents, pp. 378 #101)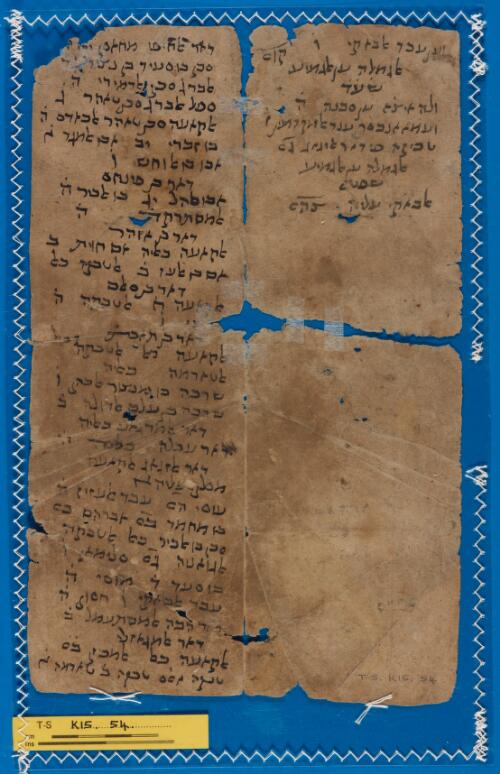 Transcription
Moshe Gil, Documents of the Jewish Pious Foundations from the Cairo Geniza (Leiden: Brill, 1976).
TS Box K 15, f. 54 Gil, Documents, pp. 378-382 Doc. #101 Accounting of the Qodesh ca. June 1201 SH [2-20-87] (P) a
דאר אלחיפי מחאסן [ ]
סכן בו סעיד בן נציר יד
אלברג סכן אלדמירי ה
ספל אלברג סכן טאהר ה
אלקאעה סכן טאהר אלכאדם ה
בו זכרי יב אבו אלמגד א
אכו בו אלוחש ו
דאר בן פינחס
אבו סהל יג בו אלכיר ה
אלמסתרקה ה
דאר בן אזהר
אלקאעה כאליה אם חוית ב
אם בו אלעז ב אלטבקה כאל
דאר בן סאלם
אלקאעה ח אלטבקה ה
[ ] ג
דאר בן תאבת
אלקאעה כאל אלטבקה קבל
אלטארמה כאליה
שרכה בו מנצור אלכהן ו
שרכה בן עלם אלדולה ב
דאר אלמרגאני כאליה
דאר עבלה כלצה ה
דאר אלזגאג אלקאעה
מסלך עליהא
עיסי ה< עבד אלעזיז ה
בן מחמד ב< אברהם ב<
סכן בו אלכיר כאל אלטבקה
אלגואגיה ג< סלימאן ו
בו סעד ד מוסי ה
עבד אלבאקי ו חסון ה
דאר הבה אלמסתעמל ב
דאר אלמגאזלי
אלקאעה כאל אלמכון ב O
טבקה א< O טבקה ב טארמה א
b
דאר בן טיבאן י
אלדכאן אלצגירה ו
בן קסטה ק [ס]עיד ר
סכן גאלי אלבקאל כאל
אלכבאז ה פריג ג
רצי כאל אלכבאז כאל
אלטביב כ אלפנדק מה
אלגזירה יח
תמה< ועליה מ
אלגמלה ען אלגמיע תפה
לה מן דלך ביד אבו סהל ען
שבת והיה עקב ו
מן גמלה זית תמוז ללכניסתין
ח<
וביד אלנשיא ען ג גמע אכ[רהא]
שבת והיה עקב ל
ען בקיה כסח קנאה ותנטיף
תראב אלפנדק יא
עמארה לאבו אלסרור ה
עמארה לאבו אלמנא ד
ובידי מן גמלה מאלי יד
צואב ג לאכנדקי ג
רצי ג אלמראה ב
ועמא אעתד עלי שר הלוים
שצ ג
בקיה חכר תמוז ה<
אבו סהל שבת ראה ו
וען סגן פי אלפנדק לאקואם
מן מניה גמר ה<
ולה ביד אלרייס אבו אלרצא
ען ופא ח
c
ר יפתח ען תמוז כ
ולד ר שמואל אלמלמד ען
תמוז יג
ר אנטולי ען תמוז נב
וביד אלנשיא ען שבת ראה
ושבת שופטים כ
ומן שבת כי תצא ו
קביה זית אלכנאיס לחדש
תמוז יח<
אבו בכר אלביאת א
חמולה כשב< געל א <
ועמא סומח בה אבו נצר
בן חסון אלצבאג ד
ובו נצר אלכעכי ג
ובידי ען בקיה תמוז יא
רסז< אלבאקי עליה
ולה איצא ען געל ה<
ואיצא געל א<
וען בן מחמד בן אלשמאע ב
ועמא וזנה פי נואיב בן אבו
מעאלי אלקליובי כג
וען גבאיה מ
וען פצאיל אלשומר א<
וען אלברג סכן אלכמירי ה
וען בקא בן מחפוט ב
ועמא אנכסר ענד אסד
אלוראק י
וען דאר בן טיבאן ען הרוב
אלסאכן ה ואלקאצי
סאכן דאר בן פינחס הרב ה
d
וען עבד אלבאקי ו
אלגמלה ען אלגמיע קו<
שעד
ולה איצא ען סכנה ה
ועמא אנכסר ענד אלמקדמין ז
טביקה פי דאר אלזגאג ג<
אלגמלה ען אלגמיע
שפט<
אלבאקי עליה צה<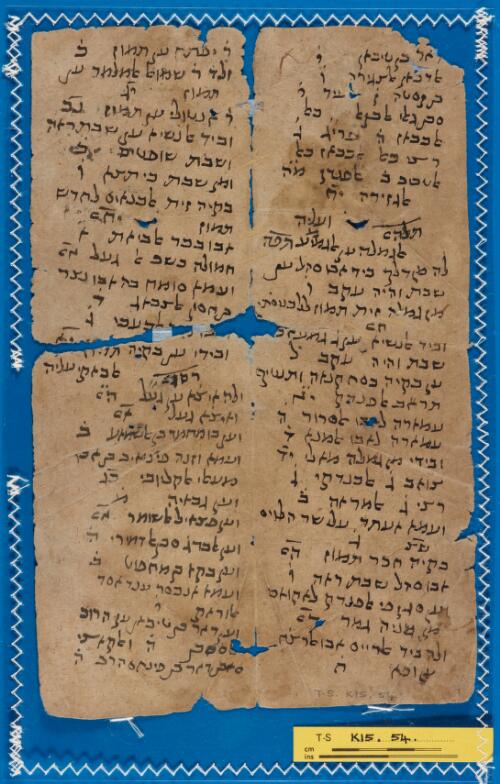 Image Permissions Statement

T-S K15.54: Provided by Cambridge University Library. Zooming image © Cambridge University Library, All rights reserved. This image may be used in accord with fair use and fair dealing provisions, including teaching and research. If you wish to reproduce it within publications or on the public web, please contact genizah@lib.cam.ac.uk.