Letter: T-S 13J7.10
Letter
T-S 13J7.10
Input date
In PGP since 1990
Description
Letter to Abu al-Fadl al-Murid ('the supplier' of gold and silver to the Mint) b. Tamim refering to acute shortages in the market, late 12th-early 13th century.
T-S 13J7.10 1r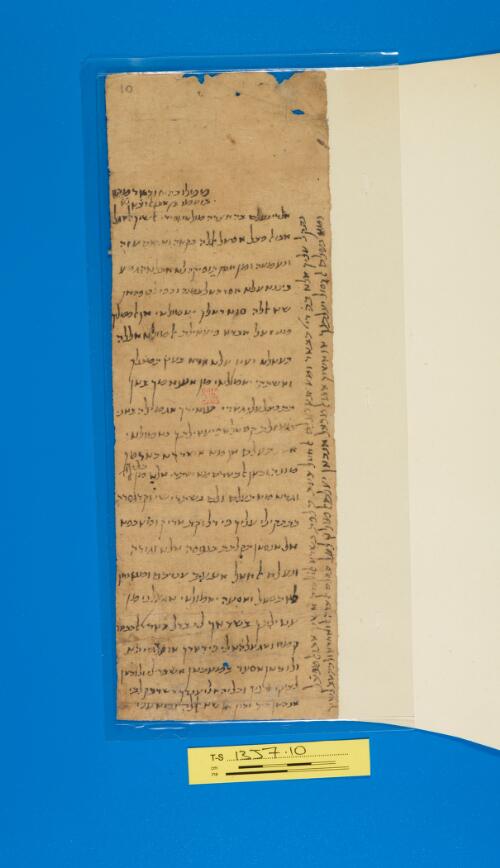 Transcription
S. D. Goitein, unpublished editions.
ממלוכהא וכאדמהא
בו עמר בן אבו אלרצא נע
אלדי נעלם בה חצרה מולאי וסידי אלשיך אלאגל
אבו אלפצל אטאל אללה בקאה ואדאם עזה
ונעמאה ומן חסן תופיקה לא אכלאה גמע
ביננא עלא (!) אסר חאל במנה וכפי... אן
שא אללה סוא דאלך יא מולאי אן אלממלוך
מא זאל אבדא פי עאילת אלמולא אללה
תעאלא יעין עלא א.א בעץ תפצלך
ואשתהי יא מולאי מן אנעאמך באן
תתפצל עלי תאדי עואידך אגמילה (צ"ל: אלגמילה) באני
מא זלת ..סאלא פי עאילתך יא מולאי
א[נת] תעלם אן מא ...... .....
מונה וכאן אלכאדם מא ישתרי אלא מן //כליג// (?)
וגדא מא תעלם ולם נשתרי שי וקד גסרת
בתתקילי עליך פי דלוקת אריק (?) ומא כפא
אלאנסאן תקלתת בנפסה אלא זגירה
ונעלם אלחאל אצעב ענדכם ומא נחן
לא תסאל ואסעה יא מולאי אגעלני מן
עאילתך בשדאך לי בדל דאר אלכבאר
קמח ואגעלהא לי פי דארך או פי גירהא
ולו כאן אסעד (צ"ל: אלסעד) במא כאן אשתריני ולו כאן
לצ ... אלסנין וכליהא לי ענדך .שד בקלבי
אנסאן ד.. יכון אן שא אללה ומא עני.
Margin
נתקל עליך אלא בפ די' כבאר ומא אנא נעלם אלחאל צעב כלפת בשרא אל.....ק אלשיך אבו אלמפצל
ומא נעלם אלרסול יעלמך או אשרך אבו אלמפצל אנכאן יעלם אלמולא לעל תסלם אלצרה אלואחד או לכתאב (?) לשיך
b
אבו אלמפצל אלמולא מרציא באפצל אלסלאם
ובאללה עליך [יא] מולאי תעלם מאלך אלרק וערפה
באן אלכאדם יקבל ידיה אללה תעאלא ותוגנא (?)
בחיאתה וינקץ מן אעמארנא ויזיד פי עמרה
סלאם עלא מולאי אלשיך תמים שצ וסלאם
עלא מולאי אלשיך אבו אלרצא וסלאם עלא
מולאי אלשיך אלאגל אבו עלי שצ אסלאם
וסלאם עלא אלשיך אבו אלמנגא ואסלם
The address הכתובת
יצל אלי חצרה מולאי וסידי אלשיך אלאגל אבו אל
פצל אלמורד שצ בן אלשיך תמים אדאם עזה
T-S 13J7.10 1v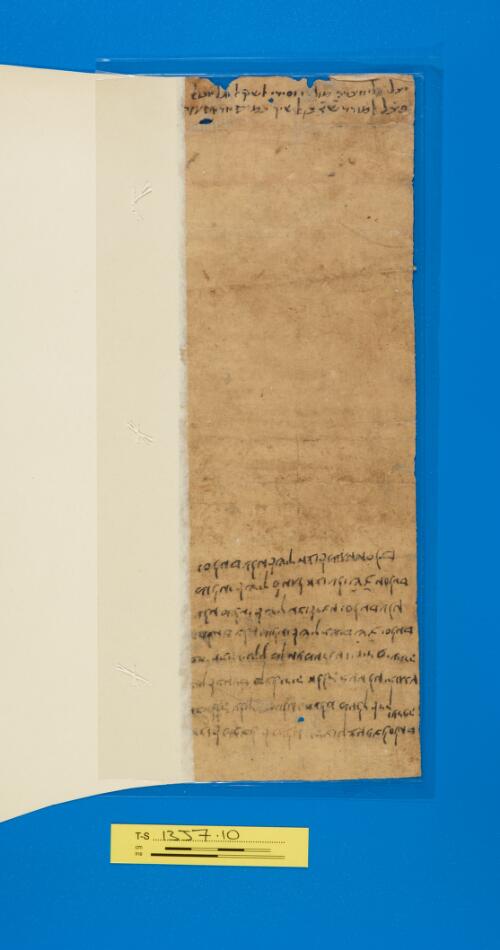 Image Permissions Statement

T-S 13J7.10: Provided by Cambridge University Library. Zooming image © Cambridge University Library, All rights reserved. This image may be used in accord with fair use and fair dealing provisions, including teaching and research. If you wish to reproduce it within publications or on the public web, please contact genizah@lib.cam.ac.uk.