Letter: T-S 13J6.21
Letter
T-S 13J6.21
Input date
In PGP since 1990
Description
Letter from the judge Menashshe to the Cairene judge Avraham b. Natan regarding a personal and communal affair in the small town of Sumbutya (Sunbāṭ), Lower Egypt, signed by the judge, the rosh ha-qahal ('head of the congregation') and five others, ca. 1100. The person in the middle of controversy, Sasson b. Yefet, is mentioned in several other documents from Sunbāṭ, see PGPID 1003.
T-S 13J6.21 1r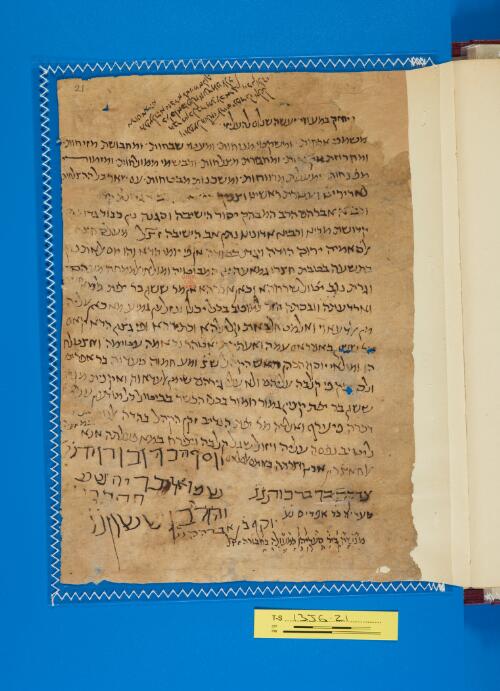 Transcription
S. D. Goitein, unpublished editions.
] יחזק במעוזי ויעשה שלום להעליזי
משמני ארחות. ומשקטי מנוחות. ומעטי שבחות. ומחבושת מזיחות.
ומחרוזת א..ות. ומחבורת מצלחות. ומבשמי ממולחות. ומזמורי
מפצחות ומעלות מרווחות. ומשכנות מבטחות. עם שאר כל ההצלחות
לאדירינו ועטרת ראשינו וצניף תפארתינו כבוד גדולת קדו[שת מרינו
ורבינו אברהם הרב המבהק יסוד הישיבה וסגנה נין כבוד גדולת
קדושת מרינו ורבינו אדונינו נתן אב הישיבה זצל מעלם חצרה
אלסאמיה ירום הודה ויגדל כבודה אן פי יומי הדא והו יום אלאתנין
בתשעה בטבת חצרו גמאעה מן סמבוטיה ומולאי אלממחה מעהם
וגרת נוב יטול שרחהא וכאן אכרהא אן מר ששון בר יפת למא חשמ[תה
וארדעתה וובכתה חזר למוטב בכל יכלו ונזל ען גמיע מא כאן עליה
מן אלדעאוי ואלמטאלבאת קלילהא וכתירהא בפי גצון הדא קאם
מר ששון באכראם עמה ואעתרף ואטהר נדאמה עטימה ואצטלח
הו ומולאי יוסף הכהן ראש הקהל שצ ומע חמוה סעדיה בר אפרים
ולם יבק פי קלבה עליהם ולא עלי גירהם שי מן אלעדאוה ואקנית מן מר
ששון בר יפת קניין גמור חמור בכלי הכשר בביטול כל מודעין עלי
דכרה פיערף ואלדה מר יפת הנדיב זקן הקהל בהדה אלנד[אמה
ליטיב נפסה עליה ויזול שגל קלבה ויפרח במא פעלתה אנא וגמאעה
אלחאצרין אכץ חצרתה באתם אלסלאם יוסף הכהן בן דויד ננ
צדקה בר ברכות ננ שמואל בר יהשע החבר נע
סעדיה בר אפרים נע יהוד/ה/ בן ששון ננ
יוסף בן אברהם ננ בי ד.ו י ה ל ל ר ש ל
מנשה ביר סעדיהו המעולה בחבורה זצל יצ ק ו ת ל ו כ ז ע י ר א
Margin
ויתפצל מולאי אלרייס ינפד לי קליל
חבר מן כל בד מע אלכארגין ויכון ולדי
באלסלאם פלא אעדמני אללה
תפצלהא אבדא לאני מאלוף
אחסאנהא
T-S 13J6.21 1v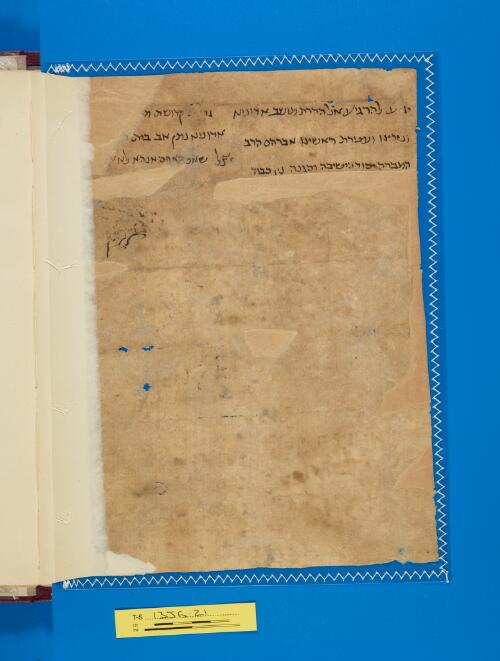 Image Permissions Statement

T-S 13J6.21: Provided by Cambridge University Library. Zooming image © Cambridge University Library, All rights reserved. This image may be used in accord with fair use and fair dealing provisions, including teaching and research. If you wish to reproduce it within publications or on the public web, please contact genizah@lib.cam.ac.uk.