Legal document: T-S 13J6.12
Legal document
T-S 13J6.12
Input date
In PGP since 1990
Description
Record of testimony of three witnesses on a quarrel in which Abu Ishaq b. Yahya al-Najib, a communal official, was involved, Tammuz 1461/June-July 1150.
T-S 13J6.12 1r
Transcription
S. D. Goitein, unpublished editions.
אלדי אחפטה אנא אבו אלעלא בן איוב בין סיד אלכל בן אבו יעקוב אלחזן [
אבו אסחק אברהים בן יחיי הידוע אלנגיב והו אן למא כאן יום אלכמ[יס
תמוז אתסא אכר אלנהאר ראית סיד אלכל ואלנגיב אלמדכור יקול [
לי פי הדא אלשטר //אלאברא// אלדי מעי אלדי מן בן סתות פקאל לה אלחזן מא נש[
קאטע עלי אלרגל לאן מא כדא כאנת אלשהאדה ותכלמו מע בעצהם בעץ [
ותגאולו פי אלכלאם ותכאפו פי אלכלאם סאעה גיידה ובעד דלך קאל אל[נגי]ב לל[חזן
אנא אכיר מנך אב וגד פקאל לה סיד אלכל אלבעיד [ ] תסק[
לאלכתי פי אלארץ אמתל מן אלבעיד ומן סתה אלאף יהודי מתלה ומן אבוה
וגדה [[וב]] ומא סמעתה אנא אבו אלעלא טרחת שהאדתי עליה עולה הלוי בר איוב
הלוי נע
ואלדי אחפטה אנא אבו אלכיר אלכיאט ואבו סעד אלכבאז בין סיד אלכל ו[אבו
אסחק אלמדכור לעיל אנני סמעת אבו אסחק אלמדכור והו יקול לל[חזן
אבו יעקוב פי גמלה מא קאל לה [[מצפוע ואלבעיד]] וקד קאל לה אבו [
איוב מתל דא אלמקדם מא ישתם קאל איש יכון דא מצפוע ה[
פלמא מצו אלנאס וקאלו ללחזן אבו אסחק שתמך גא אכר אלנהאר [
מא דכר וקאל לה תדכר לי אלבלע פקאל לה איש תכון [ ] אלבלע ח[
ותשבה אבוך וגדך ולאלכתי פי אלארץ אכיר מנך ומא סמענאה [ //ומן תלאתה אלאף יהודי//
טרחנא כטוטנא עליה ומן תלאתה אלאף יהודי מלחק והכל קיים
אלקנה בר אברהם נע ישועה בר ברכת נע
ואלדי סמעתה אנא אבו אלחסין אלכבאז בינהמא איצא ודאך אן [[אלנגיב]] אסחק
יקול מן הו הדא אלנחס אעני ען אלחזן והו גאיב ואטלק לה שתימה עצימה
תם אנתכרנא לה מן כתרה מא סמענא פיה מן אלשתימה ואכתצמנא אבו
אסחק אלמדכור ולמא כאן אכר אלנהאר ואלחזן ואבו אסחק דא כלון מן
דרב אלכראטין וקד וקפו פי אלבאב תכאפו פי אלשתימה תם קאל אבו אסחק
ללחזן זאיד ען דא גמיעה הדא אלפאעל מא יסכת ולה כדא כדא לו
אר/ד/ת אטהרתהא ואשהרתה פיהא פקלת לה אנא אבו אלחסין מא יחל הו
שליח ציבור אן כנת תערף פיה שו אצהרה ואטלק לה כתיר מן אלכלאם
ד.. והו גאיב ומא חפטתה אנא אבו אלחסין מן דלך כתבת כטי עליה
T-S 13J6.12 1v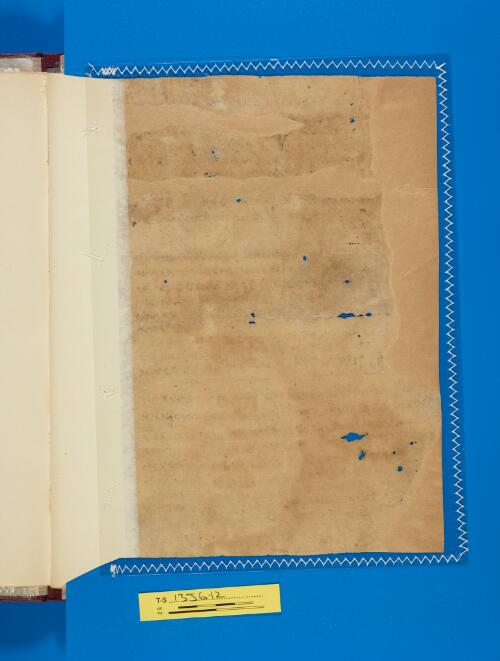 Image Permissions Statement

T-S 13J6.12: Provided by Cambridge University Library. Zooming image © Cambridge University Library, All rights reserved. This image may be used in accord with fair use and fair dealing provisions, including teaching and research. If you wish to reproduce it within publications or on the public web, please contact genizah@lib.cam.ac.uk.