Legal document: T-S 13J4.14
Legal document
T-S 13J4.14
Input date
In PGP since 1990
Description
Statement concering the mamraq (passage) between houses, the proprietor of which allows two neighbors to build on it, Tebeth 1555/January 1214.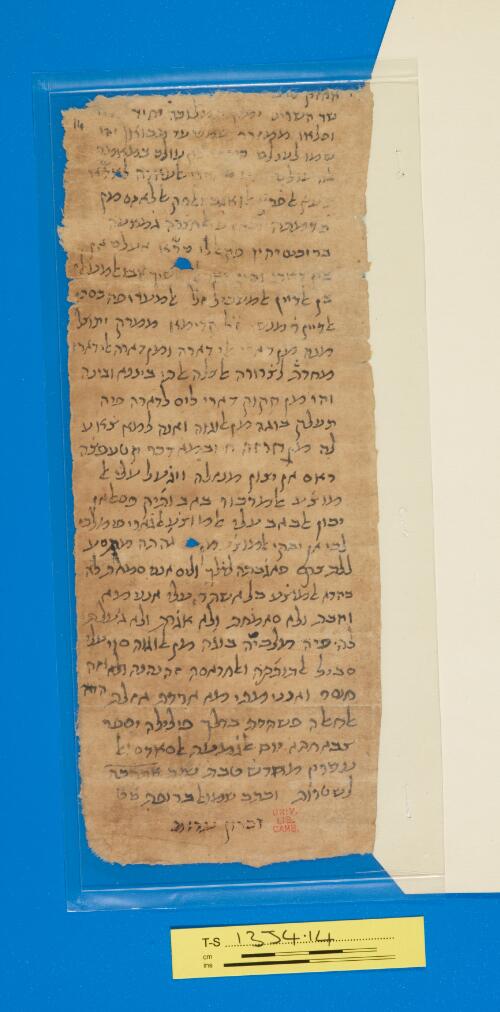 Transcription
S. D. Goitein, unpublished editions.
שמואל בר יפת נותן לאבו אלמעאלי בן אלדיין אלמשכיל, קרובו של הנגיד אברהם
בן הרמב"ם רשות לבנות שער על מעבר בין ביתו לבית הנגיד על אדמת שמואל בר
[הפטיש] החזק
שר השרים ימין המלוכה יחיד הדור
ופלאו ממזרח שמש עד מבואו יהי
שמו לעולם כירח יכון עולם במאמר
אלהי עולם . . . . . אלעאדה לאדא
בעץ אלפרץ אלואגב ואלחק אללאזם מן
כדמתה וכאן פי אלחצרה גמאעה
ברוכים יהיו פקאל לי סרא אעלם אן
בין דארי ובין דאר אלשיך אבו אלמעאלי
בן אלדיין אלמשכיל זל אלמערופה בסכן
אלדיין ר מנשה זל קדימא ממרק יתוצל
מנה מן דארי אלי דארה ומן דארה אלי דארי
מחדת לצרורה אלצלה אלתי ביננא ובינה
והו מן חקוק דארי ליס לדארה פיה
תעלק בוגה מן אלוגוה ואנה למא צאע
לה מן חרזה חסב מא דכר קטע פצה
ראם אן יצון מנזלה ויגעל עלי אל
מוצע אלמדכור באב ותיק פסאל אן
יכון אלבאב עלי אלמוצע אלמדכור אלגארי פי מלכי
לכי אן יבקי אלמוצע מן גהתה מתסע
ללתצרף פאגבתה לדלך וליס אנני סמחת לה
בהדא אלמוצע בל אשהד עלי אנני מא
והבת ולא סמחת ולא אגרת ולא געלת
לה פיה מלכיה בוגה מן אלוגוה סוי עלי
סביל אלתותקה ואלחראסה זה נהנה [[ולא]] וזה
חוסר (!) ואנני מתי מא ארדת אזלת הדה
אלחאלה פשהדת בדלך פי לילה יספר
צבאחה יום אלגמעה אלסאדס ואל
עשרין מחדש טבת שנת אתקכה
לשטרות וכתב שמואל בר יפת סט
זכרון עדות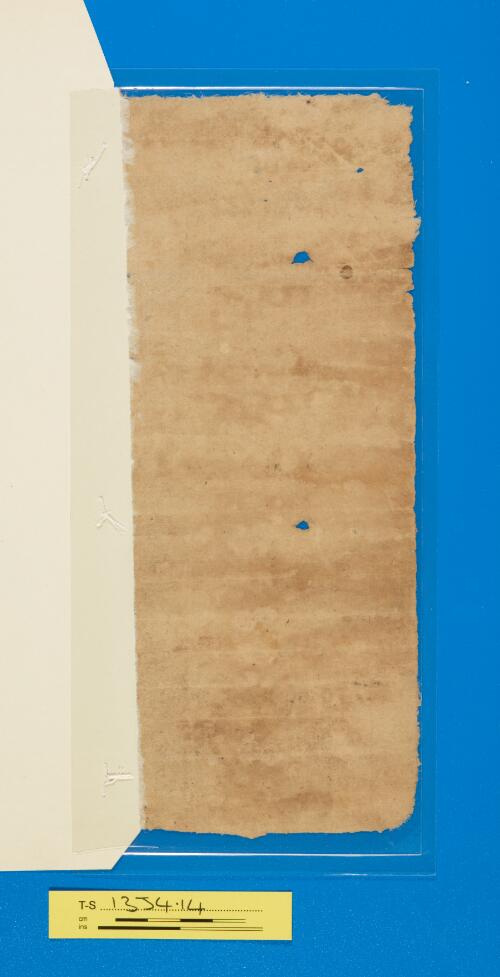 Image Permissions Statement

T-S 13J4.14: Provided by Cambridge University Library. Zooming image © Cambridge University Library, All rights reserved. This image may be used in accord with fair use and fair dealing provisions, including teaching and research. If you wish to reproduce it within publications or on the public web, please contact genizah@lib.cam.ac.uk.