Legal document: T-S 13J3.9
Legal document
T-S 13J3.9
Input date
In PGP since 1990
Description
Court record concerning a gift made by a woman to her daughter of a house near the 'Street of the Chest Makers,' issued under the authority of the Nagid Shemuel b. Hananya (1142-1159) in Fustat, Elul 1462/August-September 1151.
T-S 13J3.9 1r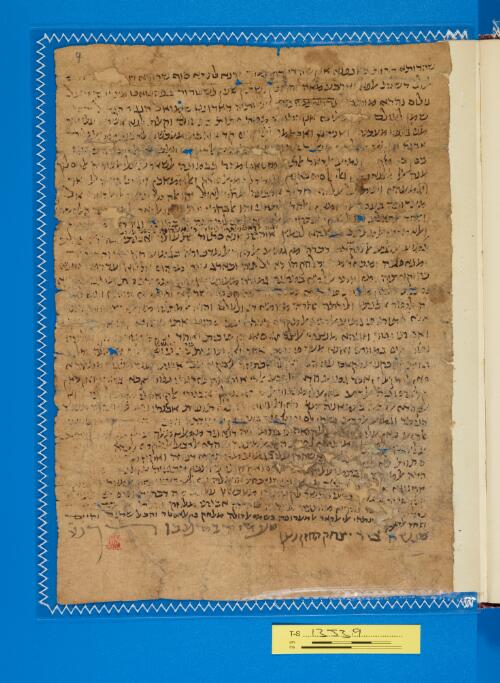 Transcription
S. D. Goitein, unpublished editions.
שהדותא דהות באנפנא אנן שהדי דחתמות ידנא לתתא סוף שטרא דנ[ן כן הוה] בחדש
אלול דשנת אלפא וארבע מאה ותרתין ושתין שנין לשטרות בפסטאט מצרים דעל
נילוס נהרא מותבה [[נהרא מותבה]] רשותיה דאדוננו שמואל הנגיד הגדול יהי
שמו לעולם [חצר]ת אלינא אנן חתומי מטה סתות בת עולה וקאלת לנא אשהדו עלי ואקנו
מני בלפט מעכשיו ואכתבו ואכתמו עליי אנני קד אוהבת מעכשיו לאבנתי סת אלנטר
אבנה זוגי נע[ ] אלדי אנא מאלכתה [ ] זוגי
ניסן בן יוסף [מן] גמיע אלדאר אלתי בפסטאט מצר בכמונה אלשארע עלי אלטריק אלמסלוך
מנה אלי אלצנאדקין ואלי אלסיסבאניין וגיר דלך מן אלטרק ואלאמאכן ויחיט בהדה אלדאר
ויגמעהא וישתמל עליהא חדוד ארבעה אלחד אלאול והו אלקבלי ינתהי אלי אלדאר אל
מערופה בעבד אלרחמאן ואלחד אלתאני והו אלבחרי ינתהי אלי אלדאר אלמ[ערו]פה באלאשר
ואלחד אלתאלת ו[ה]ו אל[שרק]י ינתהי אלי אלטריק אלמסלוך מנה אלי כמונה וגיר ד[לך מן אלטרק
ואלאמאכן אלמתצל [בע]צהא לבעץ אוהבת אנא סתות בת עולה לאבנתי //ואלחד אלראבע ינתהי אלי אלדאר אלמערופה בשמס אלדולה//
גמיע אלרבע אלמקדם דכרה מן גמיע אלדאר אלמדכורה בגמיע חדודה ו.......
ומנאפעה ומכאדמה וכל חק הו דאכל פיה וכארג ענה מתהום ארעא ועד רום רקיעא
כחזקאתיה מן יומי עלמא במתנה גמורה מעכשיו גלויה מפורסמת מתנת בריא
מתנת עלמין מתנת פ[רהס]יא [מתנה חתי]כא חליטא שרירא וקיאמא יהיבא ומשלמא
לה לנטר אבנתי ולירתה בתרה מיומא דנן ולעלם והדה אלמתנה מאציה צחיחה מני
אנא סתות פי גמיע אלרבע אלמקדם דכרה עלי שרוט יאתי דכרהא והו אן [
ואבנתי נטר וזוגהא מנצור אלצבאג סאכ[נ]ין פי בית ואחד יכון מנצור [ ] אבנתי
נטר [י]קים במונתי ואנא מעה פי מסכן ואחד ואן תופית ...... //.... ....// מן ........ ודלך
.... ואפקני אלמקאם ענדהם ואן לם אכתאר אלבקא ענד אבנתי וענד מנצור ...
כאן לי מן אלאן אכד גמיע הדא אלרבע אלדי אוהבתה לאבנתי נטר אן כאן באקי ואן כאן
קד .....ה אלביע כאן עלי מנצור אלצבאג מאלך אבנתי אלקיאם לי מן [כאלץ מאלה
ען הדא אלרבע בתמאניה דנא' פאן ואלעאיד ואללה תופיית אבנתי... ...... מנצור
הניכר וגמיע אלרבע באקי לם .... ... ..... .... ..... ..... ... ...
אלביע כאן עלי מנצור אלקיאם לי בתמאניה דנאניר מן כאלץ מאלה עוץ מן הדא אלרבע
עלי .................. הדא אלרבע אלמקדם דכרה [
סתות לאבנ[תי ] אשהדו עלי בגמיע מא תקדם דכרה ואקנו מ[ני
הדה אלמ[תנ]ה
אקנינא א[נן חתומי] מטה מן סתות הנזכרת ארמלה ניסן נע ............
קנין גמור [חמור] בכלי הכשר לקנות בו מעכשיו על כל מה דכתיב ומפרש לעילא
שריר [וקיי]ם נהרא מותבה מכררה אבנתי מלחק והכל קיים
ואלחד אלראבע ינתהי אלי אלדאר אלמערופה בשמס אלדולה מלחק בין אלאסטר והכל שריר וקיים
מנשה ביר יצחק החזן נע סעדיה ביר מבורך נע
T-S 13J3.9 1v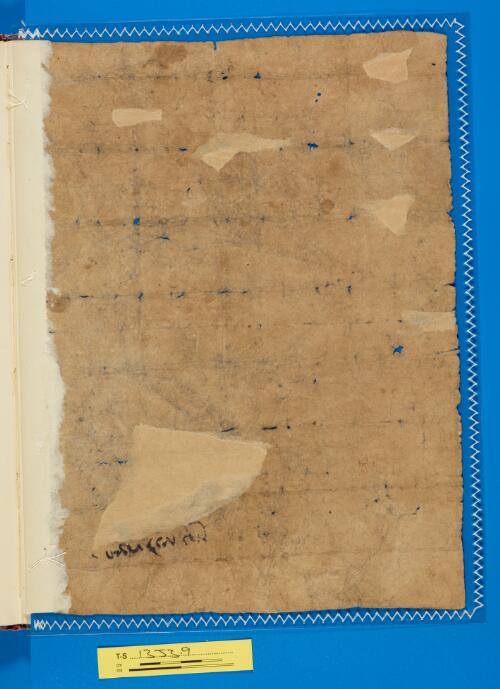 Image Permissions Statement

T-S 13J3.9: Provided by Cambridge University Library. Zooming image © Cambridge University Library, All rights reserved. This image may be used in accord with fair use and fair dealing provisions, including teaching and research. If you wish to reproduce it within publications or on the public web, please contact genizah@lib.cam.ac.uk.