Legal document: T-S 13J3.22
Legal document
T-S 13J3.22
Input date
In PGP since 1990
Description
Document of a full-fledged barāʾa (release of spouse from obligations upon divorce) in which a husband (Abū l-Ḥasan b. Abū l-Faraj) and wife (Maʿālī bt. Manṣūr) from al-Maḥalla appear before the court of Fustat. Dated: Tuesday, 25 Av 4973 AM (=1524 Seleucid), which is August 1213 CE, under the reshut of Avraham Maimonides.
T-S 13J3.22 1r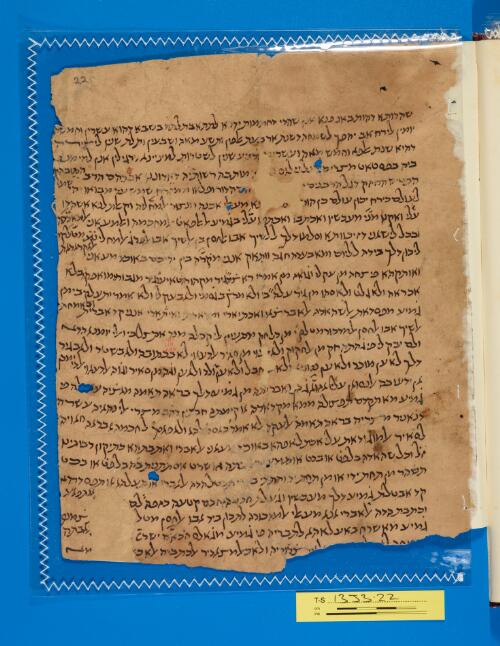 Transcription
S. D. Goitein, unpublished editions.
שהדותא דהות באנפנא אנן שהדי דחתמות ידנא לתתא בתלתה בשבא דהוא עשרין וחמשה
יומין לירח אב יהפך לשמחה דשנת ארבעת אלפין ותשע מאה ושבעין ותלת שנין ליצירה
דהיא שנת אלפא וחמש מאה ועשרין וארבע שנין לשטרות למיניינא דרגילין אנן למימני
ביה בפסטאט מצרים דעל נילוס נ[הר]א מותבה רשותיה דאדוננו אברהם הרב המובהק
הפטיש החזק דגל הרבנים י[. . . . . . י]חיד הדור ופלאו ממזרח שמש עד מבואו יהי שמו
לעולם כירח יכון עולם כן הוה [חצרת אלי]נא מעאלי אבנה מנצור אלמחליה וקאלת לנא אשהדו
עלי ואקנו מני מעכשיו ואכתבו ואכתמו עלי בגמיע אלאלפאט אלמחכמה ואלמעאני אלמאכדה
ובכל לישאני דזיכוותא וסלמו דלך ללשיך אבו אלחסן בן אלשיך אבו אלפרג אלמחלי נע מטלקי
ליכון דלך בידה לליום ומא בעדה חגה וותאק אנני מקרה בין ידיכם באוכד מעאני אלאקראראת
ואותקהא פי צחה מן עקלי וגואז מן אמרי ראציה גיר מקהורה טאיעה גיר מגבורה מואפקה בלא
אכראה ולא גלט ולא סהו מן גיר עלה בי ולא מרץ בגסמי ולא בעקלי ולא אמר יתעלק בי מן
גמיע מפסדאת אלשהאדה אלא ברצאי ואכתיארי ומן אדני ואיתארי אנני קד אברית וסאמחת
אלשיך אבו אלחסן אלמדכור מטלקי מן כל חק מתעיין לי קבלה מנד אתצל בי ואלי יומנא הדא
ולם יבק לי פי גהתה חק מן אלחקוק ולא דעוי מן סאיר אלדעאוי לא בכתובה ולא בשטר ולא בגיר
דלך לא ען מוכר ולא ען נדוניא ולא [ען] חבל ולא ען ולד ולא ען וגה מן סאיר וגוה אלדעאוי אלדי ימכן
אן ידעו בה אלנסואן עלי אזואגהן ואבריתה מן גמיע דלך בראה תאמה מאציה ע[אמ]לה פי
גמיע מא תקדם תפצילה ממא מקדארה או קימתה חבתין דהב מצרי אלי נהאיה עשרה
דנאניר מצריה בראה תאמה אלעקד לא אמר כאסר להא ולא פאסך לחכמהא בראה חאויה
לסאיר אלמוגודאת עלי אכתלאפהא באוכד מעאני אלאברי ואתבתהא כתיקון רבותינו
זל וכל שהאדה בלפט או בכט או מודע אודעתה או שרט אסתתנית בה בלפט או בכט
תטהר מן תחת ידי או מן תחת יד ורתתי בעדי תבטל הדה אלאברי או תעלהא או תפסדהא
קד אבטלת גמיע דלך מעכשיו וגעלת חכמהא חכם קטעה כזפה לם [. . . . .] אנתפאע
וכתבת הדה אלאברי אנא מעאלי אלמדכורה לתכון ביד אבו אלחסן מטל[קי . . .] צמנה
גמיע מא שרח באעלאהא לתבריה פי גמיע מגאלס חכאם ישרא' [. . . ת]אבתה
. . . . ה לא [כא]ל[אסנאדאת] אלגיר צרוריה ולא כאלמצאדיר אלכתביה אלא כא[וכד . . . . .] מא
T-S 13J3.22 1v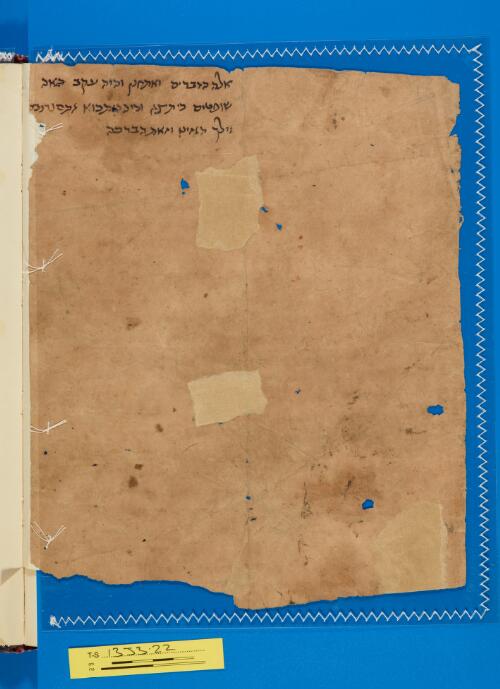 Image Permissions Statement

T-S 13J3.22: Provided by Cambridge University Library. Zooming image © Cambridge University Library, All rights reserved. This image may be used in accord with fair use and fair dealing provisions, including teaching and research. If you wish to reproduce it within publications or on the public web, please contact genizah@lib.cam.ac.uk.