Legal document: T-S 13J3.11
Legal document
T-S 13J3.11
Input date
In PGP since 1990
Description
Release granted by a brother and heir of a deceased man to his sister-in-law, the wife of the deceased, in Fustat, Elul 1476/August 1165.
T-S 13J3.11 1v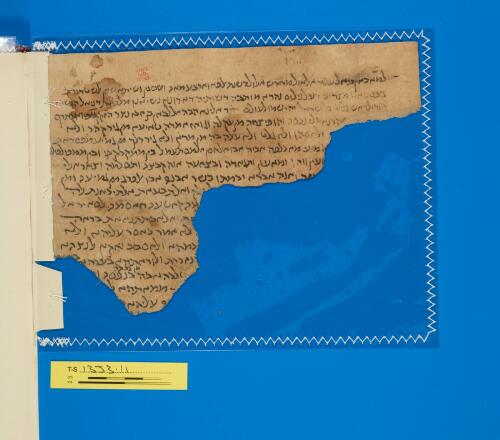 Transcription
S. D. Goitein, unpublished editions.
למא כאן פי אלעשר אלאול מחדש אלול דשנת אלפא וארבע מאה ושבעין ושיתא שנין לשטרות
בפסטאט מצרים דעל נילוס נהרא מותבה רשותיה דאדוננו נשיאנו מלכינו דניאל הנשיא
הגדול ראש גליות כל ישראל יהי שמו לעולם חצר אלינא הבה אללבאן בן אבו נצר הזקן נע' ואעתרף
א]שהדנא עלי נפסה והו פי צחה מן עקלה וגואז אמרה טאיעא מן גיר קהר ולא
] ולא סהו ולא גלט ולא עלה בה מן מרץ ולא גיר דלך מן גמיע מפסדאת
] גמיע מא כלפה אכיה אבו אלחסן אלמסתעמל בין ממקרקעי ובין ממטלטלי
]עין וורק ומאעון ותגארה ובצאעה אנה קבצה ותסלמה וצאר אלי
] ואנה אברא יבמתו בשר אבנה אבו אלפרג מן גמיעה ומן
ואל]עלק ואלתבעאת אלתי כאנת לה
תא]מה קאטעה חאסמה לסאיר אל
]ת ואלאסתתנאאת בראה
] לא אמר כאסר עליהא ולא
]כמהא ולא סבב נאקץ לנצהא
ה]נזכרת ולוראתהא בעדהא בראה
]טלבהא בה //מן גהתה// בנפסה ו[
] ממאתהא ל[
] עליהא [
T-S 13J3.11 1r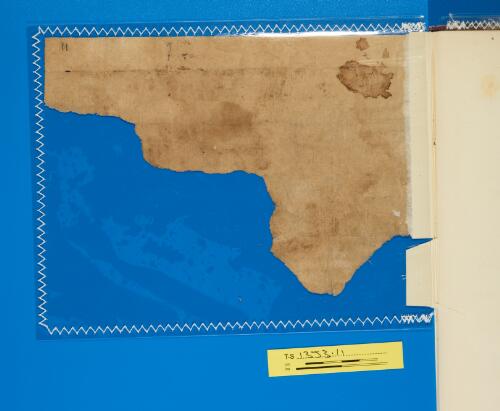 Image Permissions Statement

T-S 13J3.11: Provided by Cambridge University Library. Zooming image © Cambridge University Library, All rights reserved. This image may be used in accord with fair use and fair dealing provisions, including teaching and research. If you wish to reproduce it within publications or on the public web, please contact genizah@lib.cam.ac.uk.