Letter: T-S 13J22.30
Letter
T-S 13J22.30
Input date
In PGP since 2017
Description
Letter. Business letter from Yiṣḥaq ha-Levi b. Simḥa al-Nīsābūrī to the parnas ʿŪlla ha-Levi recommending a young Jewish man and describing him as being very good at kattan work, including the scutching and hatcheling of flax. Also mentions the silk market and prices. (S. D. Goitein, Mediterranean Society, 1:105, 402, 418, 455) EMS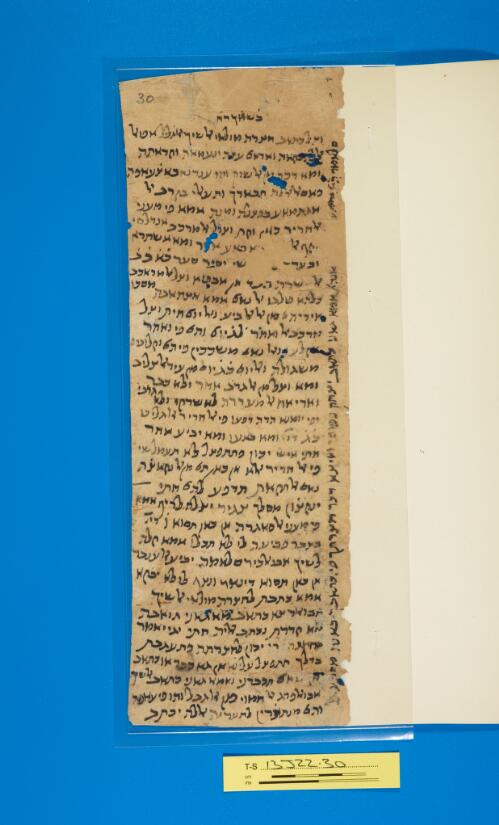 Transcription
S. D. Goitein, unpublished editions.
בשמך רח'
וצל כתאב חצרה מולאי אלשיך אלגליל אטאל
אללה בקאה ואדאם עזה ונעמאה וקראתה
ומא דכר מן אלשוק והו ענדנא באצעאפה
פאסאל אללה תבארך ותעאלי בקרב אל
אגתמאע בפצלה ומנה אמא פי מעני
אלחריר כאן וקת וצול אלמרכב אנדלסי (צ"ל: אלאנדלסי)
וקף אל[ביע] מא באע א[ח]ד ומא אשתרא
ובעד דלך [ביע] שי יסיר סער כא כב
אלעשרה בעד אן אבטא וצל (צ"ל: וצול) אלמראכב
כלהא טלבו אלנאס אמא אצחאבה מסכו
אידיהם מן אל אלביע ואליום חית וצל
מרכב אלואחד לג יום והם פי ואחד
אקלעו ואלנאס משככין פיהם וקלובהם
משגולה ואליום כג יום מן עיד אלצליב
ומא וצל מן אלגרב אחד ולא כבר
ואריאח אלמעדרה לא שרקי ולא גרבי
ופי יומנא הדה דפעו פי אלחריר אלגליט
כג די' ומא באעו ומא יביע אחד
חתי איש יכון פתתפצל לא תעמל שי
פי אלחריר אלא אן כאן תם מן אלנקאצה
נאס אלתקאת תדפע להם חתי
ינקצון מסלך צגיר יצלח לריף אמא
פי מעני אלפאגרה אן כאן תסוא ו דינ'
בצבר פביעה לי לא תכלו אמא קלת
לשיך אבי אלכיר סלאמה יביע אלענבר
אן כאן תסוא דינאר ונצף לולא יבקא
אמא כתבת לחצרה מולאי אלשיך
אבו אלרצא כתאב מא גאני גואבה
מא קדרת נכתב אליה חתי יגי יאמר
בחאגה [אל]די יכון לחצרתה פתעגבת
בדלך תתפצל עלינא אן גא כבר או כתאב
מן //[אל]//שאם תכברני ואמא גאני כתאב אלשיך
אבו אלפרג אלחמוי מן אלגבל והו פי עאנאת
והם מנתצרין לתעדיה אללה יכתב
Recto margin
סלאמתהם [ ] אנהם אמא גאני כתאב יצחק נפוסי ואיצא דכר חצרתך פי
כתאבך באנה מסתעגל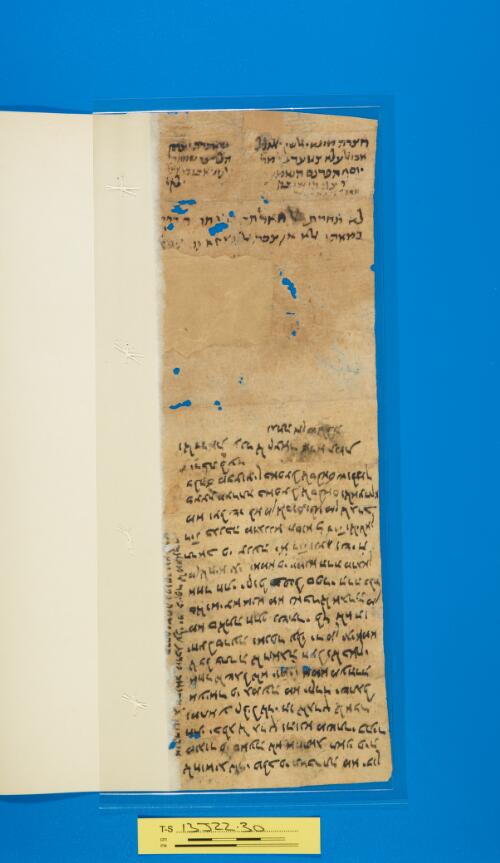 Verso
עמוד ב'
אלחואיג אלדי טלב פי תדכרתה מא יכון
מוגוד פי סאעה אלא אחתאג תאני פיה
חתי יבלג אלגרץ והונא משתרי כתיר
ומתאע קליל אלדי הו אלגרץ אלאכר
אעיאד פי גמעה מא יקדר ישתגל
אחד אלשגל אלא יומין אמא מע הדה
אלכל כתרה אלחאגה חצל ואלבאקי
יחצל סרעה ואנפד עלי יד מן יגי אמא
מא סאלתה חתי נשתרי לך אלא הו
סאל ואיצא אנא מא נאכד אלאגרה מן
אחד חתי יקול פיל ספרי הדה כלה
מן אלחואיגי ואמא פי יומנא הדה מרגאן
תראב פי צנעה יא דיי' ונצף ושי ח
דינ' בגנבה מרגננא (צ"ל: מרגאננא) תסוא כ דיי' ואלי אלאן
מא וצל שי לא מן אלרום ולא מן אלגרב
כצצת חצרתה באפצל אלסלאם ואלאצדקא
כלהם מכצוצין באפצל אלסלאם שולמך (!)
ירבה לעד
ואלרדאת ענד אלקצאר אדא תמת
וגתה (צ"ל: וגהתה) אן שאללה
Verso, right margin
אנפדנא ג אתואב מדבג עלי יד כאפר (צ"ל: כאפור) אלמכארי
ברסם יצחק נפוסי יוצלהא
Verso, top margin, upside-down
חצרה מולאי אלשיך אלגליל שאכרה יצחק
אבו אלעלא צאעד בר מר הלוי בר שמחה
יוסף הפרנס הנאמן אלניסאבורי זצל
רצוי הישיבה לקי
אדאם אללה עזה
Below the address in what may be another hand
לא תחדת [[אל]] חאדתה פי אלחריר בקי
כמא הו אלא אן צבת (צ"ל: אצבת) אל[
Image Permissions Statement

T-S 13J22.30: Provided by Cambridge University Library. Zooming image © Cambridge University Library, All rights reserved. This image may be used in accord with fair use and fair dealing provisions, including teaching and research. If you wish to reproduce it within publications or on the public web, please contact genizah@lib.cam.ac.uk.