Letter: T-S 13J22.26
Letter
T-S 13J22.26
Input date
In PGP since 1990
Description
Letter from Ṣedaqa Shāmī, in Jerusalem, to his brother-in-law Yosef Shammash, presumably in Fustat/Cairo. In Hebrew and Judaeo-Arabic. Dating: Late, probably no earlier than 14th century (based on paleography and format). Mentions the arrival of Qaraites. The writer uses jōza (for classical Arabic zawja) for wife. (S. D. Goitein, Mediterranean Society, 3:161, 462) EMS On verso another inscription, in different hand and ink, with a date (only the day of the month), also mentions Yosef the beadle (in Judaeo-Arabic)
T-S 13J22.26 1r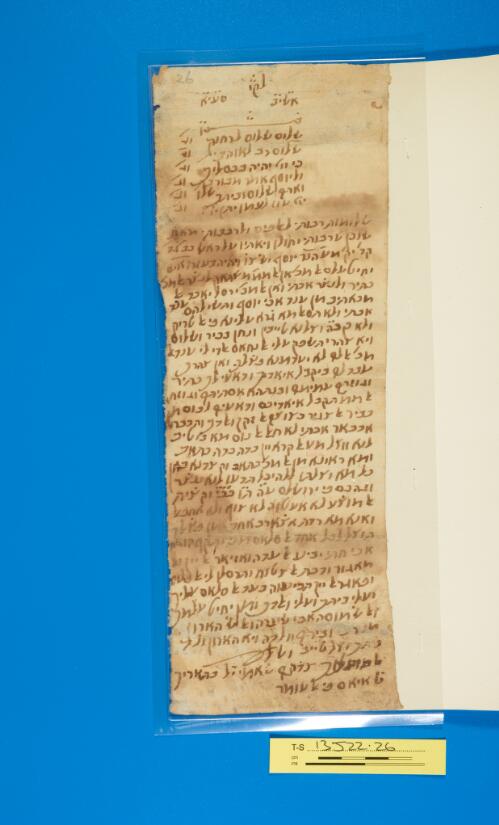 Transcription
S. D. Goitein, unpublished editions.
Recto:
לקי
אשיב סעיא
בינו
שלום שלום לרחוק וג׳
שלום רב לאוהבי וג׳
כי ייי יהיה בכסליך וג׳
וליוסף אמר מבורכת וג׳
ואתה שלום וביתך שלו׳ וג׳
ייי עוז לעמו יתן ייי וג׳
שלומות רבות לאלפים ולרבבות מאת
שוכן ערבות יחולו ויאתיו על ראש כב׳ גד׳
קד׳ יק׳ מע׳ הנר׳ יוסף יש׳ צו׳ ויהיה בעזרו אנס
יחיט עלם אלמכ׳ אן אלממ׳ משתאק לנצר אלמכ׳
כתיר ולנצר אכתי ואן אלמכ׳ ירסל יאכד אל
מכאתיב מן ענד אכי יוסף ותשילהם ענד
אכתי ולא תסאל מא גרא עלינא פי אל טריק
ולאכן בה וצלנא טייבין ונחן בכיר ושלום
ויא צהרי תשפק עלי אל נחאס אלדי לי ענד אל
מכ׳ אללה לא יעדמנא פצלך ואן צהרך
עבדלה ביקבל איאדיך ודאעי לך כתיר
וגוזתה עמימה ובנתהא אסתיתה וגוזת
אלממ׳ תקבל איאדיכם ודאעיה לכום אל
כביר אל צגיר כצוצה אל זקן ואלדך ותכברו[ני
אכבאר אכתי לא חאל אל נום מא ביטיב
לנא ווצל מע אל קראיין כדה כדה כתאב
ומא ראינא מן אלמכ׳ כתאב וקצדנא באן
כל מא וצלתו ללהיכל תדעו לנא ננצר
וגהכם פי ירושלם עה תו בבי וקצית
אלמוצע לא אעטוה לא צוף ולא אחבאל
ואנא מא רדת אצארב אחד מן פצלך
תוצל לכל אחד אל סלאם מני ותקף חואיג
אכי חתי יביע אל עדה ואזיאר אל יין ואל
מאגור ודכת אלצטוח ותרסלו לי אל פלוס
ופאגר אל יין תביעוה בעד אל סלאם עליך
ועלי ביתך ועלי ואלדך ומן יחיט עלמך
ואל ש׳ מוסה אבו שערה ואלש׳ הארון
מ[ג]רבי וביתה וולדה ויא הארון ולד
ביתך וצל טייב ושלום
אלממלוך צדקה שאמי יל בתאריך
ט איאם פי אלעומר
T-S 13J22.26 1v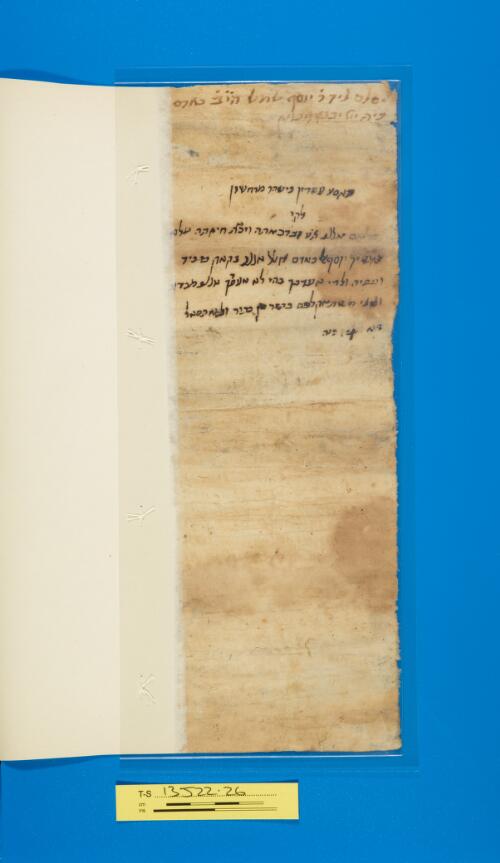 Verso, address:
יסלם ליד ר יוסף שמש היב כאדם
בית ייי יבנה ויכונן
Verso, different document:
תאסע עשרין פי שהר מרחשון
לקי
סלאם אללה תע וברכאתה וזכ\א\ת חיאתה עלא
אלשיך יוסף אלכאדם אטאל אללה בקאה פי כיר
ועפיה ולדי אערפך בהי לא אע\ר\פך אללה מכר[וה
ואני משתאק לכם כתיר בן כתיר ולא תסאל
מא אנא פיה
Image Permissions Statement

T-S 13J22.26: Provided by Cambridge University Library. Zooming image © Cambridge University Library, All rights reserved. This image may be used in accord with fair use and fair dealing provisions, including teaching and research. If you wish to reproduce it within publications or on the public web, please contact genizah@lib.cam.ac.uk.