Literary text: T-S 13J22.19
Literary text
T-S 13J22.19
Input date
In PGP since 1990
Description
An ethical treatise in the style of al-Ghazali. Classical ethics with a tinge of Sufism. It is a quote from a Shi'ite text - see S.D. Goitein, "Meeting in Jerusalem": Messianic Expectations in the Letters of the Cairo Geniza", AJS Review 4 (1979): 43-57.
T-S 13J22.19 1r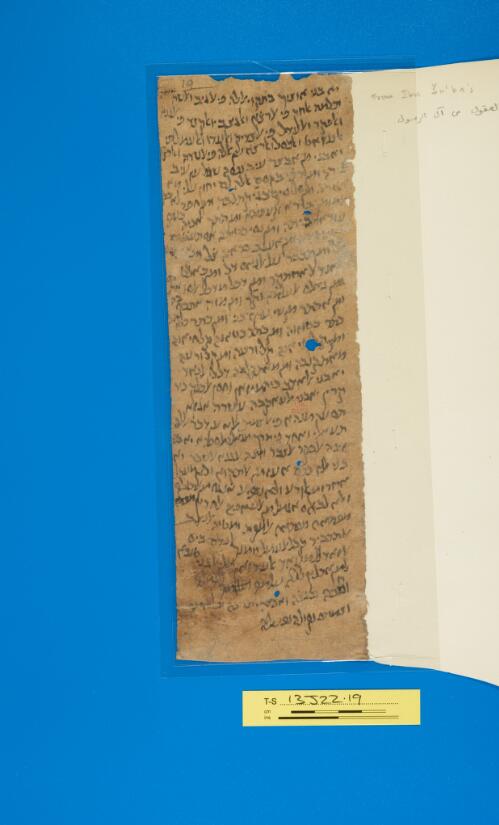 Transcription
S. D. Goitein, unpublished editions.
יא בני אוציך בתקוי אללה פי אלגיב ואלשהאדה
וכלמה אלחק פי אלרצא ואלגצב ואלקצד פי אלגנא
ואלפקר ואלעדל פי אלצדיק ואלעדו ואלעמל פי
אלנשאט ואלכסל ואלרצא ען אללה פי אלשדה ואלרצא
יא בני מן אבצר עיב נפסה שגל ען עיב
גירה ומן רצי בקסם אללה לם יחזן עלי מא
] ומן סל סיף בגי קתל בה ומן חפר לאכיה
אלמומן בירא וקע פיהא ומן התך אכיה כשף
עו.את ביתה ומן נסי כטיתה אסתעטם
כטיה גירה ומן אעגב בראיה צל ומא ...
.. ומן תכבר על (צ"ל: עלי) אלנאס דל ומן כאלט
אלאנדאל אחתקר ומן דכל מדכל אלסו אתהם
ומן גאלס אלעלמא וקר ומן מזח אתכף בה
ומן אכתר מן שי ערף בה ומן כתר כלאמה (?)
כתר כטאוה ומן כתר כטאוה קל חיאוה
ומן קל חיאוה קל ורעה ומן קל ורעה
מאת קלבה ומן מאת קלבה דכל אלנאר
יא בני אלאדב כיר מיזאן וחסן אלכלק כיר
קרין יא בני אלעאקבה עשרה אגזא
תסעה מנהא פי אלצמת אלא ען דכר אללה
תעאלי ואחד פי תרך מגאלס אלספהא יא בני
זינה אלפקר אלצבר וזינה אלגנא אלשכר יא
בני לא כרם אעז מן אלתקוא ולא מעקל
אחרז מן אלורע ולא שפיע אנגח מן אלתובה
ולא לבאס אגמל מן אלעאפיה אלחרץ [[מפתא]]
מפתאח מפתאח אלמקת ומטיה אלנצב
אלתדכיר קבל אלעמל יומנך אלנדם ביס
אלזאד ללמעאד אלעדואן עלי אלגני טובא
למן אכלץ ללה עלמה [[ועלמה]] ועמלה
וחבה ובגצה וא.ה .תו..ה וכלאמה
וצמתה נקולה נפעלה
T-S 13J22.19 1v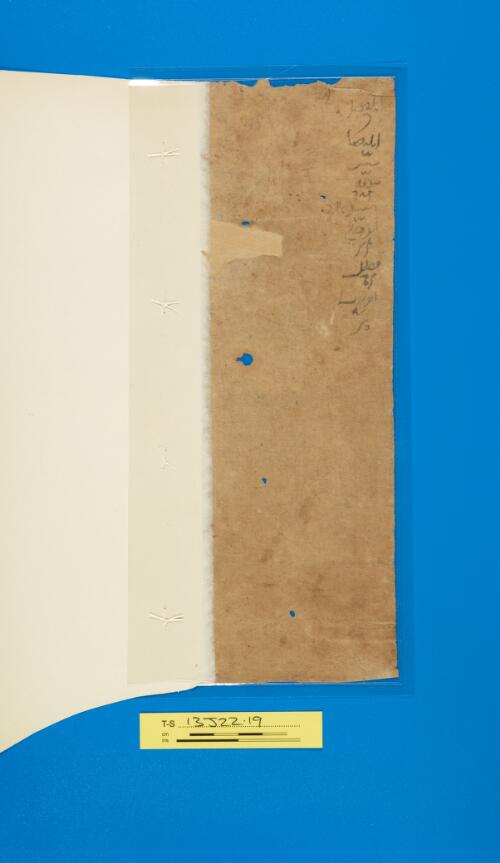 Image Permissions Statement

T-S 13J22.19: Provided by Cambridge University Library. Zooming image © Cambridge University Library, All rights reserved. This image may be used in accord with fair use and fair dealing provisions, including teaching and research. If you wish to reproduce it within publications or on the public web, please contact genizah@lib.cam.ac.uk.