Letter: T-S 13J20.26
Letter
T-S 13J20.26
Input date
In PGP since 1991
Description
Letter from Natan b. Nahray, Alexandria, to Nahray b. Nissim, Fustat. Dating: Ca. 1062 CE (Gil). Topics: trade in oil, cumin, paper, books; the serious illness of ʿIwāḍ b. Ḥananel; and the dire situation in al-Mahdiyya. Nahray was very worried about ʿIwāḍ, but he ended up improving (lines 6–7). Cf. T-S 10J10.27, from 1060 CE, in which ʿIwāḍ himself writes to Nahray about his intestinal bloating and how he is scared and does not know what will happen.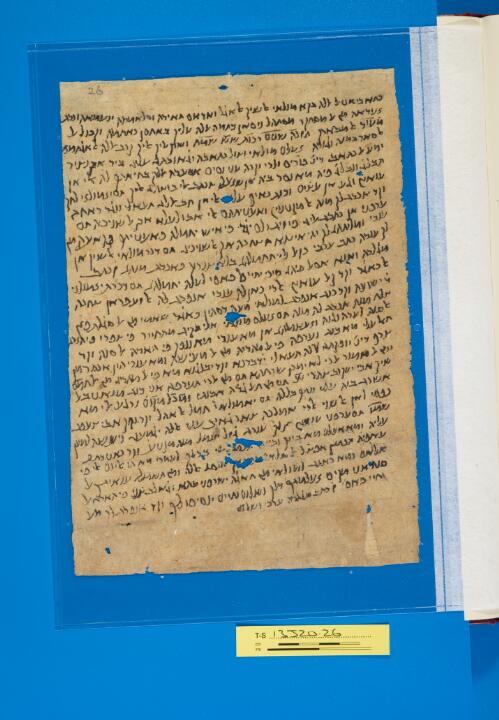 Transcription
A. L. Udovitch, [digital geniza document edition].
כתאבי אטאל אללה בקא מולאי אל שיך אל אגל ואדאם תאידה וסלאמתה ונעמתה וכבת
אעדאה מן אל מסתקר מסתהל ניסאן כתמה אללה עליך באחסן כאתמה וקבול אל
מעוד (!) אלמבארך תזכה שנים רבות שש שמח ושוק אליך אליך (!) קרב אללה אל אגתמאע
אל סאר במנה וגודה אעלם מולאי וצול כתאבה וגאובתה עליה ביד אבן נציר
ומע אל כתאב דינ' פורים ולדי וקרה עני נסים אסעדה אללה בחיאתך לה אלי אן
תבלג ונבלג פיה מא נסר ביה אן שא אללה תכתב אלי בוצולה אליך תם יא מולאי לחק
עואץ וגע אן עצים וכנת כאיף עליה אלא אן חב אללה תעאלי ווגד ראחה
וקד אכדת לך מנה אלמקטעין ואעטיתהם אלי אבולעלא אבן אל שויכיה תם
ערפני אן כתבת אליה פי זית ולם יגד פי איש יחמלה פאעטיתה (פאעטיתך ?) פקאעה מן
ענדי ומליתה לך והי איצא צחבה אבן אל שויכיה תם דכר מולאי אל שיך אן
לך ענדה כתב ערבי פקאל לי תחמלהא בלא צנדוק פאכדת מנהא ז כתב
מגלדה ואנא אסאל פיהא סידי יחיי אל פאסי לעלה יחמלהא תם דכרת יא מולאי
אל כאגד וקד קאל עואץ אלדי כאן ענדי אנפדת לה אלזעפראן צחבה
ר ישועה וקד כנת אנפדתה למולאי דסתין כאגד שאמי מן אלסגלת פאן
צלח מנה אכדת לה מנה תם אעלם מולאי אני בקית מתחייר פי צפרי פי האדה
אל סנה לעדה וגוה ואעצמהא אן מא ענדי מא ננפק פי האדה אלסנה וקד
חאל עלי מא כנת נערפה פי אל מהדיה מן אל מעישה ומא ענדי הון אכתר מן
צרף דינ' ונפקתה אללה תעאלי ידברנא וקד יבלגנא מא פי אל מהדיה מן אל חמס
ומן אל אמור אלדי לא ימכן שרחהא תם מן אלדי תערפה אני כנת מנאט באל
שיך אבו יעקוב צהרי נע תם מן חאל גרה אכותי ומכל מקום ורגע אלי מא
אשרת ביה עלי ונתק באללה תם יא מולאי חמל אל אהל וקד אכי צעפת
נפסי לאן אלשוקי אלדי אמלכה צאר גאיב עני ואללה יגמענא ויעשה למען
שמו תם ערפני עואץ אן לך ענדה גזל יעמל מנה מקטע וקד כאטבתה
עליה ומא אעלם מא בינך ובינה תכתב לי בדאלך לעמרי מא הו אל יום אלי פי
עאפיה תכתץ אפצל אל סלאם חרסה אללה ומן תשמלה ענאיתך אל
סלאם ומא כאנת למולאי מן חאגה ישרפני בהא וגאלב צני פי האדה אל
סנה אני מקים אעלמתך דלך ושלום וחיים יוסיפו לך וקד אנפדת לך מע
יחיי פאסי ז כתב מגלדה ערבי ושלום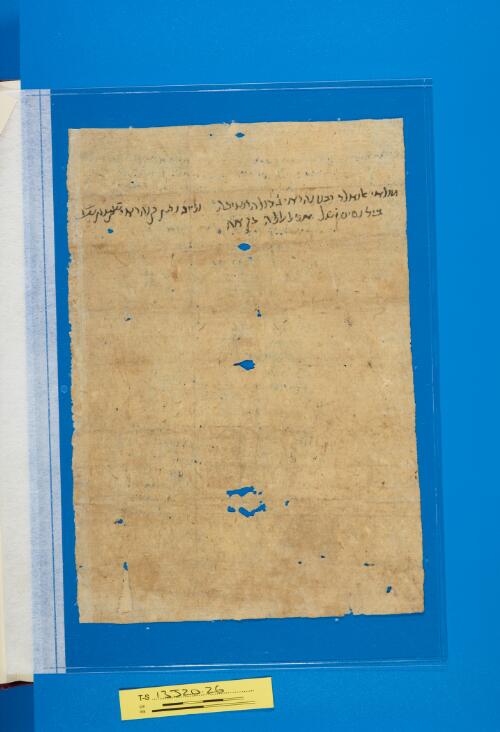 page b
מולאי אל ואלד רבינו נהראי גדול הישיבה
ביר נסים וצל אטאל אללה בקאה ולייה נתן בן נהראי נע'
בן נתן נע'
Image Permissions Statement

T-S 13J20.26: Provided by Cambridge University Library. Zooming image © Cambridge University Library, All rights reserved. This image may be used in accord with fair use and fair dealing provisions, including teaching and research. If you wish to reproduce it within publications or on the public web, please contact genizah@lib.cam.ac.uk.