Legal document: T-S 13J2.2
Legal document
T-S 13J2.2
Input date
In PGP since 1990
Description
Court record concerning the posthumous settlement of the affairs of a merchant who had sold partnership goods from Tripoli, Lebanon, in the various 'houses of the wukala' in Fustat, and had died leaving behind him two sons, Tammuz 1405/July 1094.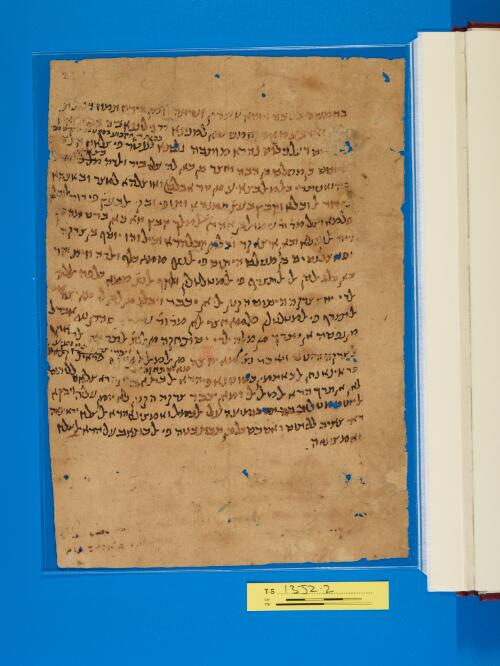 Transcription
S. D. Goitein, unpublished editions.
בחמשה בשבה דהוא עשרין ושיתה יומין בירח תמוז דשנת
[אלף] וארבע מאה וחמש שנין למנינא דרגיליננא ביה בפסטאט //בבית דין הקבוע בפסטאט מצרים מפי//
מצרים דעל נילוס נהרא מותבה גלסנא לננטר פי צלאח חאל צדקה
היתום בן משלם בן הבה וחצר מן כאן לה [[עלי]] ביד ואלדה [[מאל]] //בצאיע//
פהו אשתרי באלמאל בצאע מן טראבלס ואוצלהא למצר ובאעהא
פי דור אלוכלא וקבץ בעץ (!) תמנהא ותופי ובקי אלבעץ פי דור אלוכלא
פלמא וצל מר ור שמואל בן אהרן //נע// אלמאלך קבץ מא כאן ברסמה מן
דור אלוכלא וכאן איצא קד וכל מן קבל הדא וכיל והו יוסף בן צדקה
ופאצל נסים בן משלם היתום פי אלנצף ממא כאלף ואלדה חית וקד
כאן בלג אלסן אלי אלתצרף פי אלמטלטלין ואוקף אלנצ` ממא כלפה אללה
אלדי יחץ צדקה היתום הקטן אלי אן יכבר ויבלג מן אלסן מא יצח מנה
אלתצרף פי אלמטלטלין פלמא חצר אלאן מר ור שמואל בן אהרן נע אבדל
מן נפסה אן יתרך מן מאלה אלדי יסתחקה מן אלנצף אלתרכה אלדי אוקף
לצדקה היתום ויאכד נצ` מא יחצה מן אלמאל אלמוקף ויברי צדקה מן גמיע [
פראינא נחן אלכאתמין כטוטנא פי הדא [מא יסתחקה] אלכתאב מן הדא צלאח לליתום
לאן אן תרך הדא אלמאל אלי זמאן יכבר צדקה הקטן לא יומן עליה ויבקא
אליתום מטלוב [[..]] בגמיעה עלי אלכמאל ואמצינא הדא אלצלח וראינאה
ראי צאיב לליתום ואסכם כל מן תבת כטה פי אלכתאב עלי הדא אלצלח
ואמצינאה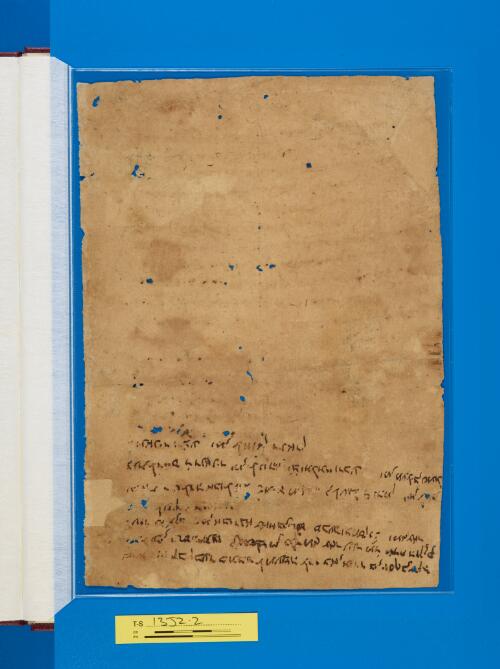 verso
שהדותא קבץ בעד כתבה אלמעשה אלדי כאן אקרר בין יוסף בן צדקה
אלוכיל ובין נסים היתום בן משלם מן דלך מא צאר ענד מר ארח הזקן בן
אלעזר מא קבצה מן אבו רגא צאחב בן שלום סבעה וכמסין דנ` (?) ומא צאר
[ענד] אלשיך אבו
מן גהה בן אלעגל ד ותמן ומן אלסת
בנת אלרייס ד דנאניר ומן אלטחאן יב ותלתיי ורבע ומן מעאלי בן שמואל
דנאניר ורבע ומן אלחזאן דינארין
Image Permissions Statement

T-S 13J2.2: Provided by Cambridge University Library. Zooming image © Cambridge University Library, All rights reserved. This image may be used in accord with fair use and fair dealing provisions, including teaching and research. If you wish to reproduce it within publications or on the public web, please contact genizah@lib.cam.ac.uk.