رسالة: T-S 12.780
رسالة
T-S 12.780
تاريخ الإدخال
في PGP منذ 1990
الوصف
Letter from a scholar from Ramla (who had lived for twenty years in Baghdad) to Nahray b. Nissim. Around 1095. Seems like a part of a regular correspondence between the two. Nahray was blind at that time and needed someone to read him the letter. Mentions the book by the Gaon Aharon b. Yosef (Khalaf b. Sarjado) and one of Shemuel b. Hofni's grandsons. The writer asks Nahray to find a few products in Fustat, including indigo, pepper, arsenic, ammonia water and more. Between his request for funds due to him and his discussion of an ongoing divorce, he interposes the line, "for I am a lump of flesh waiting to die," continuing later that "I am in need of mercy, my strength is fading" — a common rhetorical strategy for gaining the sympathy of one's correspondent. (Information from Gil, Kingdom, Vol. 2, #85) VMR, revised following the analysis of old age (and complaints about old age) in the seminar paper of Jake Brzowsky ('21), Fall 2018. Same writer: T-S 24.46, T-S 12.780, ENA 2594.12.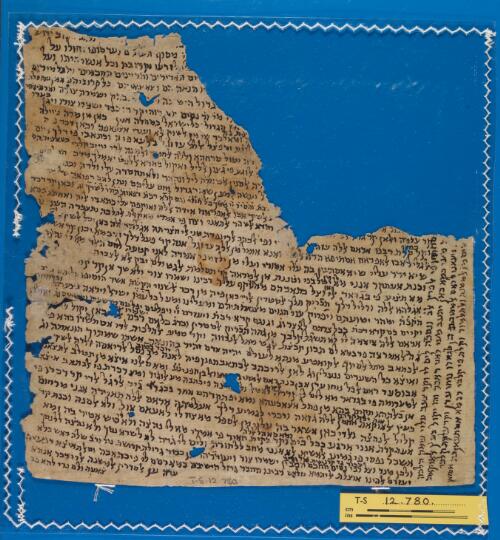 النصوص المفرّغة
A. L. Udovitch, Unpublished editions.
Recto:
] יראה בטוב ירוש
] מסוף העולם ועד סופו יחולו על
] לזרעו וקרוביו וכל אנשי ביתו ועל
]ים האדירים והדיינים החכמים והתלמידים
] ו הנאה הם וצאצאיהם וכל קרוביהם אמן נצח סלה
] גדול הישיבה ה[רב המ]ובהק ישמרה צורה וארב . . .
]מר ור נסים חמודו היקר הנכבד ישמרו צורו ויגן //בעדו//
] הגדול וכל ישראל במהרה אמן כאן מן מדה טוילה
]//צית בה// ה ומא דכר שי מן אלשוק אלא וענדי אצעאפה וכאן דכר בה
]אלוגע ותפצל אללה עז וגל באלעאפיה וכתאבי פי דלך אליום
]דה יטול שרחהא וללה אלחמד ואלמנה אלדי טייב קלבי בעאפיתהם
] אלוגע פי גצון אלליל ואקול בהדא אללפט יא מלך מלכי המלכים
מ]דה אלסנין אלטוילה ליל ונהאר ולא תחסרה עלי ולדה וכנת . . . .
] אל ועשה למען שמו הגדול וחס עליהם ונתן להם רפואה שלימה
] דכת והסיר יי ממך כל חולי וגם קרא דכת רפאות תהי לשרך וג וכאן קד דכר
]ה א[ ] אלשיך אבו אלאפראח אידה אללה ואוקפה עלי כתאבי אליה ואחתג במא
קד עלמה ואלאן קד [ ] והדא אלשהר אלתאני וצח פי אמרי מא קאלת אלהלכה נתעברה השנה וג׳
וקד //כנת// סאלת רבנו אדאם אללה עזה [ ]י ופי אלכתב אלדי נפדת מני אלי חצרתה אגלהא אללה באן יסל אלשיך [
אלגליל אבו אלאפראח אסתיפא הדא אל //[דין]// ואנא אומל מן אללה עז וגל אנה קד פעל דלך ורבמא יכון קד אש[תרי]
שיא ירד עליי שיא אסתעין בה עלי אמורי ועלי מן ילזמני אמרה לאני קטעה לחם האלך מא לי נהצה
וכנת אעתקד אנני מא //לי מן// יטלבני וטננת אן אלמראה קד תסלמת אלגט ולם יבק אלא אלצברה [
מא תציע פי בגדאד אלי //אן// וצל כתאבהם מה //קד// וקף עליה רבינו ישמרו צור ולא שך אן קד ק[
אגלהא אללה ודליל דלך תכריק תלך אלסטרין אלדי כאן פיה מן דכר אלשנוי הקשה אשר הוסיפו עליהם ב[בבל]
הקבה ימהר ישועתם ויפרוק עול הגוים מצוארותיהם ומעלינו ומעל כל עמו ישראל ויראה בצערם וברחמיו
יקיים בם קרא דכת בכל צרתם לא צר וג וג וגם קרא דכת ויעזרם ייי ויפלטם יפלטם מרשעים ויושיעם וג וקולה
אדאם אללה איאמה לי לא תשגל קלבך מן גהה תכריק אלסטרין וכרג כלאם רבנו //ישמרו צורו// אל[די] כאן יקול לי מן
גה/ה/ אלאמראה פרבמא לם תכון קבצת אלגט מתל אלנבווה וקד סמע אלהלכות אלדי אסתשה/ד/ו בהא פי
אלכתאב מתל אלסיוף אלקואטע מנהא לעולם יהיה אדם זהיר בהונאת אשתו שמתוך הונאתה וג
ואיצא כל השערים ננעלין וג לאן אלדי כתב אלכתאב תפנן פיה //יזכר בטוב// לאנה מן נסל אלריאסה ואלדה אלשיך
אבו סעד ראס אלכל נוחו עדן אבן בנת ראס אלמתיב[ה] שמואל בן חפני נע ומא סאלני איצא מן תטלב אלחצאנ[ה
אלמעדומה פי בגדאד מא ליס לי קדרה //אליה ואן// לה מאל ול[א פ]צה פיכתבה מע אלוגוד ומא דכרת פי אלכתאב איצא
אן כאלתהא תקים בהא מן פתל אצאבעהא ומא יפתקדהם אחד בבגד/א/ד גיר אלרגל אלדי קד דכרו פי
בעץ אלאוקאת //אנה יפתקדהם // ויחסן אללה גזאה ויברי לגמיע דלך אעלמתה אדאם אללה תאיידה אנני מרחום
קליל אלנהצה ואלדי כאן אשאר בה עליי מן אלספר מא צח לי לא עאם אול ולא אלסנה וכנת קד
אעתקדת אנני ארגע בכל כיר //ומא סאהל אללה// וקד בקית חאיר פי אמרי מא לי נהצה ולא //לי// ריש אטיר בה ומא
אשכר נפסי פי גמיע אלאשיא אלא אנני מחב ללתורה וליס לי גדה לא לשרא נסך ולא נהצה ללנסך
ולכן מנד וצל // כבוד גד קדושת מר ורב // רבי נסים החכם המבין ישמרו צור ויעוררהו בן כבוד גדולת קדושת מר ורב שלה ראש כלא
יעזרם אלהינו אוצלת אליהמא סלאם רבינו החבר גדול הישיבה במא רסם לי פי כתאבה וסאלת איצא דפעאת
עדה ען אלסדרין אלמשנה אלדי דכר אנהא
צאעת ולם נרי להא כב[ר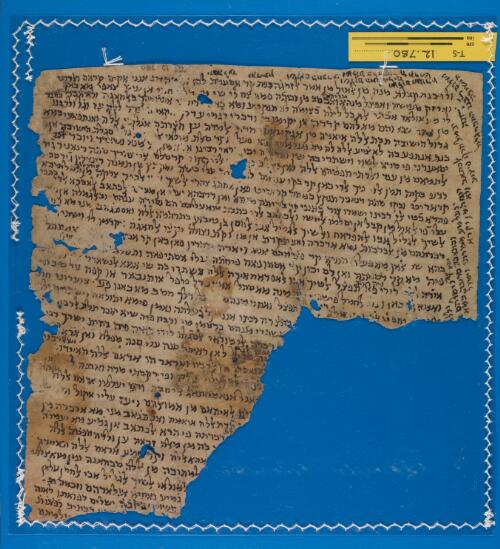 Recto margin:
] מחזקין פי אלפרק אלב ונסכה ליס לי וקד צעב עליי עומק הלכה
] מעי כמא כאן יתעב מעי לאני דאכר והו יקול בעץ אלאוקאת
]ו מעאני לראס אלמתיבה בן ס/ר/גאדו נוחו עדן וקד עלקת קלבי
]ים מן אלמשנה ואלתלמוד וקלת פי קלבי רבמא אסתעאן בה אנסאן
Verso:
ולו כנת קבלת מנה מן אלאול מן אמר אלזיגה כנת קד אסעדת לכן אעתקדת אנני אקים קדאם ואלדתי
וארזק מעישה ואפצל מנהא //מליהא// ואכסב מן זכותה פמא צח לי שי מן דלך חתי מן עיש צאפי מא כאן
לי מע אולאד אכתי אלא כל לילה כצומה לא תנקטע ומא כד[. . . . .] אתטאהר באלחאגה ולא אכד
מן אחד שי והם מא להם קדרה אן יקימו בי ודכרי לגמיע דלך אקאמה אלעדר ללה עז וגל ולרבנו החבר
גדול הישיבה תבת אללה איאמה מן אנקטאעי הדה אלמדה ען חצרתה אגלהא אללה ואנתפאעי במא
כנת אנתפע בה לא צייע אללה לה מא פעל מעי [כמ]א פעל וקד סאלת מולאי אל[שיך] אלגליל סגלת הישיבה אן
יסאעדני פי הדא אלשוי וישתרי בה שי וארבחה יכון [ב]ראי רבינו אלא מן . . . מנא נשאדר ויוכד אל [[אלתר]]
אלתמאם מן ענד ואלדתי חפטהא אללה לאן וצל כת[אבהא אליי] אלדי תקול קד סלם אליי צהרך סתה דנאניר גיר
רבע בקיה תמן אלזרניך אלדי כאן קד בקי ענדהם ל[ . . . .] עלי כתרה ותקבץ מן תמנה דינארין ויד סב[עה]
קראריט ובקי סתה דנאניר תנקץ כמסה קראריט פאן אחתג צהרי אלשיך אבו אלכיר צדקה //אידה אללה// מן תסלימהא
פהדא כטי אלי רבנו ישמרו צור באנני קד בריתה מנהא ומן דרכהא ועלי אן מעהם אלכתאב אלאברא אלדי כתבו
עלי פי אלאול מן קבל אן יסלמו אליי שי ואלכתאב אלדי כתבת אנא עליהם תם נסירה ענהם ובאלגמלה אן סידי
אלשיך אלגליל אבו אלאפראח ואלשיך אלגליל אבו אלחסן בן סיבאע כתרהמא אללה ואסתגאב מני מא [כנת]
דכרתהם מן אלברכות ומא אדכרה ואעתקדת אן מן וקת וצולה יקצו אלחאגה ויקדמו לי וישתרו
בהא שי אלאן מא פעלו הודא קד פצלתהם אנא זיאדה שהרין פאן כאן קד אכ [. . . . . .] אמתתל
פיה מא קד רסמתה ואן לם יכון קד אסתופאה פיחתה עלי אסתיפאה ותסלמה [
אידה אללה לידי //פיה ראיה// תפצל אלשיך אבו אלאפראח אידה אללה אשתרי בה שי אמא אלנשאדר [
ואמא אן כאן וצול אלחמל פישתריה מנה מא סהל אמא עדל פלפל או תנכאר או קפה ניל טיב . . .
] יחפט . . . . . . . . . תפצל ואחד מנהם יפעל דלך חסב מא כאנו [[פע]] אועדוני חתי
] בחצרה רבינו אנני קד געלתה נאמן פימא יתולאה וישתריה ולו
] אשתרי מנהם ברסמי סוי ורבח פיה שיא יאכד תלת אלרבח . . .
] דכרה אלי מולאי אלסגלת לידי ראיה פיה בחית ישרך רבנו
] אלגרץ// פיה סביל לאן ראיתה סנה עלי סנה מפלח ואן אראה רבנו
] לם יאכדו מן אלרבח ואראד הו אדאם אללה תאיידה ישארכני
]ל ולם יקבלו [. . .]י לה ופי רקבתי מרה ואבנה ל[. . .] אן
]אגל אנא מחתאג אלי חבה והם יעלמו אדאם אללה עזהם
]ם אלאיתאם מן אמואלהם ויעז עליי אקול ה[
] תבת אללה איאמה ואסתגאב מני מא אדכרה מן
] כנת// דכרתה פי הדא אלכתאב אן גמיע מא יעמלה
] בה מן מאלה זכאה ען ולדה חפטה אללה
אדא]מהא אללה וקד גמע אדאם אללה תאיידה
]אלמתובה מן אללה סבחאנה ומן מואצלתי
] למולאי אלשיך אלגליל אבי אלחסן עלאן
] גמיע ואחיא אולאדהם וזכאהם
]השמ[ים] הקבה ישלים רפואתו לאנה
] דכתיב רפאות
] עלמתם
Verso margin:
ולל[ה / ישמרו צור ויסלהם [ / וכתאבה סרעה במא / יפעל מע משרתו ויטול / רוחה מן יקרא
אלכתאב ולא / יהמל חרף פיציע / [שרח]ה / ושלום רבנו החבר גדול /
הישיבה / ושלום חמודיו / ושלום התלמידים / ושלום החברים / ושלום כל הקהל הקדוש
/ והדיינין / ירבה לעד
بيان أذونات الصورة

T-S 12.780: Provided by Cambridge University Library. Zooming image © Cambridge University Library, All rights reserved. This image may be used in accord with fair use and fair dealing provisions, including teaching and research. If you wish to reproduce it within publications or on the public web, please contact genizah@lib.cam.ac.uk.